Set alongside a pond in Ulster County, Black Creek Bed and Breakfast lures visitors with locally sourced breakfast, homemade artwork, and picturesque landscapes.
There's a love story hiding behind Black Creek Bed and Breakfast.
The inn, which sits quietly on the Highland side of the Hudson River, began as a passion project for Dan Lyon three years ago. At the time, the former retail business owner was glued to his dream of taking over a coffee shop that was up for sale in the region. When he found out it was being passed along to the store's employees, however, he pushed aside his dejection and began brainstorming anew.
Around that time, he invited his then-girlfriend, now-fiancée, Brittany Nestor, on a getaway to her first bed and breakfast on Long Island Beach. The vacation was unforgettable – Lyon told Nestor he loved her – and the two made the decision to open a bed and breakfast of their own in the Hudson Valley. Together, they quickly decided on Highland as a location, recognizing the town's proximity to colleges like Marist College, the Culinary Institute of America, and SUNY New Paltz.
Lyon, a Hudson Valleyite with roots in Wallkill and Gardiner, knew he wanted a space that was charming, peaceful, and off the beaten path from the Main Streets in the region. So, when he stumbled upon a 4,800-square-foot abode on a serene lake in Highland, he knew that he and Nestor found their dream spot.
"As we made our way around the pond, on the property, we caught the first glimpse of this breathtaking home," Lyon recalls. After closing on the property in November 2018, he and Nestor spruced up the space and opened the doors to Black Creek Bed and Breakfast in January 2019.
Located a short drive from the Walkway Over the Hudson, Black Creek is a welcome retreat for parents visiting their college-aged kids and couples who crave a low-key getaway in the heart of the Hudson Valley. A cozy spot in a central location, the inn stands out with geothermal heat and air conditioning, forested surroundings, and a cave shelter on the grounds. It sits on 7.5 acres of wooded property, much of which is open to guests for exploring and hiking.
Inside the venue, earth tones and natural touches dominate the scene. In line with Black Creek's "tree of life" logo, the locale incorporates artistry and carpentry from artist Bonnie S. Gulden, who owns Spatial Issues in Highland. The décor is cozy and homey, and the common rooms feel like a true home away from home with plush couches and country chic décor.
Black Creek currently has five rooms, one of which is a master suite. Inside each, a unique theme dominates the space. Visitors can choose to stay in The Arbor Room, which prioritizes natural elements, or The Reclaimed Room, with its vintage-inspired décor. Breakfast is included with each overnight, and the inn pulls out all the stops to ensure that the gourmet experience is unforgettable. The venue staffs a baker and chef onsite, and both collaborate on the weekends to whip up delights like blueberry lemon scones, crispy Dutch babies, and decadent mini cheesecakes.
"Our food is locally sourced, as well as our coffee," Lyon enthuses. In addition to the full breakfast spread, he and Nestor offer 24/7 access to he B&B's mini-bar as well. As with everything at Black Creek, creature comforts and personalized touches are key to ensure that each and every guest has a memorable stay. Upon request, the inn can even provide champagne or truffles for visitors who are celebrating a special occasion during their trip.
Looking ahead, Lyon and Nestor hope to expand the offerings at Black Creek to make it even more of a hotspot in the Hudson Valley. The couple recently added a hot tub outdoors and are putting the finishing touches on their sixth room, to be titled Steam Alley.
Black Creek Bed and Breakfast
430 North Riverside Rd, Highland
914.494.2154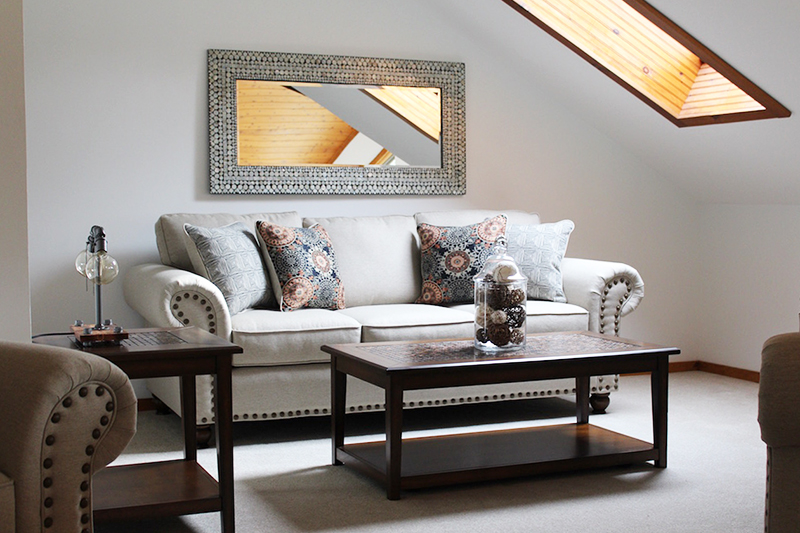 ---