Mix stripes of all sizes (and directions)
When I got word that the biggest H&M in da woooorld was opening on Fifth Avenue (of course it's in NYC), I had to visit it. Since my birthday was last Saturday, I figured the best way to celebrate myself was to step into the fashion world and act like money isn't (and never was) an issue. That means buying (lots of) clothes to fill up my wardrobe for fall.
Now, you may ask why I would travel to the other side of the world to buy clothes I can buy at home in Denmark, but I can't stay away from this style. And that is really what fashion is all about!
So, for all you fashionistas out there, here is my guide for what to buy for fall — because, yes, it is already time to think about autumn clothing and the stores are loaded. Get it off your shoulders and go shopping. You have my permission to go crazaaaaay!
Animal print: Go for the snake print on bags and shoes this fall.
Belts: Cinch a thick belt (like this one, from Asos) around your waist to highlight your feminine curves; choose one with the biggest or most Western-ish buckle.
Capes: I'm going for a gray wool one, like this one from Isabel Marant.
Asos belt (left) and Isabel Marant cape
Dots: Small dots, big dots, colored dots, black dots. Dots, dots, dots… If you're not up for a full outfit of dots, just mix a dotty blouse or sweater with a pair of minimalistic jeans or a skirt. Or maybe…
Even dotted shoes! What do you think? (I know that was lame for E, but I couldn't think of something better, sorry!)
Fringe: It's time for you to buy a fringy cross-body bag, which I will explain with the capital "W." So keep reading.
Girly: This fall, the headband makes its comeback. I've already bought a couple of them and my favorite of all time must be the Valentino gold-coined headband in black. I adore it!
High-waisted and wide-legged: The '70s trend is back and I bet your inner voice is yelling oh nooo, but trust me, this fit actually makes us with normal body types look like we have longer legs and tighter bums. Warning: do not wear this trend if you're sitting down for most of the day. I tell ya, it is not comfortable.
Proenza Schouler Fringe bag (left) and Valentino headband
Iced-coffee: The trendy version of regular coffee (at least in the city). By now you can tell I need my caffeine to continue…
Jeans: Be it wide, high-waisted, low-waisted, cropped, boyfriend, shorts, ripped, you name it.
Krown-embellishments (I know it's spelled with a "C," but the "C" was already taken!): This season you will see embellished hoodies and knitted blouses, which gives the laid-back item a whole new dimension.
Lady in red: Wear red. It complements your summer tan and is just so beautiful.
Metallics: Silver shoes, glittering skirts, and hoodies that look as if they're made of tin foil. Yep, the metallic trend has arrived.
No rules: Mix and match all the different styles for a more customized look. Whether it's adding something funny to your classy outfit or something extravagant with a pair of sneakers, break up every rule as they didn't exist.
Overalls: White long-legged overalls, yes please.
H&M's snake-print slingbacks (left) and Ralph Lauren's classic Polo
Pointed toes: This goes for boots, heels, slingbacks, and flats. Point those toes! I actually just bought these.
Quilt it: Quilted jackets are HOT!
Rucksack: This very practical bag is at its peak right now. Go for black leather or suede to give your outfit an edgy or more sophisticated look, respectively.
Stripes: On the runway for the pre-fall collections I spotted stripes — and lots of them! Try a striped blouse and a skirt with stripes in a different direction to create a fun, but classic look.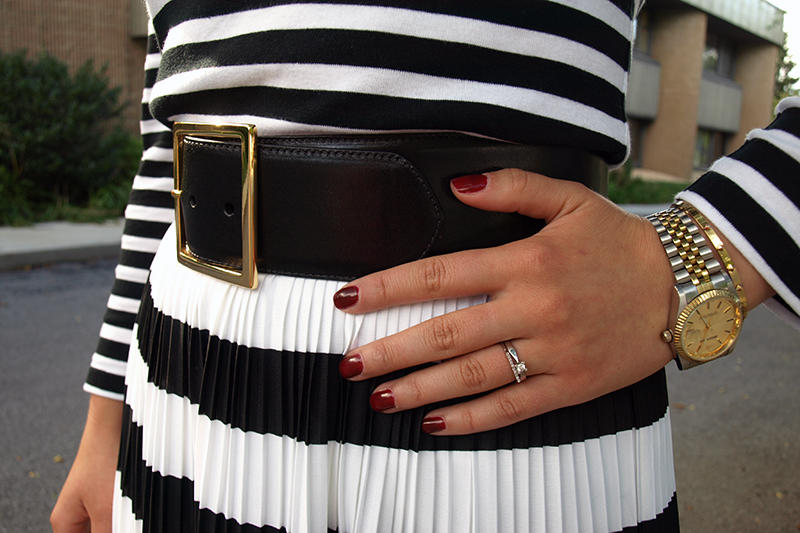 Stripes, stripes, everywhere!
Tradition: The Polo! Wear a classy polo with ripped jeans for a mix of styles.
Upcoming color: Purple. I never saw it coming, and I swore I would always hate this color, but it has made its entrance. Will I surrender?
Very turtle-like: Turtlenecks are still going strong. Wear them under a buttoned, sleeveless blazer for a very professional look.
Wild West: Karl Lagerfeld presented his Chanel pre-fall 2014 show in a rodeo hall in Dallas and it was all about the Wild West with fringed bags, ponchos, boots, and cowboy hats. You don't have to go all in; just choose one item to spice up your outfit.
X-factor: Believe in yourself and bring out that inner X-factor. You will look so much better. Confidence is everything.
Yes to hats: British Vogue just shot a story with lots of layering and… A FELT HAT (see it here). I'm so excited. I bet it'll be the new thing!
Zebra: Noooo, I'm kidding. Unfortunately, I have nothing to say for Z. Wait… Yes I do: Zee ya!