Lightning G Horseman Shop LaGrangeville
I bought my first pony here when I was seven years old," says Donna Woods, now co-owner of Lightning G Horseman Shop. "This place has historic meaning to the Valley."
Groovy Groomin'
Make sure you have all of pony's primping supplies organized with this Oster Grooming Kit, $57.95
So when Woods was looking to downsize her Pawling horse farm, it only seemed fitting that she, along with her husband Mike and longtime friends Deb and Mark Jordan, take the reins of the LaGrangeville tack shop, which reopened last October.
Fashionable Rider
Wear these Ariat black deerskin aqua boots to show or just for fashion, $129.95
Though there are other horse stores nearby — in Rhinebeck, Pawling, and Salem — none of them offers the breadth of service found at Lightning G, says Deb Jordan. "We're unique because everyone on our staff is very horse knowledgeable. Everyone rides and has lots of experience."
The horse hot spot, which has been serving the equine needs of the Valley and beyond (they have customers from as far away as New Jersey, Long Island, and Connecticut) for nearly half a century, has a huge business. The newly built, 1,200-square-foot saddle room doubles the size of the store, allowing the owners to stock one of the largest saddle selections in New York State.
Booking It
Make reading about horses fun for the little ones with Gator and Pete: More Alike Than It Seems by local author Suzanne McGovern, $13.99
In addition to the vast assortment of merchandise — blankets and pads; gift items, books, and jewelry; bits and bridles; grooming and cleaning supplies; and food and vitamins — the store offers apparel and new and used saddles for both English and Western riding. "This is a big hunter jumper area, but Western is becoming huge out here," says Jordan. "So in that respect, we feel we're the only one in the area that accommodates everyone."
Pretty and Practical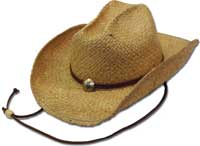 Keep the sun out while at the barn with this Buckaroo Straw Hat by Outback Trading Company, $27.95
While saddles can range anywhere from hundreds to thousands of dollars, other items cost between $20 and about $200. Lightning G services all riders, from beginners to professionals and trainers — including sales; personal deliveries to barns; saddle fittings and embroidery; blanket repairs and cleaning; and leather repairs.
Trendy Totes
Match your stylish stallion with these Amberhill horse blanket bags. Trapeze Tote Bag, $125; Baker Mini Event Tote, $64.95
Jordan and Woods have hopped aboard the "green" bandwagon with the launch of their own line of care and cleaning supplies, which includes shampoo and fly spray. "It's made out of natural ingredients so it's safer for the horse, the rider, and the environment," says Woods. "It's been very well-received." The duo also works hard to give back to the community by donating to 4-H and contributing awards and merchandise to Green Chimneys so "everyone has a chance to ride." They plan to host equine speakers and seminars in the near future in order to provide valuable information — a great idea because, as Jordan says, "horses are a way of life for people."
Lightning G. 622 Clapp Hill Rd., LaGrangeville. Mon.-Fri. 9:30 a.m.-5:30 p.m.; Sat.-Sun. 9:30 a.m.-5 p.m. 845-223-3588 or www.lightningg.com