Backstory
Cutting Edge
Master carver Stephan Toman transforms wood into works of art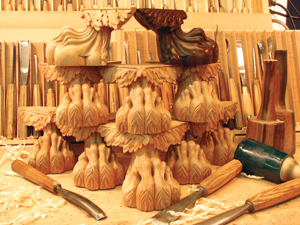 Stephan Toman¡¯s serpentine path to wood carving included what he calls ¡°four self-destructive years as a member of the counterculture,¡± a two-year stint in the military, and several years of theological study. It was in 1983, during a ministerial internship in Oklahoma, that he found his inner carver. ¡°I heard someone playing a hammer dulcimer, and I wanted one,¡± he recalls. ¡°I couldn¡¯t afford to buy one, so I decided to build one. I carved little maple leaves on it ¡ª and I caught the carving bug. Soon after, I went to a carving show and saw several of the best decoy carvers in the genre. I just fell in love with it.¡± What followed was ¡°a fanatical year¡± carving birds for a hobby.
Toman, now 56, grew up in Millbrook, and returned to Dutchess County with his wife and children in 1986. Needing work, he joined an architectural carving company in Salt Point, spent three years there honing his skills, and finally set up his own business,
Sonrise Woodcarving Studio, in Ulster County a few years after that. ¡°You have to be an artist of some sort,¡± Toman says of the highly detailed work he now does. ¡°But getting a feel for the tools and the wood is just a matter of practice. I could teach somebody to be a competent carver in five years; 10 years to really get anywhere. The learning curve is very high.¡±
Doing such intricate work requires a high level of skill and concentration. What happens if he makes an error? ¡°That¡¯s where glue comes in,¡± Toman replies. ¡°You have to learn how to hide mistakes, or alter the design to compensate. Sometimes there¡¯s no way to save it ¡ª it¡¯s firewood. I don¡¯t carve if I can¡¯t concentrate. It¡¯s better to go fishing.¡±
Toman is the sole carver employed by William H. Jackson Co., the venerable Manhattan fireplace and mantel company. But he¡¯s willing to take commissions for new pieces or to restore an antique. ¡°Anything wood,¡± he says.
For more info, contact Sonrise Woodcarving Studio in Cottekill, Ulster County, 845-687-9139 or visit www.sonrisewoodcarving.com. ¡ñ