Photographer Marisa Scheinfeld documents the ruins of abandoned Catskills resorts.
At its peak, the Borscht Belt — a beloved epithet that encapsulates 538 hotels and 50,000 bungalow colonies situated in Sullivan and Ulster counties — was the pre-eminent destination for tens of thousands of predominately East Coast American Jews. Otherwise known as the "Jewish Alps," the Borscht Belt offered a little slice of paradise for Semites in search of summer leisure throughout the 1920s–'70s. Shortly thereafter, the zeitgeist had passed. Sullivan County historian John Conway blames this decline of resort and bungalow life on the "three 'A's": air conditioning, assimilation, and airfare.
Marisa Scheinfeld, a Catskills native, began to document the architectural ruins of her hometown resorts as an MFA student at San Diego State University in 2011. The photographer cherished frolicking as a kid in existing behemoth resorts like Kutsher's and The Concord — which held on throughout the '80s and '90s — and even worked as a lifeguard at the latter. Beckoned by her inescapable tie to the land, Scheinfeld trekked back and forth seasonally to chronicle the area's storied remains. The series culminated in "The Borscht Belt: America's Jewish Vacationland" published by Cornell Press.
Her images transmit an optic rollercoaster gleaned from growth and decay. A light-flooded room reveals graffiti-strewn walls, peeling paint, and dangling appendages of insulation. Gilded valances shroud a stage that remains in working condition, casually showing off for a room full of empty chairs. Emerald green pine trees poke through a window, reaching out to a sunken mattress coated in a blanket of mottled, wooly moss.
"The Catskills, after all these years, still entices people in search of community and leisure," Scheinfeld presages in her book. Although the Golden Age of the Catskills was completely unique, the area is on the heels of a revival fueled by eco-tourism and the new Resorts World Catskills. Looking forward, Scheinfeld's interest in historical narrative and landscape continues with her next body of untitled work, which will likely merge the notion of the site, folklore, and legends in the same geographical region (New York and the Hudson Valley) that serves as her endless well of inspiration.
For more information, visit the book's official website, www.borschtbeltbook.com.
New Artificial Year Round Indoor-Outdoor Skating Rink, The Pines Hotel, South Fallsburg, NY. 2010 and Undated
"If you look at the postcard, a group of people on an ice-skating rink versus the photograph I made, what's left is very much a skeletal, bodily, and the bones."

Postcard produced by Steingart Associates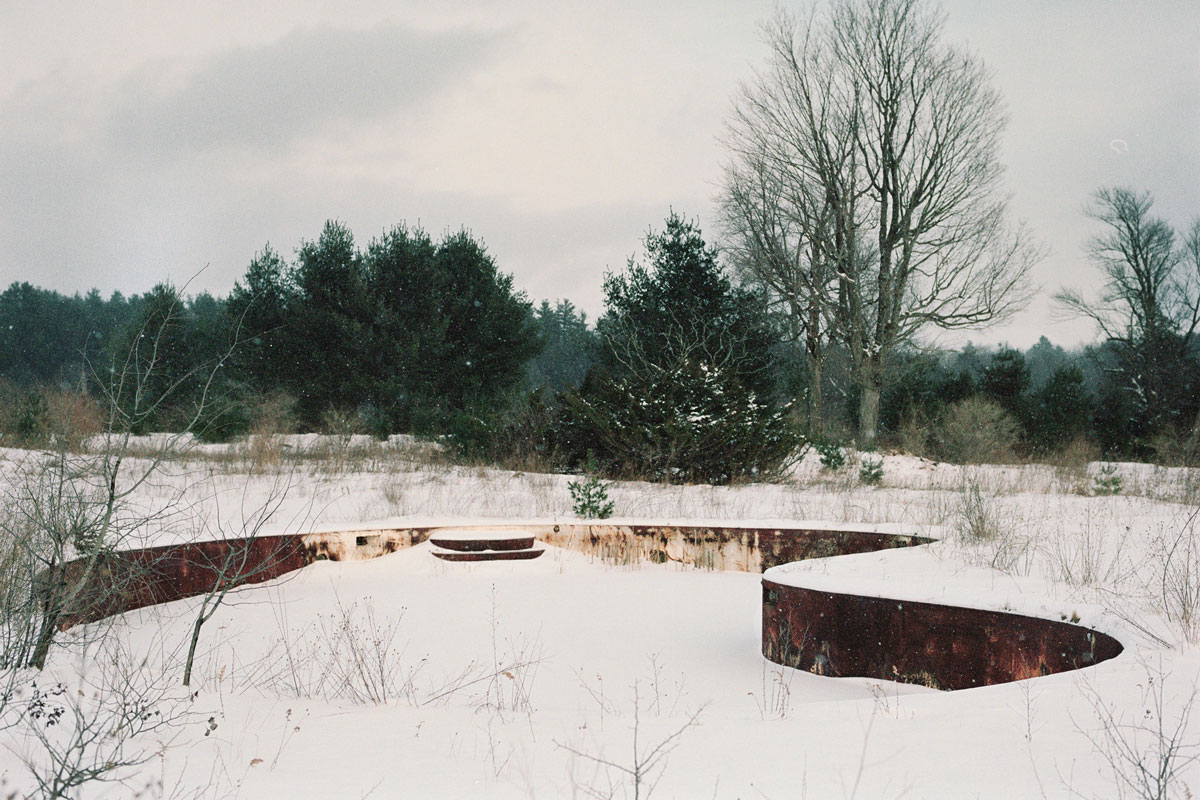 Laurels Hotel and Country Club on Sackett Lake, Monticello, NY, 2011 and ca. 1960
"This was part of the re-photography component I started during the beginning of this project. Re-photography by definition is visual method, a 'now and then' set of photographs often used to illustrate change. All that's left is a bean-shaped pool — a stark comparison to the postcard full of people 50 years ago."

Original postcard by Bill Bard Associates
Black Magic Showroom, Commodore Hotel, Swan Lake, NY
"This was a showroom that has been converted into a skate park. Local youth now use it for recreation. It's serving a second life, a strange repurposing found at the locations of many former hotels and bungalows in this region."
Guest Room, Tamarack Lodge, Greenfield Park, NY
"It's as if Mother Nature laid down a coat of moss and greenery across the entire room. She is the ultimate artist, putting her touch on each former Borscht Belt hotel/bungalow colony."
Grossinger's Catskill Resort and Hotel, Liberty, NY Coffee Shop
"This is the last photograph in the book. A coffee shop with green stools, devoid of a counter and the room stripped down to the boards and studs signals the crashing of an empire, the end of an era. This book is an elegy to the Borscht Belt, but in the same breath, a celebration."
Stardust Room, Nevele Grande Hotel, Ellenville, NY
"This photograph is much about the grandeur of the space. You can still see the opulence and the mid-century décor. I love the windows and the stage, and the utter emptiness, but at the same time, I imagine the various singers and entertainers that filled it."
Entrance, Paramount Hotel, Parksville, NY
"It's very common when you're driving on the back roads of Sullivan County to find stone pillars. They often indicate an entrance to a former bungalow or hotel."
---