Whether to help with food prep, grab a cup of coffee, or keep the cook company, the kitchen is the one room in the house where everyone congregates. But the cost of remodeling this space keeps escalating: almost $57,000 for a mid-range redo, while an upscale remodeling can go beyond $113,000, according to Remodeling magazine. Rather than a total renovation, many homeowners prefer to tweak the space with fresh paint and new hardware. Here, we share the stories of two area renovations.
Grand Opening: Circa-1880 Beacon Victorian House
From the moment that she moved into her circa-1880 Victorian-style house in Beacon, Alison Wilkes started fantasizing about renovating the kitchen. And it wasn't just the dated pastel aesthetics. "There was a lot of purple and yellow, it looked like the Easter Bunny lived here," says Wilkes. "But I was looking for a complete functional overhaul, too. My kitchen just didn't work."
Wilkes, an art director and graphic designer who has seen her share of swank kitchen transformations in her professional life, ticks off a long list of problems. "There was almost no counter space and no storage, there wasn't a kitchen triangle, and I had a really big configuration problem: there was a door on every wall. I couldn't figure out how to lay it out properly."
Wilkes lived with the existing conditions for seven years while she saved up for the remodel. When it was time to get to work in, she assembled her team: staff from Kitchens by Design in Poughkeepsie to rework the layout, which included moving two sets of stairs; an architect to fine-tune the plan and stamp construction drawings to meet code; and a contractor, DonRick Construction, to undertake the actual work.
Wilkes knocked down a wall in her Beacon home to open up the kitchen to the rest of the house. A cookbook designer, she created a nook (right) dedicated to displaying her books.
The British-born Wilkes, an avid gardener, was also determined to "reorient my kitchen toward my garden." Originally, the outside stairs were on the side of the house, so new steps were added in the back for easier access to the garden. Then, a small porch was enclosed and transformed into a mudroom/coat closet. Nowadays, Wilkes can deposit her Wellie boots here and avoid tracking mud into the house.
Because the construction costs of the mudroom and steps would consume a big percentage of her budget, Wilkes compensated with less expensive cabinets than she otherwise might have selected. But she was determined to have enough storage for all her dishware, glasses, pots and pans, and cooking tools. "I literally accounted for everything I owned so I knew there would be a place for everything within easy reach of where I'd be using it," she says. And though she describes herself as "not a white-cabinet person," she went with painted white boxes with flush inset doors — including some with ribbed glass fronts — to inject a lighter feeling into the room, which faces north.
All along, Wilkes knew that the new oversized eating counter would not only be her main prep area, but the room's visual focal point. She had planned for it to be crafted of walnut boards, but once she and her friend, Poughkeepsie furniture designer Jeff Johnson, stumbled upon a flitch of exotic wood at a lumber yard in Stormville, her plan changed. "I knew I wanted a piece like that," she says, noting that she ultimately opted for a walnut slab. The result has been quite dramatic. "People walk in and say, 'Oh my God, that is so beautiful,' " says Wilkes, adding that Johnson has snagged several high-profile table commissions simply by showing photos of the counter.
A highly durable quartz, called Caesarstone, covers the countertops (left), while splashes of red enhance the glass tile backsplash.
For perimeter countertops, Wilkes chose an elephant skin-colored Caesarstone, a highly durable quartz. She selected a few new appliances, and skinny horizontal glass tiles in rich brown, black, blue, and beige for the backsplash. For proper illumination, she installed multiple layers of light, including ceiling cans, under-cabinet lights, and a pair of brown pendant lights above the wood counter, all on dimmers to change up the mood when she desires.
Though Wilkes had longed for radiant underfloor heating, she found the cost prohibitive and opted instead for large cork tiles "that are warm as well as soft." Another plus, adds Wilkes, is that "they are really forgiving, and you can't see any dirt. But here's a tip: Choose your floor color carefully. Mine is the same color as my cat, and I'm constantly stepping on his tail."
Best of all, the renovation morphed into a family endeavor. Her father, who lives in England, built a shelving unit for various kitchen essentials; he and her brother, who lives in Toronto, together constructed a new deck within steps of her beloved garden. "I'm thrilled with the way the project all came together," Wilkes says. "Now the kitchen is, by far, my favorite room in the house."

Photographs by Robert Karosis
Country Charm: 1750s Millbrook Farmhouse
Horror stories abound about remodel projects that uncover rotten subflooring, outdated wiring, structural problems, and beams that can't be removed. But when Millbrook-based architect Jim Crisp went to take down plaster and sheetrock from the kitchen in a 1750s Millbrook home, he found architectural gold: thick old wooden ceiling beams. "They were wonderful — and fairly common for an old farmhouse in a cold climate, since lower ceilings made the best use of heat coming from a fireplace," he says.
Crisp left the beams exposed so they'd become the focal point of the redesigned room, which adjoins a breakfast room and butler's pantry where the owner and her children hang out. "The main room was incredibly ugly, however, and also poorly laid out," he says. The kitchen looked oppressively low before the beams were exposed; once they were in view, and the areas between them were made higher, the room had a much more spacious vibe.
Crisp hid wiring and lighting within the timbers. Working together with his client, they decided on a classic period look that complements the home's traditional detailing: simple white painted cabinets, some with glass fronts and exposed toe kicks at the base; black colored soapstone countertops around the perimeter; crisp white subway backsplash tiles; a wood floor of old boards recycled from the attic; white farmhouse-style sink; and new brick fireplace.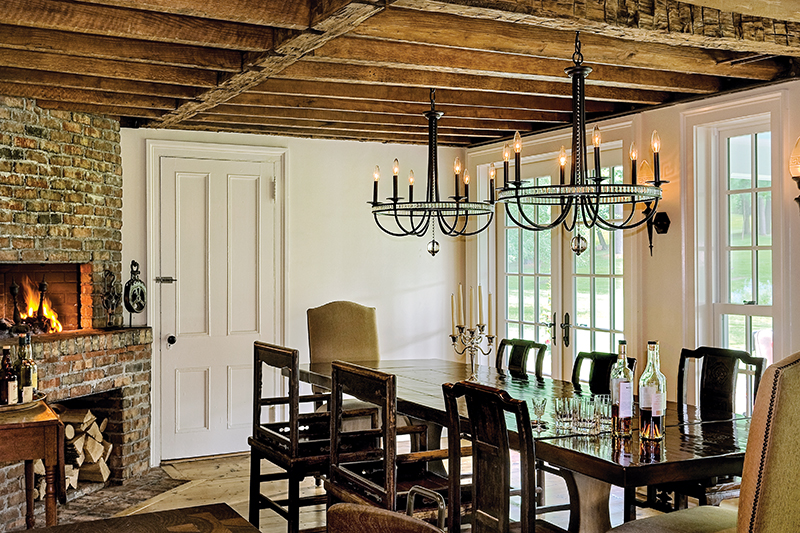 The dramatic wooden beams in the kitchen are offset by white cabinets and French doors
For the island, the homeowner wanted a similar but more personalized aesthetic. She found an old architectural drawing table and replaced its top with butcher block. In laying out equipment, Crisp followed his guiding principle: A cook should be able to take as few steps as possible to prepare a chicken. "You take it from the refrigerator, wash it off in the sink, put it on a plate on the counter, maybe cut it up, and place it in a pan in the oven, and you haven't moved very far. Otherwise, you have what I call 'the chicken problem,' " he says.
He and his client redesigned the pantry and breakfast room in a simpatico style. One splurge is a new, bluestone-paved dining/sitting terrace. Cheerful even on the grayest winter days, the terrace is reached from the kitchen via two sets of French doors framed by columns; lined in beadboard, the ceiling is painted sky blue.
---