For college students in the Hudson Valley, getting an education is a costly proposition. Between paying for textbooks, shopping for groceries, and, you know, chalking up thousands of dollars for classes and clubs, school can be more of a financial burden than undergrads expect.
Add to that finding an apartment that's close to school without being too costly, and the stress will have you pulling out hairs before first semester even begins.
With schooling fees on the perpetual up and up, we were thrilled to see RENTCafé's new study on the most affordable places to rent near top colleges. Just in time for the return of fall term, the 2019 report takes a look at the average prices for apartments within a one-mile radius of the top 100 American universities as determined by U.S. News. In the top 10, one beloved Hudson Valley college made the list!
Clocking in at number five, Rensselaer Polytechnic Institute (RPI) in Troy tempts prospective college students with affordable apartments that sweeten the enticing roster of courses, clubs, and colorful to-dos on campus. Within a one-mile radius of the university, rent costs average $1,115. That price is only $5 more than the average rental fees in the city, which rest at $1,110. RPI is number 49 on the most recent U.S. News ranking of best schools in the United States, and is lauded for its supportive programming, suburban setting, and top-tier STEM offerings.
Although RPI is the only school in the Hudson Valley — and New York State — to make the list, local students need not fear for their bank accounts (well, at least not as far as apartments are concerned). Other local school zones don't fare too badly on the rental spectrum either. Vassar College in Poughkeepsie is the most affordable for prospective renters among the three, while Marist College in Poughkeepsie and the University at Albany rank similarly when it comes to costs within the two-mile radius.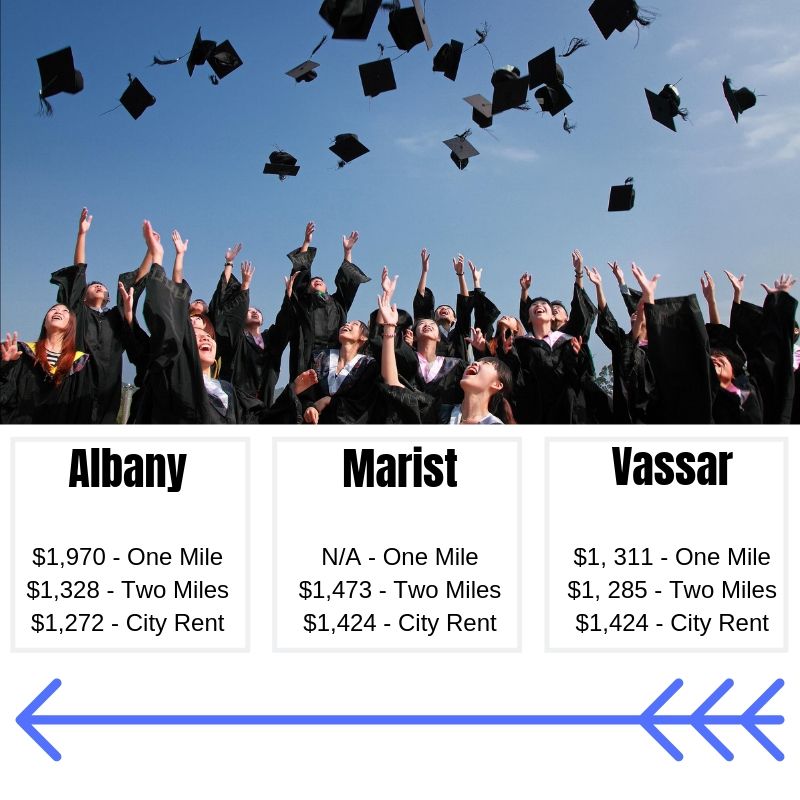 What do you think about the rent scene for local college students? Sound off in the comments!
---