Nine years ago, Jessica DuLong could usually be found behind a desk, working long hours on a wellness Web site. These days, the 36-year-old Stanford graduate is often on the Hudson, happily ensconced in the engine room of a retired fireboat or in the wheelhouse of a former army tug. Enamored of the craftsmanship of old vessels, DuLong is chief engineer of the John J. Harvey, which was built in 1931, decommissioned by the New York City Fire Department in 1994, and saved from the scrap heap by preservationists. She also pilots a 1956 tug, Gowanus Bay. Her experiences have ranged from helping to pump Hudson River water to firefighters in the aftermath of 9/11, to participating in Quadricentennial celebrations of Henry Hudson's historic voyage up the river. Her work gives her a unique view of the Hudson and its role in shaping our nation, a perspective she shares in her recently published book, Rediscovering America on the Hudson: My River Chronicles (Free Press, $26).
How many female fireboat engineers are there in the world?
To my knowledge, there is one other — a woman on the West Coast.
How did you wind up working on the water?
It was blissful accident. I was working crazy days as a dot com-er in the Empire State Building, living this very virtual life. I went to the fireboat for a volunteer day, and ended up cutting out unused heating pipe with a power saw. It was the realest thing that I'd done in ages; I was hooked. [She eventually joined the crew of the John J. Harvey and became a Coast Guard-licensed merchant marine officer.]
Prior to volunteering, what was your nautical experience?
I went whale-watching as a child and had fantasies of being a marine biologist. But I wound up majoring in psychology.
Why is it important to save old boats?
You're preserving a piece of American history. The kids visiting the John J. Harvey get a taste of the technology that was essential to the creation of New York, of Hudson River industry, and by extension, of our country. They get to feel the rumbling of the engines under their feet, and hear that whoosh of air that exits the deck guns before the water explodes out.
What do you think about America's shift away from hands-on work?
Clearly we can see now that our economic power is not only on Wall Street, it's in the tradition of innovation, in the muscles and sweat that built a nation. We have devalued physical work and blue-collar trades, with some sort of false notion that we can just outsource them. But the reality is, if you need your car fixed, that can't happen in India.
You write that you oscillate between the white- and blue-collar worlds. Tell us about your white-collar world.
I've been writing ever since I was a kid, and journalism has been a huge part of my adult life. I'm lucky in that I love both of my jobs. I've discovered that I need to exercise both parts of my mind ­­— the mechanical, diagnostic side, as well as the journalistic, investigative side.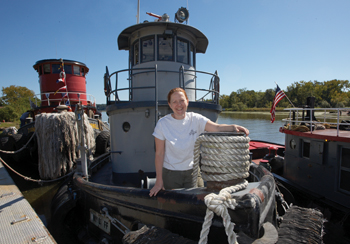 All aboard: DuLong on the Gowanus Bay, the tugboat she pilots on the Hudson; photograph by Robert Hansen-Sturm
Is your dad, an auto mechanic, proud of you?
Yes. A lot of the values that come through in the book are values that he taught me: the importance of quality work, of craftsmanship, of building things to last.
Do you have a favorite part of the river?
For me, there's a magic to World's End [a winding S-curve near Cold Spring and West Point]. It's the deepest, narrowest part of the river, and played an instrumental role in deciding the outcome of the American Revolution. A chain was strung across the river there to prevent British ships from making their way north to Albany. World's End has a rugged sea look, and it's easy to imagine Henry Hudson and his crew thinking they were getting really close to finding the shortcut they were looking for, a shortcut from sea to sea.
You're five foot five, and not as burly as some of your male counterparts. Do you have to make any on-the-job adjustments?
I definitely make adjustments. But it's not so much about gender as it is about physical strength and size. Everybody comes to the end of his or her strength at some point. You just have to strategize how to use what you've got, and the best resource that you have is your brain. The reality is, not everyone who does this job is that big. It's about using leverage if you need to, or standing on a box if you need to stand on a box.
What do you love most about working on the river?
Taxing your body to its limits is very satisfying, as are the mental challenges. I have to make split-second, high-stakes decisions while I'm working in the engine room. These high-adrenaline challenges may be terrifying in the moment, but are really satisfying at the end of the day when you make the right call. There is satisfaction, too, in having put all of my heart and soul into learning something.
The retired fireboat John J. Harvey pumped water nonstop for four days to firefighters at the World Trade Center during the 9/11 disaster
Why is it important for landlubbers to get out on the river?
It gives them a sense of newness, the opportunity to see the places where they live in a different way. On the John J. Harvey, we have seen kids and adults who grew up in Manhattan and have no concept of the fact that it's an island. When people come out on the water, they understand that their cities or towns sprung up because of the river; that's why they're there.
Did your appreciation of the river change once you became a pilot?
Steering the tug has offered me the opportunity to understand how the river's "subway stops" fit together. Previously, my knowledge of the river had been determined by the places we stopped. I would be down in the engine room, and then I would pop up in some new place like a little mole coming out of a hole.
What are your thoughts about the role of industry on the river?
Often we have this concept that it's industry versus environment, and that's just not the whole story. I was floored when I found out that the Hudson River School painters had to contend with industry as well; they just blocked it out, or painted around it. Today, people are talking about how green technologies and green-collar jobs and practices are going to be the next wave of industry along the Hudson. I'm excited to see how it all shakes out.
Any last thoughts?
The John J. Harvey would love for volunteers to come paint and chip and clean. It's basically a landmark, and the boat rides create a lot of wear and tear. If you'd like to volunteer, go to our Web site, www.fireboat.org.