1. The Hudson River
Photo by Robert Rodriguez Jr.
With an epic history of culture, commerce, and transportation, our mighty Hudson has been a source of spectacle long before it was even considered for European settlement. Since then, it has been symbiotic with our development and defined by our artists. The river is our most prominent feature, and we are darn proud of it.
2. Our cities
Photo by The Friends of Historic KIingston (building)
Hudson, Beacon, Newburgh, Poughkeepsie, Peekskill, and Kingston (to name a few) are all in different stages of gritty to gorgeous. We're willing to pardon their progress. After all, this transitional phase has created a unique collision of industry and ingenuity; main street mentality and historical structure; and incredible dining and eclectic displays of culture.
3. It's a Painter's Paradise
Photo by Beth Schneck Photography
Not only did the Hudson River School of artists call it home (How could they not? It's part of their name!), but their homes (Thomas Cole House, Olana State Historic Site, and the Jasper Cropsey Home and Studio) are now part of our landscape. Samuel F.B. Morse (portrait artist as well as telegraph inventor), Edward Hopper, and many others were also residents.
4. George Washington slept here.
And fought here. So did fellow Founding Father Alexander Hamilton. Plus, Declaration of Independence signer Philip Livingston and Federalist Papers co-author John Jay called the Hudson Valley home.
5. Franklin D. Roosevelt was born here…
6. …and Jimmy Fallon Was raised here.
Speaking of comics, Archie Andrews and Mighty Mouse also hail from the Hudson Valley.
7. IBM
Not only do they employ so many of us, they also invented the smartest chess player (Deep Blue) and computer (Watson).
8. Our music past and present
Legends like Bob Dylan, Levon Helm, Aaron Copland, Pete Seeger, and David Bowie have called the Valley home. Venues such as Towne Crier Cafe, The Falcon, and Caramoor offer music of all genres. And organizations like the Greater Newburgh Symphony Orchestra, Hudson Valley Philharmonic, and Westchester Philharmonic satisfy our classical cravings.
9. We've got game
Minor league teams include baseball's Hudson Valley Renegades and Rockland Boulders, and basketball's Westchester Knicks. There's the American Amateur Baseball Congress (AABC) Albany Twilight League. West Point has college football and hockey. We have seven roller derby teams. Even the pros notice: the Knicks, Rangers, and Liberty all train here.
10. Villains, heroes, and anti-heroes call it home
Photos by Stuart Crawford Wikimedia Commons (James earl Jones), Google-Labeled for Reuse (Villains/heroes)
11. Trailblazing women
From Deborah Sampson, America's first female soldier, to Emma Willard, who established a women's college prep school in Troy in 1821; to abolitionist Sojourner Truth and our ever-outspoken First Lady, Eleanor Roosevelt; and more recently, our nation's first female presidential nominee, Hillary Clinton; our ladies know how to get it done.
12. We are a motorcycle lover's dream
Hawk's Nest in Port Jervis, Route 28 from Kingston to Oneonta, Route 9 in Northern Westchester, and an untold number of winding roads give you plenty of ways to get lost — in a good way. Expert shops like Moroney's Cycle and O'Toole's Harley Davidson have everything a biker needs; while armchair cyclists can visit Orange County Choppers, or the Motorcyclepedia Museum in Newburgh, to indulge their obsession vicariously.
13. Stormville Airport Antique Show & Flea Market.
More than 600 vendors set up shop six times a year — from April to November — at this shopper's paradise. It is so popular HGTV filmed a few episodes of its Flea Market Flip right there. Bargain-hunting history runs deep: The first outdoor flea market in the US was held in Newburgh in 1752.
14. Fishing
Photo by Francis Driscoll
American Fly Fishing was born in the Catskill Mountains, renowned for some of the best fishing in the world. But you don't need to have a perfect cast to have fun: there are tons of ponds, creeks, lakes, and rivers you can dip a pole into, giving you many chances to chill out.
15. Hiking
Our area hosts a barrage of trails that range in difficulty from leisurely stroll to totally challenging: Breakneck Ridge, Devil's Path, High Falls, the Lemon Squeeze, even part of the Appalachian Trail, all of these — and many more — lie there waiting.
17. We've not only got mansions, we have historic mansions
PS Bill Urbin
Vanderbilt Mansion, Springwood in Hyde Park (FDR's birthplace), Val-Kill, Kykuit. If they're big and fancy, we know how to build them — and keep them beautiful.
18. Metro-North runs through it
You can get from NYC to Poughkeepsie in under two hours and stop at more than a dozen Rivertowns along the way.
19. Our institutions of higher learning
Vassar, Bard, Sarah Lawrence, Rensselaer Polytechnic Institute, and a plethora of SUNY schools are only a taste of the education opportunities available, proving you don't have to go far away to get smart.
20. Our parks systems
The National Parks Service, New York State Parks, the Palisades Interstate System, our county parks, et al. We treasure our land and air.
21. Wine & Wineries
Shawangunk Wine Trail. Dutchess Wine Trail. And any other of the dozens of wineries — including the oldest continuously operating in the country, and a few Wine Enthusiast award-winners — where you can sip wine among the vines and take a "baby picture" of where your glass grew up. Who needs Napa?
22. Our Bridges
We've got the world's longest elevated pedestrian bridge, the Walkway Over the Hudson, plus other beauties such as the Bear Mountain Bridge and Rip Van Winkle, not to mention countless trailside bridges — like the ones on the 13 Bridges Loop at Rockefeller State Park — which cross babbling brooks. We even have a bridge that plays music: Composer/artist Joseph Bertolozzi composed the sounds of the Mid-Hudson Bridge being struck with mallets and sticks into music you can hear via your car radio as you approach.
23. Our craft beverage scene is incomparable
Photos by Clemson Bros. Brewery
Beyond breweries (check out our Beer Bible for more on those), we call ourselves the home of more than two dozen distilleries, producing everything from gin and bourbon to fruit liqueurs, bitters, and vodka. A natural complement, our cocktail and bar scene is also alive and thriving.
24. CAFFEINE!
Sure, we've got exceptional coffee houses (here's looking at you, Underground Coffee and Ales), but we're also chock-full of local roasteries, award-winning Harney & Sons teas, and even a one-of-a-kind, cooperative CSA-like operation. Plus, a little brand you may have heard of: PepsiCo.
25. We've got the finest diners around
From well-worn countertops to shiny railroad cars, we are home to some of the most classic and eclectic eateries in the land: The Martindale Chief, The Daily Planet, Phoenicia, The I-84, etc., etc.
26. All things farm
Photo by Michael Nelson
It's no secret that area agriculture is more or less our lifeblood. Farmer's markets can be found up and down the Valley every weekend (even in the winter!), it's more unexpected to hear that a restaurant is not farm-to-table than it is to learn their ingredients are sourced from the region, and we have produce-forward supermarkets that highlight local fare (like Adams Fairacre Farms). Being so deep in it, it's easy to forget that things aren't like this elsewhere.
27. We put on a wicked Halloween Party
The Great Jack O'Lantern Blaze lights up Van Cortlandt Manor with hundreds of beautifully carved pumpkins. But if it's a scare you want, head to the Forest of Fear, Headless Horseman, the Pure Terror Scream Park, and many other venues that will have you screaming like a baby.
28. Eagles love us
Find them at places like the Rio Dam Reservoir, the Basha Kill, Constitution Island, and various spots along the Hudson River that you can learn about at Teatown's Eagle Fest in February, which takes place at Croton Point Park in Croton-on-Hudson. Hit the Basha Kill in the summer, and learn eagle facts from volunteers stationed on the shore.
29. We're a bunch of do-gooders
Thanks to our passion for all things altruistic, several social and environmental movements have begun or are taking place right in our region. Scenic Hudson and Riverkeeper both started here; we witnessed the birth of the Clearwater organization; Slow Food initiatives and organic agricultural practices are pervasive in the Valley — just to mention a few.
30. Our Ruins
Tour Bannerman Island or the Cedar Glen ruins, or poke around Doodletown at Bear Mountain (now a hiking trail). Glimpse the hard-knock life at berry-pickers' shacks on Sam's Point. Daydream about the heyday of the Catskills by visiting crumbling, abandoned resorts like Overlook Mountain House.
31. Our gardens are out of this world…
Photo Courtesy of Innisfree Gardens
While we're all about the natural wonders, we can groom a mighty fine garden, too. For instance, Innisfree Garden in Millbrook, a romantic-style cultivation influenced by Asian gardening traditions, was recognized as one of the world's 10 best gardens by Rory Stuart, a leading garden expert in both the US and abroad.
32. …and so are the sculpture gardens.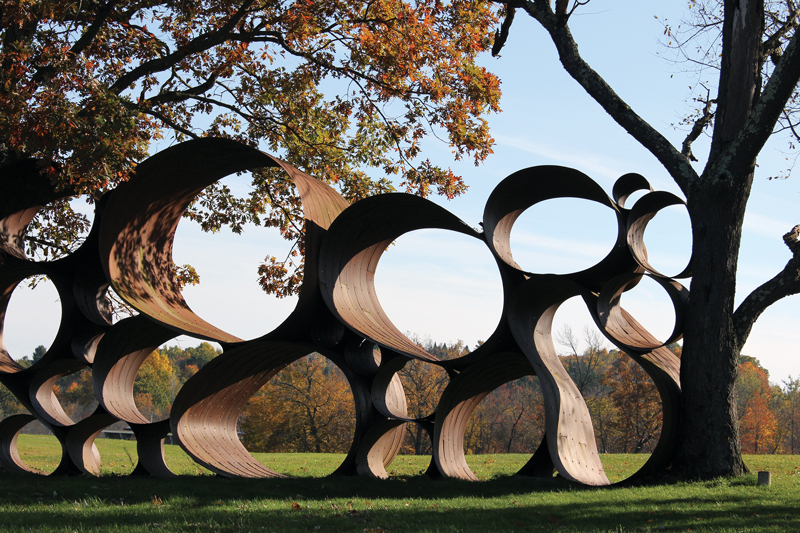 Sculpture by Dewitt Godfrey
We have the big, well-known ones like Omi International Arts Center in Ghent and Storm King in New Windsor, and tiny ones like Pacem in Terris in Warwick. And PepsiCo plans to (finally!) reopen its acclaimed sculpture garden this year at its world headquarters in Purchase.
33. The Catskills
Covering almost 6,000 sq miles, the Catskill Mountains — home to Kaaterskill Falls, the Great Wall of Manitou, and Platte Clove, among other natural wonders — have always been beloved by Valley residents, and have become the darling of visiting city dwellers, too.
34. Art
Richard Diebenkorn; Girl on a Terrace; 1956; oil on canvas; collection Neuberger Museum of Art
You don't have to travel far to see great art by great artists. See work by Pablo Picasso, Alexander Calder, Georgia O'Keefe, Edward Hopper, Richard Diebenkorn, Richard Serra, and Willem de Kooning at the Frances Lehman Loeb Art Center at Vassar College, the Neuberger Museum of Art at Purchase College, Storm King Art Center, and Dia: Beacon. Plus, there are so many more extraordinary paintings and sculptures at other museums, galleries, and estates throughout the Valley.
35. Art colonies
Byrdcliffe (Woodstock), Cragsmoor (Wawarsing), Sugar Loaf (Orange County), Millay Colony for the Arts (Austerlitz), and Tomkins Lake Colony (near Stony Point) began as artist enclaves, and some of them still are home base for the artsy set. Snedens Landing was founded as an art colony, but became a getaway for celebrities like Vivien Leigh, Laurence Olivier, and Al Pacino.
36. It's a kid's paradise
We have children's museums, carousels, waterparks, the historic Playland amusement park, plus places like The Castle Fun Center.
37. All of them apples
New York State has the second largest apple harvest in the US, the Valley contributing roughly a quarter of the entire haul. It's safe to say we're all about apples — and cider, and sauce, and doughnuts, etc. — in the fall.
38. The Gunks
Photo by Frank Tkac
Shawangunk Mountain Range, referred to as The Gunks, runs through Ulster, Orange, and Sullivan counties, and is home to some of the Hudson Valley's most fantastic and diverse hiking. It's there you'll find both the highly regarded Mohonk Preserve and Minnewaska State Park Preserve, two areas that feature challenging rock scrambles and gentle walkways alike.
39. We've got the nation's premiere military academy…
Among West Point's alumni are big-leaguers such as Dwight Eisenhower, Gen. Douglas MacArthur, Edgar Allen Poe, even Generals Custer, Grant, and Lee. Besides churning out our nation's leaders, the academy offers an interesting military museum, lovely grounds to explore, and high-caliber sports and cultural events (not to mention a killer Sunday brunch at its Thayer Hotel).
40. … and the nation's premier culinary institute
Hyde Park is home to none other than the Culinary Institute of America, oft-billed as the world's premier culinary college. Eat there. It's a sure bet you'll enjoy the creation of someone with a bright gastronomic future.
41. Our fall foliage
42. Because you can go from main streets to field and stream in the blink of an eye
Though the area is speckled with cities of all sorts, it's also surrounded by mountain ranges, wooded spaces, and fields of various sizes, making it easy to be 30-trees-deep one minute and curbside not 10 minutes more. Need proof? Head to Cold Spring, where it's not uncommon to see fully geared hikers — just come from Breakneck — queued up alongside families outside Moo Moo's Creamery.
43. We still have drive-in movie theaters
Fill the car with kids, pillows, and munchies, and head out to one of our eight theaters in Dutchess, Orange, Greene, or Rensselaer counties for an alfresco movie night (quality concession stands will nudge you to leave the munchies at home).
44. We know how to relax
Whether it's kicking back by the Hudson, on a massage table at Mohonk Mountain House, or finding zen at Omega Institute, we never take relaxation for granted. And honestly, we wouldn't have it any other way.
45. Fine dining
Blue Hill at Stone Barns, Photo by Jonathan Young
Blue Hill at Stone Barns in Pocantico Hills was named Best Restaurant in America by Eater in 2016, and there's no denying our region is robust with equally out-performing outposts. If you think we're biased, just consider how many of our chefs and restaurants have earned nods (or wins!) from the James Beard Foundation itself: Chef Zak Pelaccio of Fish & Game in Hudson, Chef Sara Lukasiewicz of The Amsterdam in Rhinebeck, Chef Francesco Buitoni of Mercato in Red Hook, Serge Madikians of Serevan in Amenia; just to name-drop a scant few.