Photo courtesy of Thornwillow Press unless otherwise noted
Led by Thornwillow Press, the creative community will include apartments and studios along with a bookstore, café, and event space in historic Orange County.
There are magical things happening in Newburgh right now. Away from the bustle of Liberty Street and the waterfront district, creative thinkers are making moves in the outer corners of the city. With a focus on Orange County's historic factory spaces, they're turning the tired brick facades into cideries, live-work-play centers, and, now, an entire makers community.
The brainchild of Thornwillow Press founder Luke Pontifell, the Thornwillow Makers Village will be an extension of the printing and publishing firm on 25 Spring Street. The firm, which specializes in handmade, limited-edition books, began back in 1985 after Pontifell's bookbinding side project, which he pursued during breaks from Harvard College, turned into a full-fledged business that introduced him to everyone from Cartier executives to Walter Cronkite.
After 14 years of operating across the globe in New York City, the Czech Republic, Florida, and Prague, he consolidated Thornwillow to Newburgh at the turn of the century.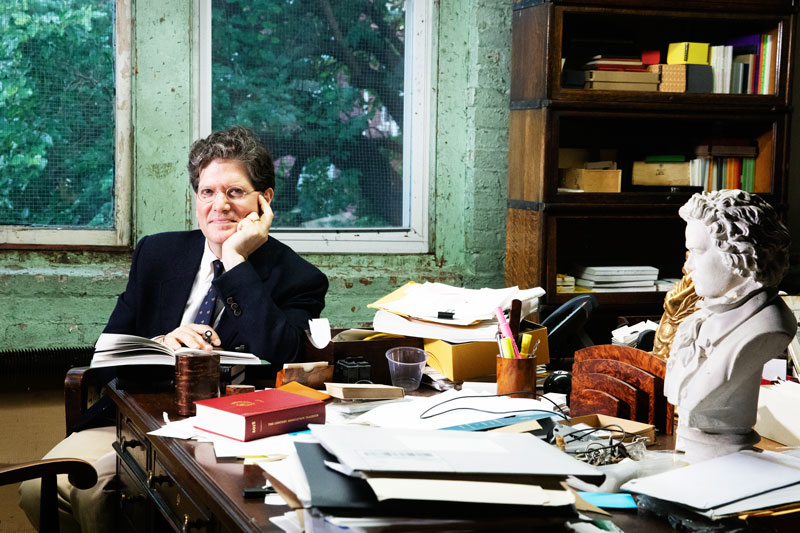 Luke Pontifell started Thornwillow when he was 16. Thirty years later, with his wife Savine, he is committed to teaching and perpetuating the related arts and crafts of the written word and has consolidated operations in Newburgh where, with the Thornwillow Institute and Makers Village, he sees the cultivation of craft as a catalyst for community revitalization. / Photo by Lauren Renner for Kickstarter, PBC
With the Thornwillow Makers Village, Pontifell seeks not only to further root the press in Newburgh, but also to foster and educate the next generation of creators.
"The vision is to create out of the abandoned buildings a neighborhood where you can live, work, and play," he explains. An extension of his nonprofit Thornwillow Institute, which hosts artists as they develop their craft in the city, the Makers Village will be a multi-venue space that promotes creativity just as much as it hones increasingly rare skills such as sewing and bookbinding. For Pontifell, the transfer of such talents to future generations is critical, since it creates a longevity that perpetuates within society similarly to how history lives on in every corner of Newburgh.
"In an age where communications are virtual and intangible and ephemeral, books enhance relationships and are part of relationships," he says. In a similar way, the historic edifices within Newburgh not only add to the culture of the city, but they foster an attraction to the region for locals and visitors alike. With locations like Washington's Headquarters right down the street and a wealth of old factory buildings dotted throughout the area, the city has "incredible bones," Pontifell enthuses.
After 14 years of printing and publishing for the likes of the Vatican and the White House, Thornwillow's new extension will be a true community effort. Set to occur in stages, the plan for the Makers Village includes apartments, a bookstore, café, event space, gallery, and more. It will spread onto South Lander Street in Newburgh, although it will remain headquartered around 25 Spring Street.
"We're at a pivotal turning point," Pontifell explains of Thornwillow's push to expand. Although he and Thornwillow own 10 buildings in the city, some of which have already been developed, the finished spaces are currently dedicated to Thornwillow Institute residents and Thornwillow Press operations. With the Thornwillow Makers Village, however, the venues will be just as much a resource for the community as they are for the press itself.
The first leg of Thornwillow's development in town is the Corner Building. Located at the intersection of Spring and South Lander Streets, the once abandoned, 5,000-square-foot space will be a hybrid bookstore café — and Newburgh's only bookstore. Inside, the first floor will stock books and bites while the second functions as a creative watering hole, playing host to authors, makers, and musicians within the Hudson Valley and beyond.
Thornwillow received $200,000 in grants to complete the estimated $600,000 project and is using Kickstarter to garner $50,000 and additional support. If all goes to plan, R.L. Baxter Building, the contractor behind The Hive in Poughkeepsie and Wireworks in Newburgh, will complete the project. Christopher Berg, of Berg + Moss Architects in Beacon, has already designed the renderings.
The second component of Thornwillow's phase one is the Carriage House. As the name suggests, the 40,000-square-foot building on South Lander Street was once a home for carriages in Newburgh. Now, Thornwillow hopes to convert it into a gallery and event space with room for an audio and visual studio, artist studios, and classrooms for makers.
Because development is critically contingent on financial support, Pontifell and Thornwillow are prioritizing the Corner Building first. If and when they raise the funds, the shovel-ready project, which has already garnered approval from the city planning board, can break ground immediately.
"Our goal is to make this a self-sustaining community where the earned income from rent and the coffee shop helps support programming," he explains. "It's about keeping it sustainable."
As Thornwillow Institute works to collect funding for the Makers Village, Thornwillow Press continues to print and publish away. It's currently finishing up a Frederick Douglass narrative with essays by Henry Louis Gates, Jr., with a volume of Edgar Allen Poe stories with accompanying text from Jill Lepore on the roster next. It also curates its Thornwillow Dispatch, a monthly subscription box with letterpress printed texts that range from essays and poetry to short stories. For $30 a month, subscribers receive beautifully printed works like Rudyard Kipling poems and Virginia Wolf short stories to add to their literary collections.
Throughout it all, Thornwillow strives to spread an awareness and interest in time-tested arts to the next generation. It already collaborates with schools like SUNY New Paltz, Vassar College, and West Point and regularly hosts visiting makers who want to hone their art. Next up, it's launching the Thornwillow Patron's Prize for Emerging Artists in collaboration with the New York Foundation for the Arts to scout up-and-coming writers. Not only will the winner have his or her works published in three issues of the Dispatch over the course of a year, but he or she will also gain access to Thornwillow's network of editors and publishers for recognition within the industry.
It's quite a lot to juggle for Thornwillow, to be sure. Yet for Pontifell, the trifecta of the Makers Village, the Institute, and the Press are all part and parcel of the puzzle to create a thriving creative community that keeps the arts alive.
"The perpetuation of craft is a catalyst for community revitalization," he says. "Learning how to do these crafts gives you a place in life and a place in the universe. You [can] make things that inspire others, that inspire people yet unborn."