The year was 1994 when acclaimed WNYC radio host and reporter Alison Stewart first fell in love with Woodstock. At the time, she was in the region for work, not play. MTV had just assigned her to cover Woodstock '94, so up to Ulster County she headed. The Saugerties tribute festival came and went — rather quietly, all things considered — but Stewart realized she wasn't ready to say goodbye to the Hudson Valley that quickly.
So, four years later, she returned to buy the house of her dreams in Woodstock.
"I purchased the house in 1998 from Rogers Stevens, the guitarist from American rock band Blind Melon," Stewart reveals, adding that her connection to Stevens, whose band played at Woodstock '94, began a few years earlier when she was apartment hunting in New York City. "When I went to purchase my apartment in NYC, one of the first apartments I looked at and seriously considered was I the same building where Rogers lived!"
Set quietly in Woodstock, Stewart's home charms with historic roots and rustic details. Now more than 80 years old, the edifice was hand-built in 1937 in an area that was founded by Norwegian settlers. Because of this, Stewart reveals, many mailboxes in her area still have Norwegian names posted on them.
As for the style, the 1,900-square-foot abode is a classic stone cottage. Thanks to Stewart's commitment to preserve the structure and design, the building still maintains architectural details like the original stone fireplace in the sitting room, which also boasts leaded glass windows and rich wood paneling. Further inside the main property, the great room charms with a bluestone floor, wood beams, and an open view of the yard and stone wall outside.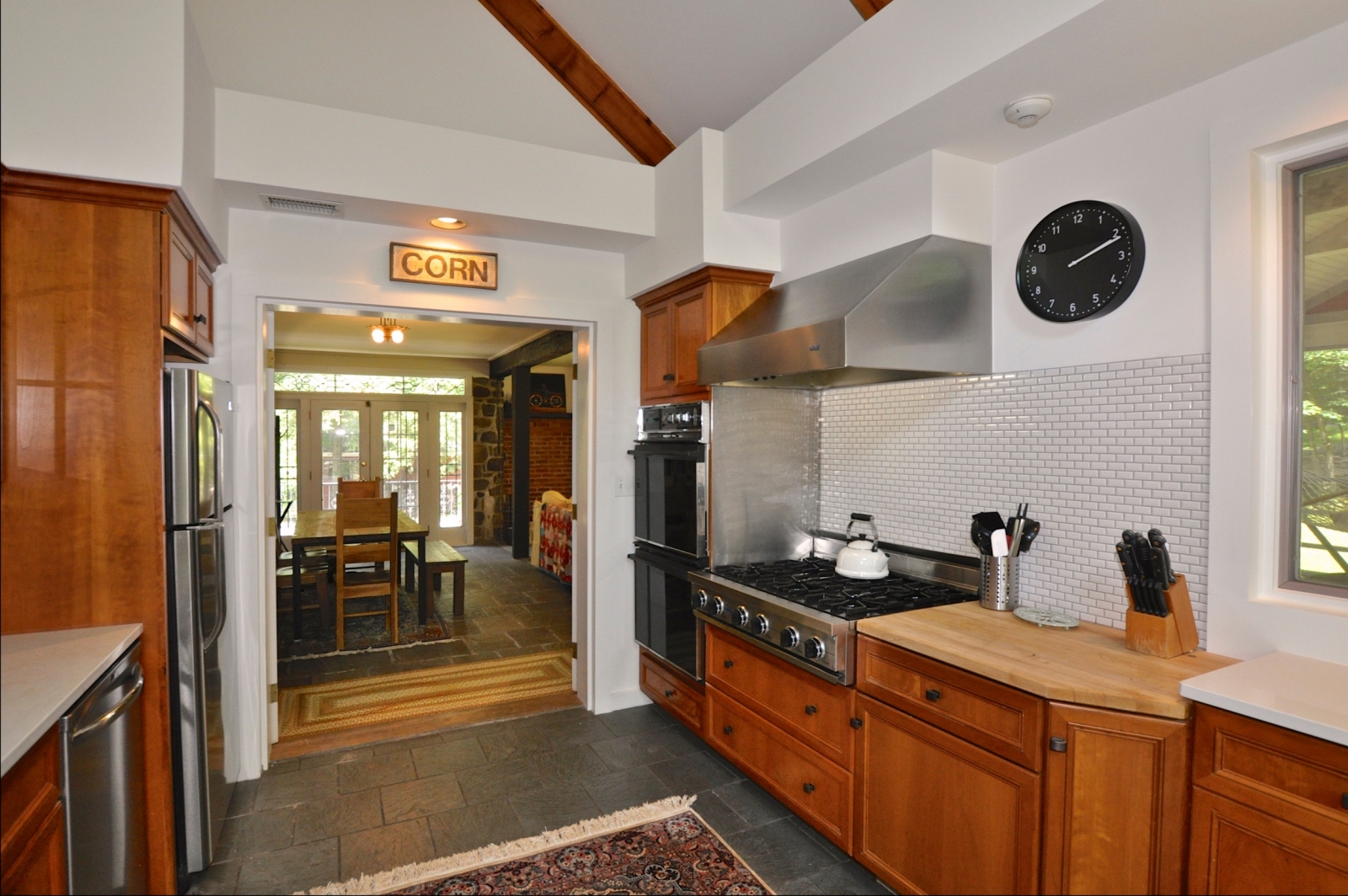 Of all the rooms in the house, the living room is undoubtedly Stewart's favorite.
"[It] has all this really cool dark wood and old Dutch tiles around the fireplace," she says. "I have an enormous cocktail table and around it are a leather couch, a real Arts and Crafts leather and wood chair, and two of my late father's chairs from Harvard."
While it all looks quite lovely now, the original remodel was far from an easy feat. When Stewart planned the initial renovation, she faced what she calls "high 80s" décor in the kitchen and bathroom, along with serious damage from a couple of unwelcome visitors.
"It turned into a full-blown renovation because some squirrels had decided the house was their winter cottage and had eaten through insulation and wiring," she explains. "Thank God for Patrick Murphy and Lillian Maurer from BuildingLogic. They were unbelievably helpful during this whole process."
Outside the home, meanwhile, a number of enticing features help to make the property a true retreat. First is the old kiln, where pottery once was made onsite. Then there are the stone walls, which border the length of the property. Although Stewart found that some of them had sunk into the ground when she first bought the house, she worked with a mason to them to their original glory.
Further afield, "there's also an old stone fire pit deep in the back of the property," Stewart notes. Closer to the main house, an in-ground pool sits quietly on a fenced-in stone patio. On summer days, it's a dream for cooling off or simply lounging poolside with a book in hand.
Overall, the abode is just what Stewart craves of her upstate retreat, which channels the airy atmosphere of Woodstock with the comforting ambiance she prefers.
"I wanted to balance the cozy inside warmth of the dark paneling room with the light, airy sunroom, [so] you feel like you are outside," she says. At the end of the day, "I wanted everything in the house to look like it had always been there."
---