In Gardens of the Hudson Valley by Susan Lowry and Nancy Berner, Duncan Brine's Garden Large property in Pawling is compared to Manitoga, the naturalistic 75 acres in Putnam County created by Russel Wright 50-some years ago. Brine is a talented landscape designer whose gardens blur the line between horticulture and happenstance. The effect is artfully controlled wildness rather than trimmed, artificial perfection.
How do you feel about your garden being compared to Manitoga?
Obviously very flattered. "Naturalistic" is the one-word description of what we do. The Valley has a lot of beauty, and it makes sense to emulate that.
Have you noticed more interest in natural garden design?
There's an increased awareness of the invasive plant problem. Invasives don't allow for diversity, so it's not only environmentally bad but esthetically boring to have one thug of a plant. And there's increased interest in native plants, as people realize they're valuable for their beauty.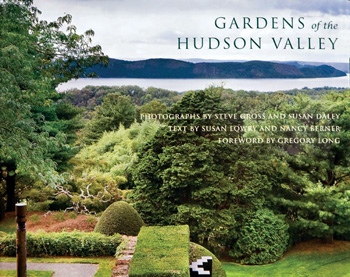 Brine's property is featured in Gardens of the Hudson Valley
Can you recommend nurseries that specialize in native plants?
Catskill Native Plant Nursery in Kerhonkson is a good one.
Can people visit your garden?
Yes, in the fall. There's a Garden Conservancy Open Day, and other times are posted on our Web site.
Do you have a guilty-secret, nonnative plant that you like?
It's more a mistake I made, planting ligularia. It invades uncontrollably in moist areas, so that's one I indulged in that I wish I hadn't. Another that I like is epimedium — it's such a useful plant that will grow in dry spots.
What's the biggest mistake people make?
The classic mistake is to make artistic and esthetic decisions first and put the wrong plants in. Plants must have the conditions they need.
How do we become naturalistic gardeners?
It's all about observing conditions, but a good start is to remove invasives, plant natives — ornamental grasses, groundcovers, and shrubs — and have less lawn. Plant for diversity. And plant trees. They're very satisfying. Trees and shrubs are what structure your garden.
What's your favorite perennial for shade?
I like big plants, so actaea is a favorite. It has great foliage, and the flowers on the end of long, nodding stems can really light up a dark corner.
For sun?
A golden aster, Chrysopsis mariana. It's deer resistant and long-blooming, and it has a really big presence, with a bright yellow flower.
Advice to beginners?
Choose native! Realize the beauty of native plants; they're heartbreakingly unfamiliar to many of us.
See photos of Brine's garden below.