America's most famous architect, Frank Lloyd Wright, made a lasting impression on residential design and was no doubt a genius, but he was notoriously egotistical and dictatorial. Tough luck if you had ideas of your own. By contrast, architects Dennis Wedlick and Alan Barlis (multiple award-winners, if not recognized as geniuses just yet) take the opposite approach, encouraging their clients to express their dreams, ideas, and wishes so that their home reflects their own style.
Wedlick (who has a home in Kinderhook) and Barlis have worked together for 17 years — a partnership Wedlick formalized this year when he changed the name of his company to BarlisWedlick Architects. During that time, they have created homes that run the gamut in style, reflecting influences from Alexander Jackson Davis's picturesque Hudson River Bracketed dwellings of the 1800s, to the glassy, mid-century minimalism of Philip Johnson (with whom Wedlick apprenticed for a dozen years). Yet even though their designs are inspired by classics, none are slavish reproductions.
In their new book, Classic & Modern: Signature Styles (ORO Editions, $50), Wedlick and Barlis tell the stories of 13 different homes, each chosen because it best exemplifies the message in the title. The first five featured homes are essentially modern dwellings, ranging from a reimagined pole barn to a sleek urban loft; the remaining eight are interpretations of classic designs. All blend the solid principles of the classics with the demands of modern life. More to the point, they show how the architects were able to give their clients homes that are more about them than about the firm they hired.
We spoke to Dennis Wedlick about the design process and the new book.
Most people select an architect based on work done in the past, don't they? Your range is so broad, what do you think draws people to your firm?
It's true, most clients choose an architect based on his portfolio and try to identify themselves with something in it. What makes our practice unique — and sometimes challenging — is that our work doesn't have one style and one look, so we're more likely to get clients who say, "Hey, everything they've done is different, so maybe they can accomplish my idea."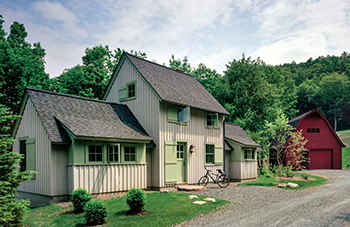 All-American: Two houses on a Columbia County property (above and below right) demonstrate the architects' range and their talent for fusing classic and modern design in earth-friendly ways. The two-bedroom guest house (above) was inspired by A.J. Davis's 19th-century Hudson River Bracketed cottages, but the open floor plan (below) better suits the way we live today. The fresh pastel palette and retro kitchen add a 1950s feel to the mix
How does the process begin?
I like to call it the Philip Johnson method, which is to start with a completely blank slate. We work hard not to imagine what would be the best solution for the property, which is where most architects begin, but instead try to visualize how the client sees the property. We try to understand what they mean by a quiet retreat, for example. The property might be bounded by a freeway, but their vision of a retreat is more to do with sunlight and vegetation than actual sound. The second thing we try to understand is their vision of a retreat in terms of physical space. Then we translate their opinions about the land and the space and the site into architectural solutions. If "tranquil" to them means views of the sky, that translates to roof windows and skylights.
Do you find that people can articulate what they want?
We ask for a mission statement, and for images of everything that feels good to them, whether they make sense or not. Then we collate and find patterns that help us find architecture and landscape features. If someone says over and over, "I want a modern house, but I wish I could build a Greek Revival," they may not even be conscious of the fact that they're laying out an aspiration. They're not asking for a Greek Revival that looks modern, they're telling a story.
So rather than simply design a Greek Revival, say, you try to discover what they actually mean?
Yes, because what one person calls classical, another person might not. We don't want to design a weak modern house because someone likes classicism, and we don't want weak classicism because the house needs to be updated for modern living.
An Italianate villa could look very out of place in rural Columbia County, yet the one in the book [pictured above] seems to fit because it has turrets that resemble silos, and rooflines like those on local barns. Is that deliberate?
Yes, exactly. The main vault is based on Shaker barns, and the turrets are proportioned on local silos. You have to build in a practical way for the climate, using local craftsmen and materials that are available in the area. That's what gives that house its grounded feeling and its timelessness. It doesn't seem like it was made in a factory in Italy and plopped down.
The guest cottage on the same property is very American in style.
It's Stick, the other end of spectrum. We imagined little cottages at the base of the hill with the castle at the top of the hill. Together they tell the full story of a mini rural compound, and I love that. To have a mini castle at the bottom would be contrived in a bad way; this is contrived in a good way.
Do you have a favorite project in the book?
That's like asking a parent if he has a favorite child. But one that pushes the envelope the most in terms of classical meets modern is the Greek Revival River House. It has classical proportions — the classical rule book is thousands of years old, and we followed the rules to a T. And yet it breaks every other rule. The overall layout is supposed to be symmetrical, but the primary rule of modern architecture is that you allocate and size the rooms for how they'll function best, with no concern about symmetry. We broke that rule head on, which is why it aggravates lovers of classical architecture.
Italian classic: The U-shaped Tuscan villa has theatrical flourishes, but because they reflect vernacular influences — like silos and the curved roofs of barns — the house doesn't look out of place in its farmland setting

In the main living room, the snazzy Italian Revival interior g

ets a shot of contemporary flair from the wall of glass that floods the room with light
Can't they just call it something else?
Oh, they do!
What do you do if somebody wants a modern convenience that's not aesthetically pleasing, like a garage incorporated into the house?
In that case, we'd encourage them to have a separate building and a connector. Whenever possible, we try to translate aspirations into multiple buildings. The bonus is you get interesting buildings and interesting spaces, too. We're almost as proud of the spaces in between the buildings as we are of the buildings themselves.
What do your projects have in common?
What unifies the work is our desire to use practical, innovative, and cost-effective materials to accommodate these very aspirational ideas.
You're known as a pioneer of sustainable building. Does that ever get in the way of giving clients what they want?
We've never had a client who didn't want that. They know sustainability is central to my philosophy. They don't expect to have to ask me to make a building safe, strong, and sustainable. That's my job, my responsibility as an architect. They say, "I'm gonna hire the guy that makes the building safe, strong, and sustainable." And then I can get to the fun stuff.
How can you add personal style if you're working on an existing house?
You can do it in the landscape, or just with the combination of colors you paint the house. That's an expression of your personality. Many architects don't live in homes that are custom built.
You designed your own quite quirky house in Kinderhook 25 years ago. Does it still reflect your signature style?
Oh yes. It's an eccentric style of Shingle house. It's not state-of-the-art in its environmental performance, but I love it as an old house now.
Do you hope people will use the new book for inspiration?
The purpose of the book is to show the fundamentals of building on the strengths of two very different approaches: modernism with touches of classicism, and classicism with modern ways of living. I hope people will buy the book and then go to historic homes — to Olana, for example — to understand how those people translated their own lives and environments and fantasies into physical works of art. To miss the enjoyment of architecture is to be deprived.
» Return to Hudson Valley Home Fall 2013