Photos by Jim Costigan
One Hudson Valley man's love of Lord of the Rings led him to construct Hobbit Hollow, an earth-sheltered passive house in Dutchess County.
There's no shortage of unconventional homes in the Hudson Valley.
Sure, there are your standard stunning country manors in Ghent and Italian villas in Newburgh, not to mention the luxurious farm apartments in Dutchess County and community residences in Red Hook.
When we say "unconventional," though, we're talking the bonafide jaw-droppers, places like the rainbow haven in Rosendale or the spiral house in Saugerties that make you stop and seriously consider just how the architects crafted such unforgettable designs.
Hobbit Hollow is one of those jaw-droppers. It's not every day you see a real-deal hobbit house, after all.
As its name suggests, Hobbit Hollow is a livable interpretation of the charming hobbit homes that grace the pages of J.R.R. Tolkien's Lord of the Rings. While Bilbo and Frodo Baggins might not live in this particular Pawling house, we could easily see them stopping by for second breakfast in the Hudson Valley.
"I fell in love with the house in the movie," admits owner Jim Costigan. "I thought that was one of the coolest houses I've ever seen."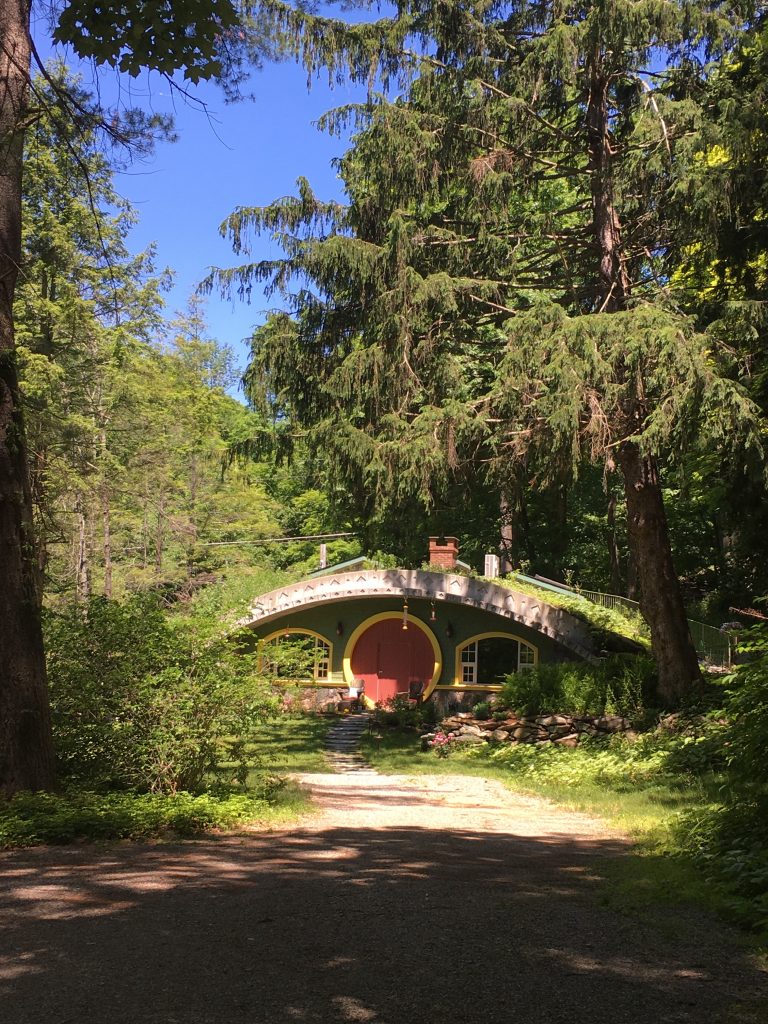 Costigan, a lifelong Hudson Valley resident, first came up with the idea to craft a hobbit house of his own after watching The Fellowship of the Ring (2001) and converting his backyard shed into a mini hobbit home for his lawn tractor. As a high-end construction worker specializing in high-rise residential units and cement work in New York City, the Villanova University grad with a degree in civil engineering was already well-versed in the ins and outs of construction. Even so, when he decided to take the next step and build a livable hobbit house from scratch, he knew he needed to do his research.
Prior to purchasing the plot of land upon which Hobbit Hollow now sits in 2012, Costigan began looking into passive home design. He liked the concept of an ultra-energy efficient property, especially since it meant his design would not require any large units for heating or cooling. The only trick, he realized, would be crafting a passive house that was also earth sheltered, with a living green roof on top.
"It was a lot more difficult than I thought it would be," he admits. In fact, the home took him, his wife, and his four children a total of eight years to complete, since they spread out work on the weekends. "People come over who are in construction and they don't know how I built it."
Admittedly, Hobbit Hollow is a feat of architecture the likes of which can only be found in Bag End. Costigan designed the entire unit from scratch with the help of an engineer in New York City in order to ensure the space was both structurally sound and as efficient as possible. He took into consideration everything from natural lighting and hot water to insulation and thermal bridging. The undertaking was a lesson in creativity and ingenuity and one that, for Costigan, resulted in the property that he calls home today.
Now complete, Pawling's hobbit house is a two-bedroom, two-bathroom, 1500-square-foot space with a dining room, living room, and full kitchen. From the outside, it welcomes visitors with a circular-style entryway that Lord of the Rings fans will recognize. The entryway leads into a cozy interior with a surprising amount of natural light for a home that's covered in dirt (literally speaking, there's a bed of grass and even a patio on the roof).
The abundance of light is thanks to Costigan's incorporation of skylight into the design. While two front windows flank the door, four skylights spread between the living room, kitchen, and hallway make the house feel anything but subterranean. As for the rooms themselves, the full kitchen is surprisingly spacious, while the master bedroom has its own bathroom. It's not too big, Costigan says, but it's spacious enough.
"It's not a house where you can have a lot of stuff," he says. "You have to live within your means here, which is great."
Of course, that doesn't mean he's settling on anything. Outside, the house boasts its own hot tub, with a scenic patio on top of the roof. Because the entire home is covered in grass, it blends in perfectly with the scenery around it, including the rippling waterfall that cascades along the grounds.
In regard to its passive house design, Hobbit Hollow features a barrel-vaulted ceiling made from a reinforced concrete superstructure in order to support the soil on top of the house. Every stud had to be cut to fit, and all the framing for the windows was custom. The insulated floors and ceilings deter thermal bridging, which can lead to higher energy bills. The house uses a heat pump instead of a boiler and has on-demand hot water as well.
"It's a super-insulated, super-airtight home," Costigan enthuses. "Some of the architectural details are really pretty innovative."
Originally, he and his wife made their home at Hobbit Hollow during the COVID-19 crisis, since two of their adult children relocated to their original property to be nearer to family. Now, they're giving the one-of-a-kind home its grand debut on Airbnb. Beginning September 6, the entirety of Hobbit Hollow is open for up to six guests. After each stay, the space will remain vacant to air it out and ensure sufficient time to clean.
In terms of décor, Costigan reveals that he has incorporated a few bits from Lord of the Rings into his design. He hangs maps and décor on the walls, although he keeps it cozy and welcoming for the most part. He's happy the interior is officially done and livable, although he admits he does have projects in mind for the future.
"We're building a patio right now by the stream," he notes. "It's really beautiful."
In his downtime, the semi-retired professional plans to continue work on the gardens and landscape. While he doesn't think he'd ever tackle the enormity of a hobbit house again, he's more than pleased with his version of a Middle Earth abode.
"It's a really gorgeous piece of property," he says. "You really feel like you're in a special place when you're here."