Photos by S3 Architecture | Courtesy Corcoran Country Living
Designed by S3 Architecture and Aston Martin (yes, the carmaker), this private modernist estate in northern Dutchess County is striking from every angle.

For its inaugural single-family residential project, luxury British carmaker Aston Martin has chosen a very private 55-acre parcel in the Dutchess County town of Milan.
The company's design team is collaborating with New York City- and Rhinebeck-based S3 Architecture to design and build the modern 5,983-sq-ft spec house, which is known as Sylvan Rock and priced at $7.7 million.
"It's an unbelievable spot, perched up on a hill with beautiful views of the Catskills," says Marie-Claire Gladstone of Corcoran Country Living, who has the listing with her Corcoran colleague Jason Karadus. "This really is a trophy property, more like a compound for somebody."
"This is Aston Martin's first (single-family) residential project in the world," Gladstone says. "They wanted to be around New York. They want to do more of these."
The company is also building the 60-story Aston Martin Residences in the heart of downtown Miami.
Founded in 2005, S3 Architecture is led by principal and registered architect Christopher Dierig and partner Doug Maxwell.
Corcoran Country Living now has 24 agents working out of its two Hudson Valley offices in Rhinebeck and Millbrook, Gladstone says.
So far, initial thinning of the trees and clearing of some of the Sylvan Rock land on Woody Row Road has begun, and construction is set to begin in the spring, with a completion date of Q1/Q2 of 2022.
The main house in the innovative compound will have four bedrooms, four full bathrooms, and two partial bathrooms. The project will also have three multifunctional guest pods that can be used for overnight guests, remote office work, or home schooling.
A 2,000-ft-long driveway that winds through natural rock outcroppings leads up to the home site.
The ultra-modern house, which features a black cedar façade, floor-to-ceiling glazing, and a folded panel roof with jagged edges, "mimics the shape of the rock formations," Gladstone says.
Other highlights in the main house include a cantilevered owners suite, an executive office suite, a den, a lounge with a bar, and a custom wine cellar featuring Aston Martin's signature cross-hatched lattice design.
The geothermal compound is loaded with luxury amenities, including a pool with stone decking and an outdoor kitchen; an 873-sq-ft pool house/wellness pavilion with a hot tub, sauna and two treatment rooms; an architect-designed tree house; a three-car garage; and an agricultural food garden with a separate service entrance.
In total, there will be 8,430 sq ft of finished living space in the estate.
Sylvan Rock is about 15 minutes from downtown Rhinebeck and only seven minutes from the Taconic State Parkway, Gladstone says. It's about two hours from Manhattan.
Depending on when they come on board, the buyer can have some input on the interior finishes and other aspects of the plan.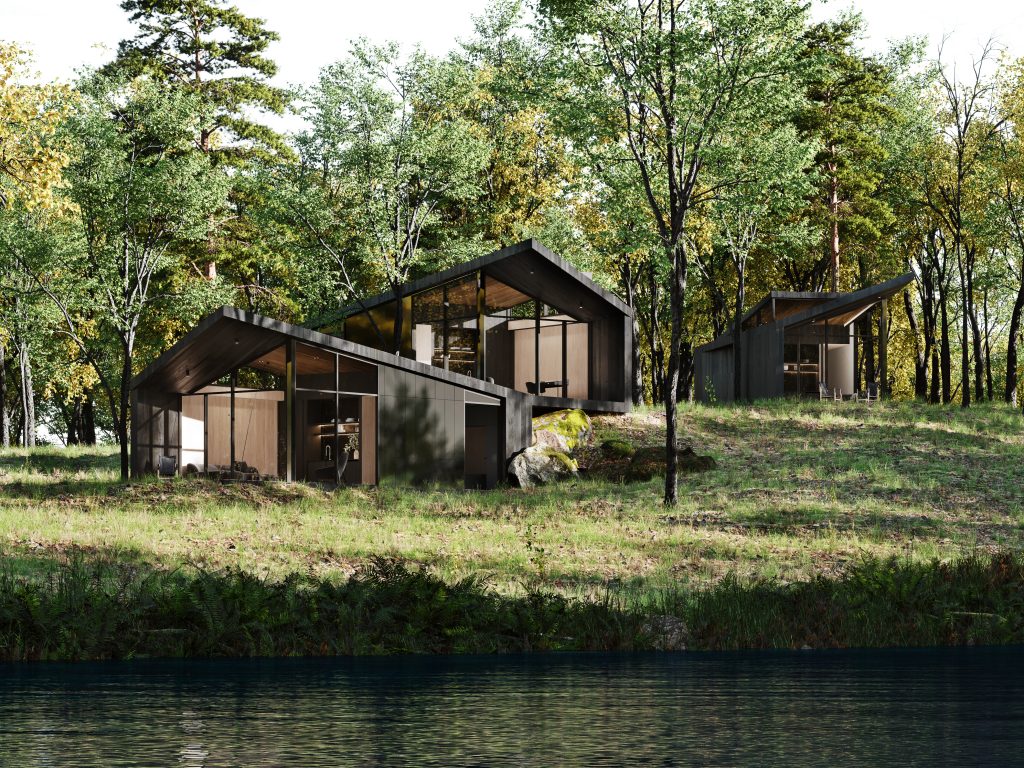 According to Glandstone, the modernist estate has drawn interest from Aston Martin aficionados along with luxury buyers from across the country. "We've had people fly in from California to tour the site."