Photos by Beny Huckaby
Head to the Ulster County town for waterfront fun along the Rondout and hip eateries and storefronts in the Stockade district.
A mid-Hudson city brimming with personality, Kingston's reputation as a hub for all things cool is well deserved. The city seamlessly blends its history (Kingston was the original capital of NYS) with modernity throughout Uptown, Midtown, and the Waterfront—American Revolution-era buildings serve as a backdrop for Kingston's diverse population of artists, small business owners, and more. From the old maritime feel of the Rondout to the nighttime bustle of the Stockade, there's no shortage of things to do for visitors and residents alike.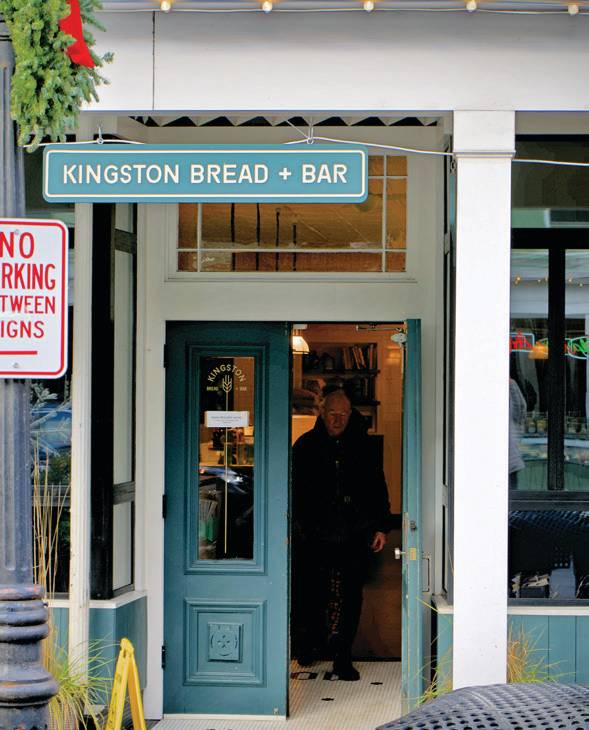 Across the widespread city, you'll find a number of great dining options. LOLA Pizza serves wood-fired classics and funky combo pies in the Stockade; Midtown's Lunch Nightly is a deli by day that morphs into an evening dive bar; Brunette is a wine bar with small apps and cheese plates in the Rondout; and just north on the Hudson lies The River Pavilion at Hutton Brickyards, a waterfront fine-dining destination serving cuisine from their outdoor kitchen.
Speaking of Hutton Brickyards, it happens to be among several wonderful hotels scattered throughout the city. Others worth a stay are Uptown's Hotel Kinsley, The Forsyth on the Rondout Creek, and just up the road, the 19th-century converted Church Des Artistes.
While you're exploring the city, it's worth stopping into Rough Draft Bar & Books for a new read and a drink; Hamilton & Adams for menswear and Upstate & Chill merch; and Rhino Records for vinyls, all in the Stockade District. Along Rondout's Broadway, Kingston Wine Co. is great for an artisanal bottle of vino; Half Moon Rondout Café has delicious chocolate babka; and Clove & Creek offers a wide selection of womenswear, home goods, and apothecary.
Kingston also boasts a wonderful arts scene. Check out the Dash Gallery for its illustration and photography exhibits; the Hudson River Maritime Museum, which catalogues the river's history and offers sailing and woodworking classes; Pinkwater Gallery to view and purchase pieces from Hudson Valley-based artists; the Ulster Performing Arts Center for concerts and theatrical performances; and Field + Supply, the popular makers market that takes over the grounds of Hutton Brickyards twice a year (the next one is October 7–9).
Although locals have had to say goodbye to area favorites like Lis Bar and Boitson's recently, the boom in new businesses Tanma Ramen Tavern, and vegetarian Moonburger have filled the void. Newcomers need not worry; this Hudson Valley city won't be slowing down any time soon.
Related: Accord Market Is an Anything-but-General Store in the Hudson Valley