Often, when readers browse through popular home décor and lifestyle magazines searching for ideas for a backyard patio, they are teased with grandiose designs and sprawling outdoor layouts. Sometimes, however, these options are just not feasible due to space limitations. In addition, when you do come across a design concept for a smaller area, it often omits some of the very details — like a fire pit — that are on your dream list. But never fear, even if you have a tiny yard and a minimal budget, there are ways to transform your patio fantasies into reality.
Charles H. Gamarekian is the chairman and CEO of Lyndhurst, New Jersey-based Cambridge Pavers Inc., a company that makes interlocking paving stones. He believes using such stones — in place of more traditional materials like patio block or poured concrete — is an economical way to build a small but functional outdoor area. "First, figure out what you would like to see in the space to make it as functional as possible," he advises. "Often, a larger impression can be achieved by utilizing materials that offer the most versatility. For example, consider an interlocking concrete pavement system. Use of larger-sized pavers, certain pattern designs, and a centrally placed inset of a circular or diamond-shaped pattern arrangement, are ways to make a smaller space look bigger. Also, placing the pavers diagonally can, depending on the patio's configuration, result in a wider perception."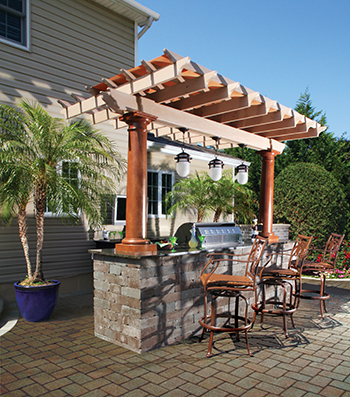 Cook out: You don't need tons of space to have a full-service outdoor cooking setup
Gamarekian adds that you don't need to give up on that tiki bar or cooking area that you've always longed for. "Consider 'bumping out' these areas from the main patio, and then surround them with garden beds or pathway approaches," he says. "For more casual seating, think about a perimeter seat wall or a bench seat notched into a wall system. Both can be built from rock-faced wall stones and similar products." His company sells "kitchen modules": Measuring just 75 inches long and 36 inches deep, these precut, prepackaged sets come with top-of-the-line stainless steel appliance packages.
If stairs are needed to reach the patio from a back door, Gamarekian recommends ready-to-install, cast stone treads in natural colors. You can find these in individual 48- and 72-inch lengths, or as part of a prepackaged staircase kit. More affordable than custom-cut natural bluestone, cast stone is actually more durable than wooden steps.
If you don't have room for a fire pit on your patio, consider building one nearby. Many companies sell fire pit kits, which come in an array of textures and colors and include grills, spark screens, covers, and various water features.
The best news is that many firms, including Cambridge, offer design software that can be downloaded onto your computer; all you need is a digital photo of your yard, and you can plot out your new patio right on the screen. "So whether you are a do-it-yourself homeowner — a weekend warrior — or someone who wants to hire a contractor, this system can work for you," says Gamarekian. "You don't have to do it all at one time; you can add on as your budget allows. And this concept of extending your living space to the outdoors is not just for Memorial Day to Labor Day anymore. People are out there with their fire pits all year long."
» Return to Husdon Valley Home: Summer 2013