All photos by Francis Dzikowski
A New York City couple's classy but oh-so-comfortable second home was built specifically to showcase sweeping Hudson River panoramas. Tour a Germantown stunner with design inspo in every room.
When Helen Pfister and Matt Corpuel bought land in 2014 to build the custom home of their dreams, they knew just what they wanted: a soothing, light-filled cocoon with a stay-awhile vibe that would welcome family and friends with open arms. Their vision and wish list were divined and refined by 10 years of retreating to their previous weekend place, a 19th-century house they renovated in Livingston.
Enter longtime interior designer Greg Feller. He's a partner in Hudson Home—an interior design firm with a Hudson-based retail store of the same name, which Feller describes as part incubator, part laboratory— and curator of this home's interiors from before it even had walls. According to Feller, the couple's new home perfectly epitomizes two key qualities that their former one lacked: open spaces that flow freely to encourage socializing, and plenty of natural light. Pfister and Corpuel credit Feller for master-planning just about everything inside, including the kitchen, bedrooms, bathrooms, and paint colors throughout. The expertly layered textiles, art, and other furnishings are all his handiwork. From the get-go, Feller knew that the true star of the show had to be the magnificent river views.
Early discussions around finishes for the home centered on creating textural interest, says Feller. But since the building plans called for plentiful windows, all three agreed that the ever-changing Hudson River scenery and surrounding old-growth trees were going to provide tons of color in every room. For those reasons, Feller selected a very neutral palette.
"It began as more of a weekend place, where we could have lots of friends and family visit. That changed once the pandemic began, and it really became our primary home. We realize how incredibly lucky we were to have this place to escape to. Going forward, I think we'll likely split our time between here and our apartment in New York City."
—Matt Corpuel
---
They started from the ground up, with showstopping reclaimed oak wood flooring. From there, they layered on natural American walnut, Moroccan clay tiles, wools, linens, and leather. "Wherever we could, we strived to use materials that had their own authenticity or integrity," notes Feller.
Without a second's hesitation, Corpuel and Pfister say the screened-in porch is their go-to haven. "Weather permitting, we pretty much live out there," says Pfister. By design, the home's public spaces all blend seamlessly, and the separation between inside and outside is blurred by the huge sliding door that separates the kitchen, living and dining rooms from the screen porch. Clearly, this is a house built for entertaining.
"The designer-client relationship is a very close alliance. Most of them become our very good friends."
—Greg Feller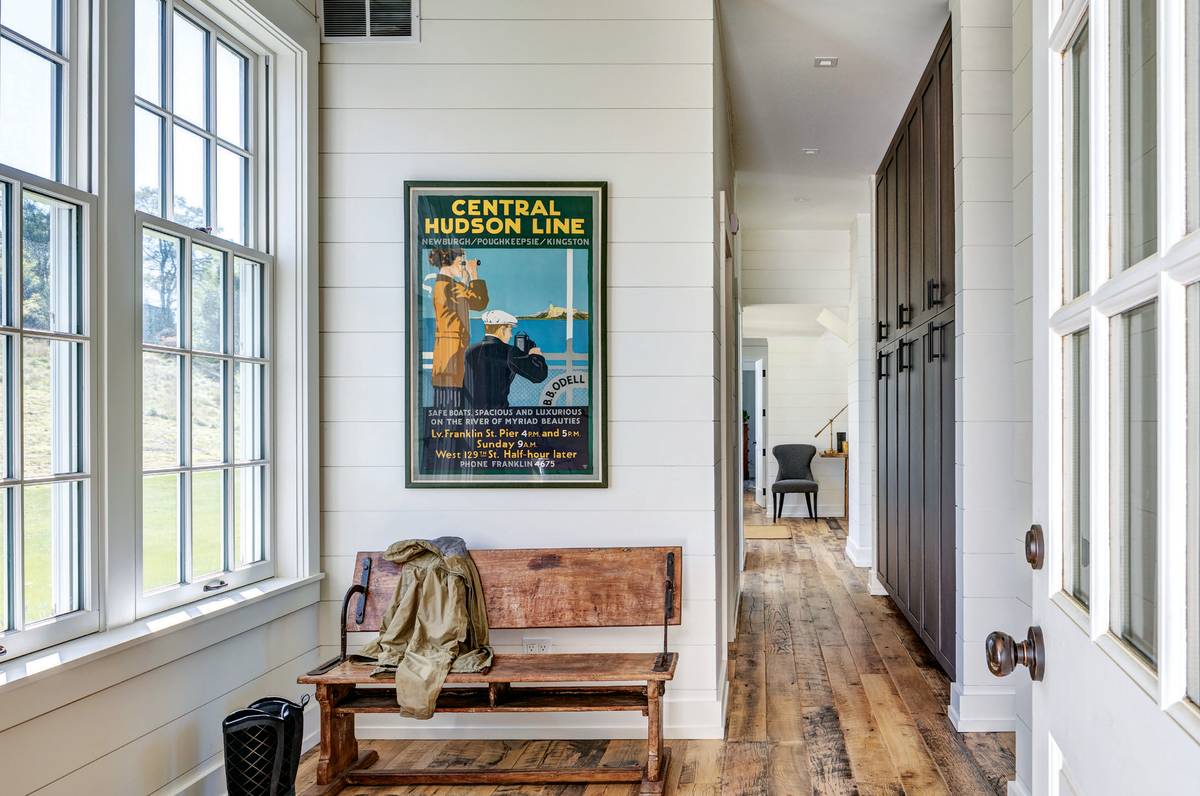 "The first country house was more of a collection of items brought from previous homes and some local vintage finds. Their scale and vibe were just very different. This new home was much more consciously put together."
—Greg Feller
As for the sleeping quarters, the couple had clear goals. They wanted their personal bedroom to be separate from the three guest bedrooms, one of which was to be situated on the ground floor to accommodate any visitors who might have trouble navigating the staircase.
"We approach each project with an open mind and try never to be formulaic," says Feller. "We listen carefully to the client to determine what 'problems' they're trying to solve. We also spend a great deal of time just absorbing the space, to get a feel for the light, the spatial qualities, and any perceived design challenges. The most important thing to us is that the end result be a direct reflection of the owners." Mission accomplished.
---