So, it's your turn to host the holidays again? Make your holiday tablescape memorable with these creative tips from a local designer.
The holiday season is a whirlwind of stress, joy, planning, cooking, gifting, cleaning…you get the picture. Finally, after all that preparation, the holiday culminates with a meal around the table. Take your dining room to the next level this year by creating a tablescape for your guests in the way of seasonal crafts, tone-setting tunes, and more.
View this post on Instagram

We asked Stacy Garcia, the principal of Nanuet's design and licensing company Stacy Garcia Inc., for some tips on how to prepare the ultimate holiday tablescape.
Set the Tone
First and foremost, you must decide what you want the tone of your table to be. Garcia asks, "Do you want the table design to be warm and cozy? Bold? Sophisticated? Moody? Fun and whimsical?" Establish what feeling you want to create at the table, and then use that as your guiding principle while constructing the tablescape.

Build Around a Centerpiece
Now that you have a general idea for the mood you're creating, you'll need to select a centerpiece. This can be a typical centerpiece – think flowers, a fruit bowl – or a completely unusual item from your house. Garcia urges you to "have fun!"
Ideally, this object will be something "tall and bold," as you'll want to create levels on the table. As you build around the centerpiece, consider how the shapes, colors, and textures of the objects complement one another.

Solidify the Color Palette
Take a look at the objects you've assembled so far and identify the dominant color scheme. Then, accentuate these colors as you choose the rest of your holiday décor. Apply this palette to the tablecloth, drapes, placemats, chairs, and even cups and silverware. "Don't be afraid to play up a color that may only be an accent color in the room at the moment," advises Garcia. And, if you don't want to break the bank, consider renting the pricier elements of your tablescape.
Add Some Elegance
At this point, you have a solid base for your tablescape. But you know what they say: the devil is in the details!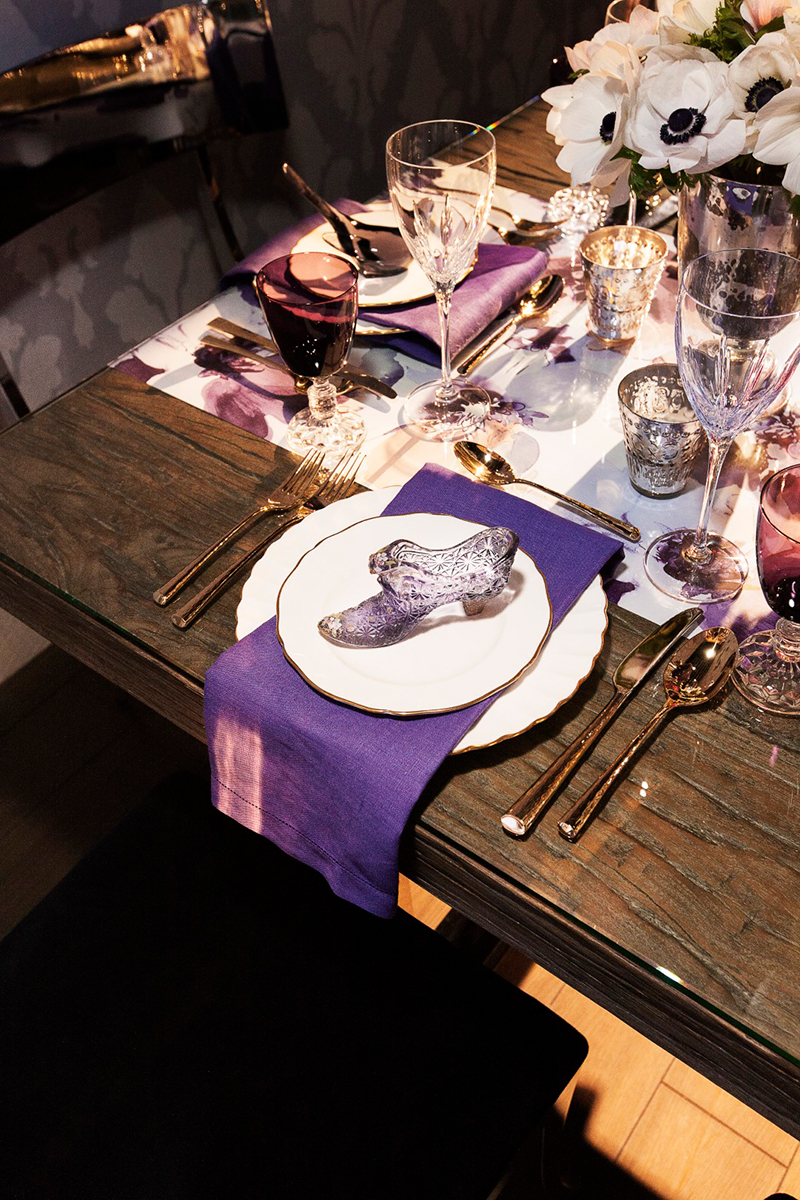 If you're going for a cozy vibe, Garcia suggests using folded throw blankets to back your chairs. Table runners with interesting patterns are another great way to enliven the setting. The inclusion of floral arrangements – or even arrangements of branches – is a tried-and-true tactic to beautify the space while creating levels on your table. Don't forget to consider your color palette when making these design decisions!
Put the finishing touch on the atmosphere by creating a playlist for your event. Be sure that the tunes you choose fit the theme, and keep the volume low so as to not discourage conversation.

Optimize Your Lighting
It's time you shed a little light on all your hard work! Garcia stresses the importance of balanced lighting – illumination is important, but so is avoiding harsh light sources. If you find that your lighting situation is less than flattering, Garcia has a few suggestions:
"There are bulbs available that simulate torches or fire as well as ones that can change color. You could even pull lamps from other rooms to switch up the lighting and décor, or replace an old shade with a fabulous new one for an existing lamp to go with the theme. Experiment ahead of the big night to see which lamps give you the best lighting."
Conversely, you could go old-school with candles. And when it comes to candles, Garcia believes that "more is more." Candle holders and hurricane vases are beautiful objects to set on your table, and you can't beat the romance of a candlelit soirée.
The Finishing Touch
"If you have finished decorating and there's no room to fit the plates and all the glasses you should have for your guests, you've gone too far," says Garcia.
Remember, while your tablescape is a work of art, it also must fulfill its function as a table. Can your guests see one another? Is there ample space for them to pass the mashed potatoes? If the ergonomics aren't quite there, pare back until the tablescape is more comfortable.
"On the other hand," primes Garcia, "if you look at the table and wonder what is missing, you probably don't have enough."
Once everything is set, consider adding personalized place cards. These cards can include notes of appreciation, quotes that match each guest's personality, or drawings to indicate who sits where. Plus, your guests can take the cards home as a memento of your thoughtfully designed holiday gathering.
Related: And North's Emma Tuccillo Celebrates Home in the Hudson Valley