Architect Barry Price is known for his innovative contemporary designs, but his home near Woodstock is something quite different: a circa 1950 former summer cottage with a decidedly nostalgic air.
When Price and his wife, April Traum, moved to their Ulster County home in 1994, they made only small changes to it. Others may have ripped out retro touches like knotty pine paneling, but Price and Traum resolved to work with what was there. Over the years, they tweaked details and changed some windows but didn't add a single inch to their 1800-square-foot living space.
"I like when a house betrays its history," says Price, who points to the stains in the pine flooring as evidence. Still, things change. After having kids, the couple decided two years ago to add onto their kitchen. Formerly galley-style with a long countertop, the space was awkward. And since it connects two wings of the house, it seemed a natural place to add onto.
The addition was a mere six and a half feet deep, but oh, what a difference six and a half feet can make! The rambling "skinny railroad car of a house," as Price puts it, today has a focal point. "The kitchen was conceived as a tower, kind of a vertical element to anchor the house," he says. In the newest part, a ceiling slopes gently upward to 12 feet, with transom windows letting in yet more light to the sunny room.
To keep it from screaming "addition!" Price took care to match the pine floorboards and tie the tones of the maple cabinetry and granite countertops to the original knotty pine in the family room beyond. A green tile backsplash replays the colors in a 1940s enamel-top table that has always been a presence in their home, as well as in their collection of California art pottery (the couple are LA transplants, though Traum was raised in Woodstock).
In the architect's own kitchen, a deep pantry with glide-out shelves
keeps groceries easy to get to,
yet out of sight
"I wanted to make the kitchen look like it was new in the 1940s or '50s, and done by somebody a little forward thinking," Price says. "We didn't want anything too modern or too traditional."
While many believe the classic triangle of stove, sink, and refrigerator is the best layout, Price begs to differ. Instead, he positioned the refrigerator off to the side of the work island and created a separate cleanup area of dishwasher and kitchen sink on another wall. "It's actually more important to give people outside the kitchen direct access to the refrigerator so they don't bang into you when you're trying to work," he says. The idea is to create a space that accommodates two people — one cooking and the other cleaning up — with a work island serving as a shield from the rest of the house.
Price also went against the traditional practice of ripping out the old to make way for the new: He saved all his old appliances, but spiffed them up with new panels, an economical choice. He spent money instead on plumbing fixtures; an extra-wide cast-iron sink with a vintage enamel look; and, of course, cabinetry, deliberately configured with matching shelving to look built-in, almost like boat joinery.
Double rows of windows on the east-facing kitchen wall welcome morning light and offer a view of a majestic white pine tree and mountains in the distance. Recessed lighting in shelving that runs between the windows keeps the focus on the view. "Originally, we planned to put pottery on display over there, but we've found it looks just great without it," Price says.
Clever elements in a client's open, contemporary kitchen include translucent glass on the single above-counter cabinet
The view is also a driving force at a house just down the road, which Price recently transformed with a new kitchen and living areas. Built in the 1980s, the house is not tied to any particular design era, freeing Price to inject his contemporary signature. The owners wanted as open a floor plan as possible, so that there would be unobstructed views of the mountains to the north. What Price created was a kitchen oasis flanked by twin living rooms with uninterrupted sightlines from the front of the house to the back.
The open kitchen is flanked by two comfortable, casual living areas, one with a fireplace. Beyond the appliance wall is a breakfast room (at left) and a more formal dining room. Windows on three sides flood the entire space with sunlight
"To keep the views open, everything vertical had to be tucked away," says Price, who took down walls and columns, replacing them with steel ceiling beams. Wolfe double ovens and a Sub-Zero refrigerator cluster on a west wall. Stainless steel cabinets match the appliances. The microwave pulls out from under the work island, while the wine refrigerator fits neatly under the stairs.
On the east end of the room, the single cabinet built above counter height has translucent glass on both its back and doors and holds mostly glassware for the lightest effect possible. Sexy, backless Italian barstools slide under the work island when they're not in use. Ventilation is downdraft, avoiding hoods, and all the lighting is recessed, so there's nothing dangling to spoil the clean lines.
The work island features a sleek stainless steel countertop with what appears to be an integrated sink. In fact, the fabricator created the look by skillfully welding the seams around a standard drop-in model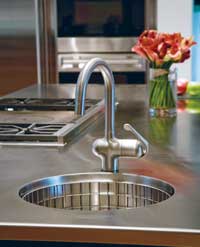 Price and the owners settled on black granite countertops, but went for a counter-height work island topped with stainless steel instead of stone. "We felt it should be a different material from that at the perimeter," says Price. "It's so massive, that size in stone would have required seams. And its presence would have been monolithic. Instead, you walk in and your eye doesn't go immediately to this huge island." Cherry and ebonized ash cabinets — factory-made rather than custom — add to the understated sleekness and seem to recede, with the views and inhabitants of the house taking center stage.
"It's a kitchen but it's also a living area," says Price. "It's a complete inversion of the idea of the kitchen as a space in the back of the house. Wherever you are, you feel connected to the kitchen. This whole space is about a family cooking, reading, talking, and communing together."  â—
Vintage Kitchen
Design team: Barry Price and April Traum www.barryprice.com
Contractor: Harmony Builders www.harmonybuilders.com
Cabinetry: Woodstock Custom Woodworking www.woodstockcustomwoodworking.com
Stone countertops: Barra & Trumbore www.barratrumbore.com
Tile: Functional Sculpture www.functionalsculpture.com
Modern Kitchen
Design team: Barry Brice, Russell Krysiak, Ilene Mark www.barryprice.com
Contractor: David S. Glick Bearsville (845) 679-9632
Cabinets: Craig Design www.lescraigdesign.com
Stainless steel fabrication: Puffin Engineering Woodstock (845) 679-5347