Anna Aberg spent much of her childhood in the countryside near Gothenburg, Sweden, and Tom Roberts grew up in northern England and Scotland. So it isn't too surprising that they felt right at home in the foothills of the Catskills, with its rugged farmland and endless forests, waterfalls, and streams.
While still working nine-to-five jobs in New York City, Anna and Tom went upstate whenever they could, renting various cabins, farmhouses, and converted barns. "We would be sitting around the fire, dreaming up plans and looking at real estate online," says Tom. "Eventually, we found these two very dilapidated, almost terrifying looking buildings on the edge of Livingston Manor." The property contained six hundred feet of New York's Willowemoc Creek, the famous fly-fishing river that connects Livingston Manor and Roscoe.
"Over the first six months, a gaggle of friends who were excited at trading a keyboard for a sledgehammer, shovel, or paintbrush helped us out," says Tom. In addition to restoring the house, Anna and Tom were also constructing dining tables, tents, and a sauna on the river. When they completed the work, they invited their helpers to enjoy the fruits of their labor. At the celebration, everyone realized that other friends would also love a Livingston Manor fly-fishing experience.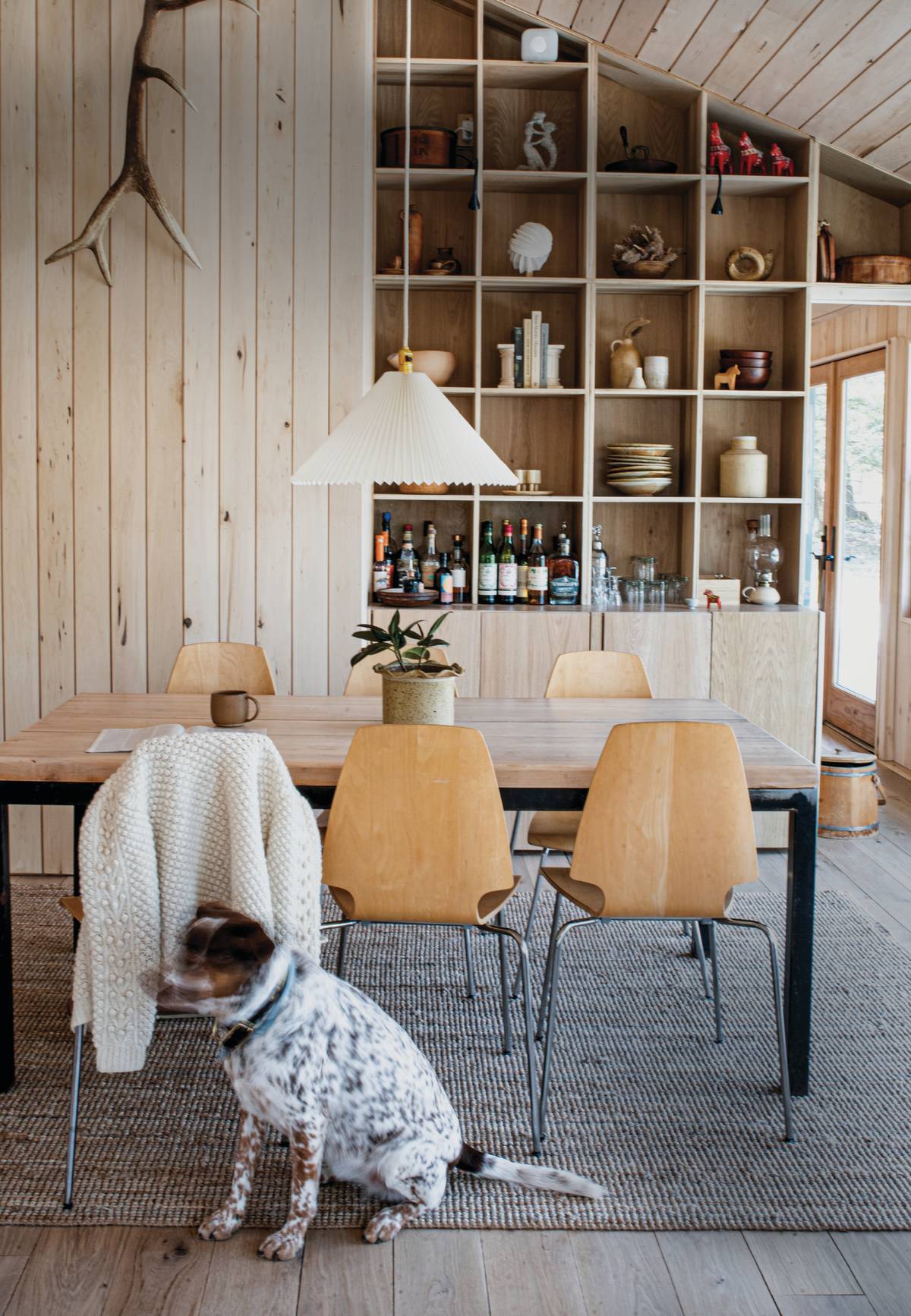 "It was always meant as a house for ourselves with a view to creating a space to share with friends," says Anna. The success of the "Fly-Fishing Club" came as a bit of a surprise and forced them to rethink their lives in the city. They were creating a year-round destination, a bed-and-breakfast nature retreat of sorts, with not only fly-fishing but hiking trails, saunas, outdoor cooking, and cozy indoor living spaces.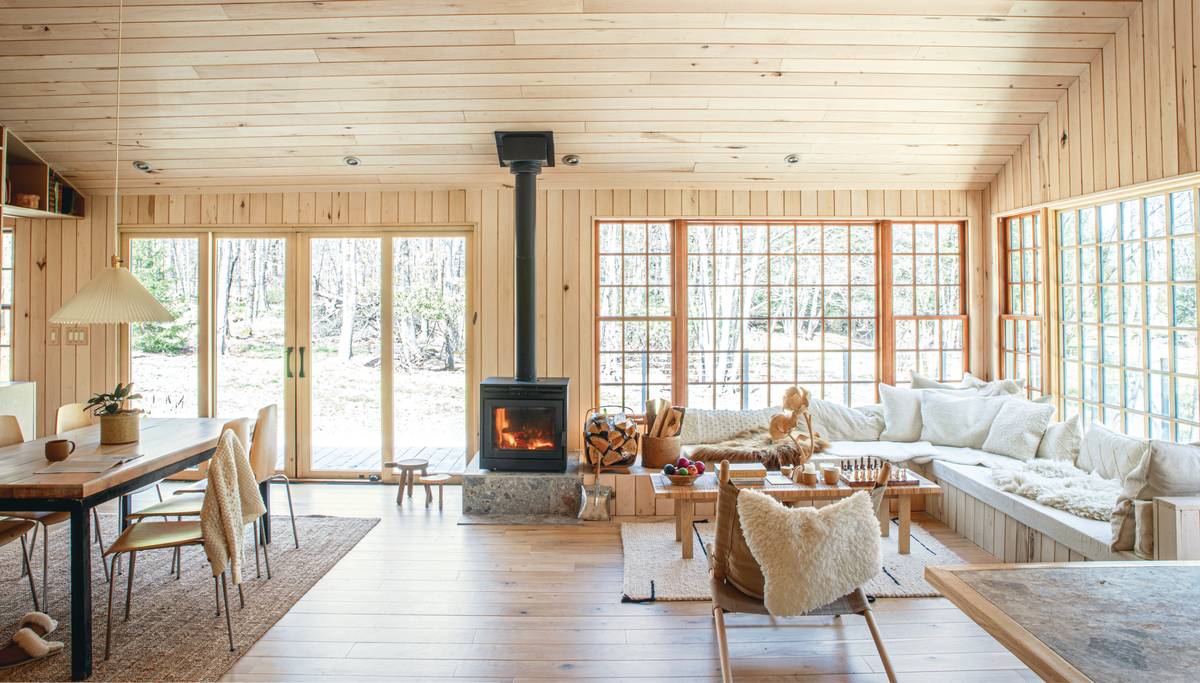 Once they'd committed to the country full time, Anna and Tom needed more space for themselves and bought a small Victorian house nearby, which they named the Lady Pomona. In no time, it became a bed-and-breakfast, too, and they were on the lookout again. "We realized that we needed to create a more sustainable life for ourselves, a home of our own," says Anna. Meanwhile, many regular guests bought their own properties and came to Anna and Tom for help with the renovation, design, and decorating of their new homes. This led to Homestedt, Anna and Tom's studio for their budding interior design business and a store for their favorite home goods.
Driving home one day, only minutes away from Lady Pomona, Tom spotted a new "For Sale by Owner" sign. "I knew Anna was walking our dog, Biscuit, on the trail behind the property, so I called her and was like, 'Get in the car. I found our next home,'" he says. A few minutes later, they pulled up to an old ranch house with vinyl siding. "It was ugly and suffocated by trees, but it had this beautiful stream running by it," says Anna. They ultimately gutted the house from the roof to the foundation, changing its identity entirely.

"We've somehow managed to create a Scandinavian-Japanese minimalist space inside a North American ranch house."
Whereas their first two historic properties were inspired by the British country homes of Tom's youth—old beams, wallpaper, antiques, traditional paintings, leather couches, and dark wooden floors—the new house was inspired by Anna's roots. "Tom always liked the Scandinavian aesthetic, and I really wanted pale wood on the walls," says Anna. After some searching, they found a local lumberyard that would mill their planks to size using affordable basswood. "We've somehow managed to create a Scandinavian-Japanese minimalist space inside a North American ranch house," laughs Tom.
The walls of paneled windows, open spaces, and neutral furniture emphasize the seasons as they evolve around the house—from the cool brightness of spring to the deep green of summer, the rich foliage of fall, and the whiteness of winter.
"I no longer have the urge to leave in the morning," says Anna, "It feels like I'm already outside."
Making House
As a result of their seemingly boundless creative energy, Anna and Tom's business evolved from Airbnb hospitality to a significant design studio that restores and builds homes. Homestedt's first big design project was the Boarding House at Seminary Hill, a boutique hotel in the former Callicoon General Hospital, which had been derelict for some time. They gutted both buildings, reimagined the rooms with private bathrooms and kitchenettes, and created interiors that feel authentic and homey.
In an ongoing quest to create the perfect place, using the experience of restoring a dozen local homes, Anna and Tom designed the Homestedt House, a partially modular structure that comes in several sizes and layouts and can be built within six months. "We're constructing the first one on a mountain, with really great views and access to a lake," says Tom.


The two-bedroom house is about 1,600 square feet and has a vaulted, open plan living room. Unlike the traditional design of Seminary Hill, the house is a mix of Japanese and Scandinavian minimalism. In contrast to the pale wood of their own house, they used black shou sugi ban burnt wood for the siding. And they added the warm and distinctive interior design touches for which they're known.
They credit their success to their full-time crew. "To get the right quality is often a question of precision and patience," says Anna, "and we've learned a lot from each other."
In a search for a space large enough to consolidate their growing business under one roof, Anna and Tom came across the dormant North Branch Cider Mill, one of the oldest cider mills in the area. After several months of negotiations, they bought the compound. "We plan to fire up the old cider-making equipment and have an American-English-Swedish-style café inside," says Anna.
The walls of paneled windows, open spaces, and neutral furniture emphasize the seasons—from the cool brightness of spring to the whiteness of winter.
They also plan to create an expanded retail space for the Homestedt collection comprised of homeware and furniture. Their design studio will be housed in the three-story barn, and they'll use a full carpentry-making space to build custom furniture for the store as well as design projects. "There might be a couple of goats and other livestock—and possibly some saunas and a bath house on the river," says Tom.
Related: Upstate Down Shoppe Stocks Stunning Home Essentials