Ice cream season is officially in full swing. We've been busy checking out the local options (a tough job, but somebody's got to do it!) and have discovered a revolution churning in the world of all things cool and creamy. The new rule? There are no rules!
Rosé CreamCider and Pine-Apple Hibiscus Rosé Sorbet, Angry Orchard
In honor of National Ice Cream Day, Davey's Ice Cream and Ryan Burk, head cider maker at Angry Orchard, teamed up to create two limited release treats inspired by everyone's favorite summertime drink. The CreamCider, a.k.a. the boozy version of a creamsicle, melds sweet cream ice cream with a rosé cider-infused sorbet. As for the Pine-Apple Hibiscus sorbet, it uses the iconic pink cider as a base and pairs it with fresh pineapple juice and hibiscus.
2241 Albany Post Rd, Walden
888.845.3311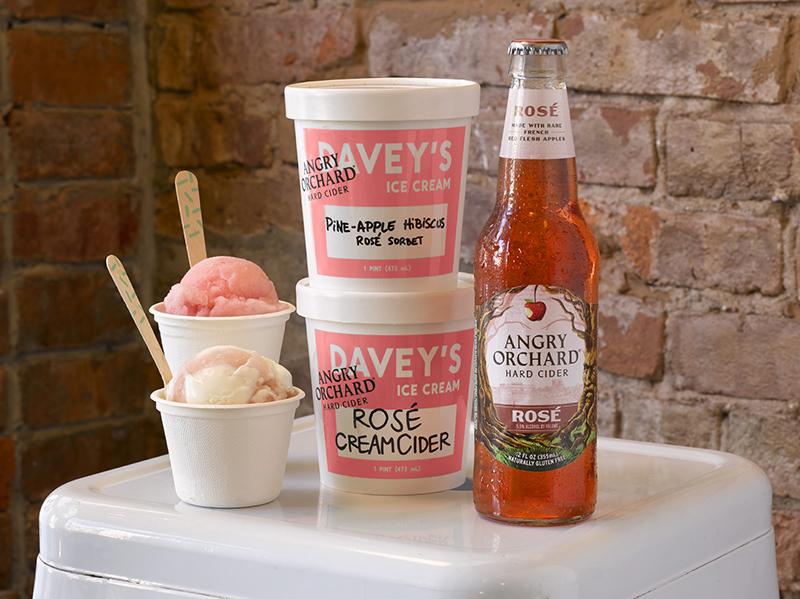 This decadent sundae starts with a Nutella-dipped waffle cone filled with chocolate-vanilla twist ice cream, and gets topped with Oreo cookie crumbles, Ghirardelli dark-chocolate syrup, and a luscious Reese's peanut-butter sauce.
55 Hudson Ave, Peekskill
914.293.7811
This titanic treat starts with a large scoop of Jane's Homemade cookies-and-cream ice cream sitting atop a fluffy ganache-filled doughnut. The whole thing gets covered with made-from-scratch hot fudge, two types of whipped cream, crushed Oreos, and sprinkles.
319 Wall St, Kingston
845.901.3927
You'll always be surprised by the flavors at Moo Moo's Creamery. Sixteen homemade flavors rotate daily, with delicious options like Guinness Chocolate Covered Pretzel, Root Beer, Key Lime Pie, Strawberry Shortbread, and Maple Bourbon popping up on the menu board.
32 West St, Cold Spring
845.554.3666
Visit Samascott's Garden Market and enjoy the taste of summer with ice cream made from one of the season's most abundant crops—corn! The Sweet Corn flavor is made on-site from fresh kernels grown and cut from the cob right at the farm.
65 Chatham Street, Kinderhook
518.758.9292
The Strawberry Monster Milkshake features Jane's Homemade strawberry ice cream mixed with locally sourced milk from Ronnybrook Farm. The sweet concoction is then topped with a homemade cinnamon-sugar doughnut, whipped cream, and chocolate sauce, all garnished with a chocolate-covered strawberry.
2640 New York 23, Hillsdale
518.325.6455
At Zoe's, only true ice cream lovers need apply. If you can handle it, order The Zoe, a gargantuan sundae with one scoop of each flavor and all the toppings of the barn. That's a whopping 10 scoops of ice cream, plus add-ons like sprinkes, syrups, cherries, Oreos, walnuts, fruit, and candy. Spoons at the ready!
1181 Route 55, LaGrangeville
845.454.7108
While classics such as strawberry, vanilla, and chocolate are popular at this scenic spot, the Bellvale Creamery is also home to big-flavor favorites like Bellvale Bog, a dark-chocolate ice cream full of brownie dough and decadent fudge swirls.
1390 New York 17A, Warwick
845.988.1818
Pair delicious, seasonal baked goods made on-site with Jane's Homemade ice cream at Pie Lady and Son. Try topping a slice of Bumbleberry pie—made with blueberry, raspberry, apple, and rhubarb—with your favorite scoop, or mix and match your own ice cream sandwich with fresh chocolate chip, snickerdoodle, oatmeal-raisin, or shortbread cookies.
366 N Highland Ave, Upper Nyack
845.535.3290
It's difficult to choose from the special waffle sundaes at Mapleview Cafe, but the Elvis Waffle has us all shook up. A hot, authentic Belgian waffle is topped with peanut-butter sauce, fresh bananas, and your choice of homemade ice cream (we recommend peanut-butter cup or banana-nut bread), then drizzled with chocolate, covered in whipped cream and peanuts, and finished with a tuile cookie.
141 Overlook Rd, Poughkeepsie
845.849.0259
Originally introduced as a secret, off-the-menu item, these white chocolate Fudgesicles are now one of the most popular items at Penny Lick Ice Cream. Other summer favorites include old-fashioned, custard-style ice cream, Southern-style peach cobbler with chunks of salty buttermilk biscuits, and a blackberry mint flavor featuring local blackberries and fresh Egyptian mint.
580 Warburton Ave, Hastings-On-Hudson
914.525.1580
This family-owned business has hand-crafted more than 100 flavors for shops across the tri-state area since 1985, so it's no wonder they have some of the best and most unique flavors we found. If you're looking for a bold new favorite, try the cinnamon crumb cake, made with creamy cinnamon ice cream and crumb-cake crumbles.
845.338.1801