Chop chop: Chef Jennifer Clair (left), founder of Home Cooking New York in the kitchen of her Beacon home, demonstrates food preparation techniques to student Meredith Heuer
Photograph by Jennifer May
Most people loathe going out on a blind date, but Jennifer Clair does it for a living. At least, that's how she describes her chosen profession: private cooking instructor.
Clair, owner of Home Cooking New York, in Beacon and New York City, is one of a handful of chefs in the Hudson Valley who offer individual or group cooking lessons, either in their own kitchen, in the client's kitchen, or in an off-site classroom kitchen. Unlike bigger cooking schools — like Hyde Park's Culinary Institute of America — these teachers offer one-on-one tutorials on the culinary arts. And that intimacy, says Clair, can be like a blind date.
"You go into the home of someone you've never met and spend time in their kitchen, which is a very intimate setting," says Clair, 37. "It's a very personal experience taking over someone else's home. It's really a leap of faith."
Top Chef: Clair poses with some of the tools of her trade
Photograph by Jennifer May
Clair started Home Cooking New York in 2002, after years of working in the culinary industry. "I was always a foodie," she says. After college and a year teaching third grade, she landed a job with Joan Nathan, the renowned cookbook editor, in Washington, D.C. "I saw that you could do a lot in the food business besides working in a restaurant, which I really didn't want," she says.
But she did want to learn to cook, so she applied for and won a prestigious James Beard Foundation scholarship to Peter Kump's New York Cooking School (now called the Institute of Culinary Education). From there, she landed food editorial jobs at Saveur, the Wall Street Journal, William Morrow, and Martha Stewart's Web site.
When the Internet bubble burst, she was laid off. Then she found an ad posted at her old cooking school: An Upper East Side couple was looking for a chef to cook a meal with them for the husband's birthday. "I got the job. It felt weird at first going into their home, but I cooked with them for three hours," she says. "It was so much fun. I left on such a high, thinking 'I can't believe I just got paid for that!' " That turned into a weekly cooking class with the couple's friends, which turned into more private clients, which led to corporate clients, which led to a very successful business.
Then came children — she and her husband, Stephen, now have a four-year-old boy and an 18-month-old girl. In 2007 the family left their Brooklyn home for roomier digs in Beacon. Clair still has a school in the city, staffed by other chef-friends, and teaches her own classes in Beacon several nights a week.
Like any date, there can be awkward moments. "People, especially couples, are very territorial in their kitchen," she says. "Cooking is fraught with highs and lows, and there is sometimes some silly arguing." But those moments always pass, and her dates usually end well. How could they not? "After a night of cooking, eating, drinking, talking food, and hanging out," she says, "it actually feels weird to leave."
Home Cooking New York, Beacon
All classes are held in Clair's kitchen in Beacon. Each two-hour hands-on class is $55, with a maximum of seven students attending. Also included is a complete recipe packet and a full sit-down dinner at the end of class. Clair is also available to teach private classes in your Hudson Valley home kitchen; a private class for up to four students is $200 (two-and-a-half hours; groceries are additional). Gather a group of six or more and the cost is $65 per person (groceries included). You choose the menu and the guest list.
This month: Learn to create a French Bistro Supper consisting of casserole roasted chicken; potato and caramelized onion gratin; string beans with onion shallot butter; and a dessert of dark chocolate mousse with salted whipped cream. March 15 at 7 p.m. $60 per person.
Jennifer Clair
161 E. Main St., Beacon 917-803-6857
www.homecookingny.com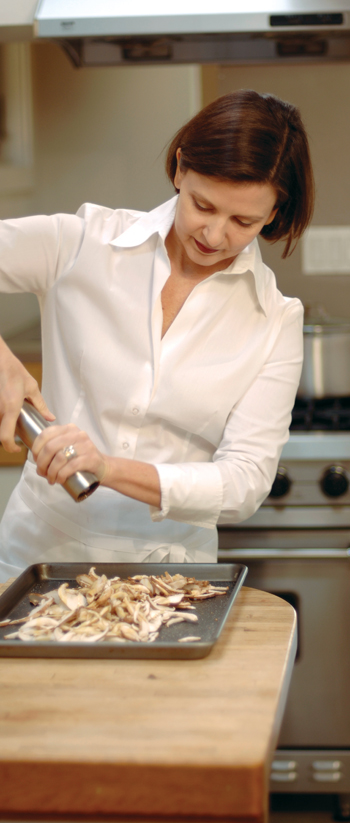 Grind it out: Chef Viviane Bauquet Farre of Food & Style seasons a roasting pan full of mushrooms
Photograph courtesy of Food & Style
Culinary Coaching
These Hudson Valley chefs also offer cooking classes. Some schedule specific classes, some offer in-home lessons, and many do both. Check their Web sites for updated information.
Nourishing Wisdom, Rosendale
Chef Holly Anne Shelowitz's classes focus on cooking with whole, natural foods. She uses local organic ingredients in her home kitchen or, for larger groups, in a kitchen in Stone Ridge. She also offers cooking instruction at your home for a minimum of four people.
Classes: $50 per person for a two-and-a-half-hour class.
Holly Anne Shelowitz
845-658-7887
www.nourishingwisdom.com/cooking-classes
Cooking with Rinku: Indian Cooking Classes, Valhalla
Prepare authentic Indian and Thai cuisine with Rinku Bhattacharya in her home kitchen in Westchester. The typical class holds up to five students in a two-week session. Each hands-on class is followed by a complete lunch or dinner; classes can be customized. Two-week introductory or advanced lessons: $65 person. Customized classes for two: $85 per person.
This month: At Chef Rinku's two-day "Exploring Indian Cooking" class, learn eight basic recipes, including chicken or fish tikka, basic rice pilaf, and chicken or lamb with green coconut sauce. March 28 & Apr. 4 from 4-6 p.m. $65 for one class, $130 for both.
Rinku Bhattacharya
914-643-2363
www.cookingwithrinku.com/services.html
Food & Style, Piermont
Chef Viviane Bauquet Farre teaches customized cooking and wine pairing classes in her home, one-on-one or in groups. She offers 20 different classes, including breakfast, dessert, tapas, and Tuscan-inspired meals. Private classes can be customized to your tastes, interests, skill level, and schedule.
Cooking lessons — One-on-one: $250; one-on-two: $175 per person. Private group class (from three to seven people maximum): $125 per person. Lessons and classes are four hours in length; cost does not include food expenses.
Viviane Bauquet Farre
845-365-1599
www.foodandstyle.com/classes
Thai Time Cooking Class, Saugerties
Chef/owner Suntree Perkins, a former restaurateur in Thailand, teaches about the ingredients, exotic spices, techniques, and health benefits of Thai cooking. Small group classes are held in her home or yours. Larger groups (up to 10 people) meet at a community kitchen.
Cooking classes — One-two person: $120 per student; groups of three-four: $75 per student; five or more: $65 per student.
Suntree Perkins
845-246-2681
www.thaitimecooking.com
Emerson Signature Cooking Classes, Mount Tremper
Emerson Resort's Food and Banquet Director Kate Palmer offers two- and three-hour classes at the resort. Hands-on sessions are also available by request (a minimum of two weeks notice required). Classes can be customized.
Cooking classes — Two hours: $89 per person; three hours: $110 per person; custom class: based on class.
Tamara Murray, Emerson Resort
845-332-9267
www.emersonplace.com/activity/activitymenu.htm
Malden Bridge Chef Cooking and Pastry Classes, Malden Bridge
French-born and trained chef and Pastry Chef Jerry C. Mohr works with your basic cooking knowledge and teaches you techniques to enhance your culinary creativity. Each class, held at the Malden Bridge Community Center, includes plate or tray presentation, safe cutting techniques, and proper handling and conservation of food. Private classes also available.
Classes: $50-$75 per person, depending on menu, for two- to three-hour class.
Chef Jerry Mohr
518-766-0436, www.maldenbridgechef.com
Vintage Hudson Valley, various locations
Vintage Hudson Valley chefs from a variety of restaurants and resorts teach classes in their own kitchens. Classes run about two hours, followed by an elegant four-course meal and wine pairing. Classes are limited to 14 students and cost varies. Customized classes are available upon request.
This month: Join Valley at the Garrison co-chefs Brandon Collins and Vincent Mocarski III for a special cooking lesson. March 20 at 10:30 a.m. $160 per person, includes tax and gratuity
Maren Rudolph, Vintage Hudson Valley
914-591-4503
www.vintagehudsonvalley.com/cooking.shtml