When Wesley Dier closed his popular Rhinebeck eatery, 40 West, back in 2005, a sigh of regret ran through the region. Dier, a CIA grad who trained under Melissa Kelly and Larry Forgione (both of whom ran the restaurant at the Beekman Arms in its heyday), was off to become a private chef and caterer. "It sounded like a great idea, but it was the saddest day of my life," he says now. After five years of dazzling celebrities and ritzy clients (some at Astor Courts, where Chelsea You-Know-Who's wedding took place), he's back cooking for us regular mortals again. Last August, he opened The Local, right next door to his old spot, in an 1850s, onetime blacksmith's shop.
The name is a nod to Dier's practice of using produce from regional farms, but he also aimed to create a comfortable hangout for locals. Four of us, not-quite-locals — a choosy eater, a vegetarian, my carnivorous spouse, and yours truly — visited one bitterly cold winter evening. Dier's wife, Bryn Bahnatka, greeted us as we stumbled in off the icy pavement.
In the neighborhood: The Local chef/owner Wesley Dier enjoys a bite at the restaurant
Dier designed the two-story interior himself, cutting away part of the downstairs ceiling to create a balcony that allows those sitting upstairs to look down into the galley kitchen. The open kitchen is the first thing you see upon walking in, too. A softly lit, small bar is off to the left and there are a few tables in the rear. The upstairs seats about two dozen. We nabbed one of the tables overlooking the remarkably clean kitchen, where we had a bird's eye view of Dier in action, aided by a single line cook.
The look is spiffy country meets industrial chic — perfect for Rhinebeck. Wooden benches, salvaged from a post office, are paired with black Formica tables. A steel-cable railing stops diners from tumbling off the balcony, while a loveseat and coffee table next to a fireplace aglow with candles add some coziness. The merry buzz of conversation increased as the room filled up, but the decibel level stayed comfortable. Competent, unobtrusive service added to the comfort level, too.
Dier keeps up with trends, but his cooking isn't "trendy" per se. "I realized I'm never going to be Thomas Keller, so I'll embrace things that people enjoy eating and then turn that on its head and make it with luxe ingredients," he says. The Eclectic-New American menu offers a few snacks and what he calls "seasonal dishes," eight small plates, and a quartet of main dishes along with a few daily specials. Local beers are a feature, along with a few "signature elixirs," but we tried some wines by the glass from the all-American wine list.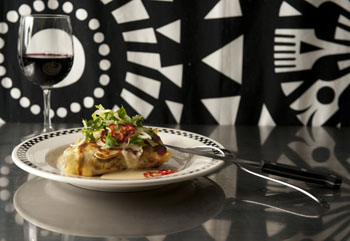 The Cuban-style crêpe is filled with pork belly and braised shoulder (from Meiller's Farm in Pine Plains), serrano ham, cheddar cheese, and béchamel
The small-plate route seemed a good way to check a range of flavors, and I figured three of them would be the equivalent of an appetizer and a main course. Well, "small" is a relative term — my three choices were generous enough that I ended up taking food home.
We shared a snack of marinated olives and almonds seasoned with garlic, rosemary, and (barely discernible) orange peel, which arrived in a squat Mason jar along with skinny slices of warm, chewy baguette. Then we were off and romping through a range of sophisticated dishes that showed off Dier's deft way with the "luxe" ingredients he goes for: Tangy goat cheese wrapped in tissue-y phyllo; earthy, roasted golden beets, layered with creamy, rich Cambazola (a cross between Camembert and Gorgonzola); velvety, sweet-potato agnolotti, glossy with sage brown butter; juicy beef sliders topped with molten Camembert and roasted tomato; Cuban-style crepes with delectable pork belly, braised shoulder, and ham in a luscious béchamel.
My favorite was a special that day: plump mussels in a bright Thai-style broth like a Tom Kha Gai soup, fragrant with cilantro, coconut milk, lemongrass, and Thai basil, and with a kick of ginger. Little florets of curried cauliflower and julienned sweet red peppers were the crunchy surprise here (Dier likes to add unexpected crunch). Even without the mussels, it would have been a winner — everyone kept reaching over to spoon it up.
The vegetarian enjoyed her sea scallops (a main dish), which were lightly brushed with pesto and served with polenta, chanterelles, and romesco sauce. Dier's duck two ways continues to be a standout. A tender, balsamic-glazed breast, and a melting confit leg ragout served with spaetzle spiked with rosemary, oyster mushrooms, dried tomatoes, and chunks of soppressata made for a range of rich flavors and was just the kind of hearty dish you want on a chilly evening.
My one quibble was with the fried Brussels sprouts — a vegetable I love. They'd undergone a vigorous session in the sauté pan that left them on the brink of being scorched ("caramelized," insisted my spouse), and were dressed in an assertive Asian-style vinaigrette. I thought they were overly disguised. Nobody agreed with me. "I hate Brussels sprouts," said Choosy Eater, tucking in. "These are good!"
Dier makes desserts, too. The create-your-own sundae — house-churned vanilla ice cream along with toppings to add as you wish — was a cute idea. But it was the divine, intense banana-bread pudding topped with brûléed bananas that had me swooning. The recipe is on Dier's Web site, but it looks like a lot of work. ("It is," he concedes.)
This summer, Dier plans to grow all his own herbs and a few vegetables in the garden behind the building. "Future-future plans," he says, involve raising chickens and a pig or two in his cousin's barns nearby. Good. It looks like this time he intends to stick around.