Presented with three glorious but circumscribed child-free hours on a recent Friday evening, my wife and I headed to Troy, where, rumor has it, cool things are happening. The coolest thing currently is Peck's Arcade, the latest offering from Troy's hottest culinary entrepreneurs, Vic Christopher and Heather LaVine. Peck's Arcade has garnered Michelin-worthy local reviews since it opened in January, and, as parents (and thus woefully lacking in cool these days), we had been waiting for the opportunity to confirm those reviews firsthand.
Now we can. But first, the backstory.
Christopher, 39, hails from Brooklyn and LaVine, 37, comes from the Glens Falls area. They met in 2008 while working in the front office of the Tri-City ValleyCats, Troy's minor league baseball team, and in 2010, they got married on the field of the Brooklyn Cyclones, where the V-Cats won the league title 10 days later. Then, abruptly, Christopher was fired — the organization frowned on interoffice romance — and LaVine promptly resigned.
They bounced through other marketing and promotion jobs, which often sent LaVine on the road. Christopher would follow. "We constantly found ourselves in wine bars, and, even though we aren't big wine drinkers, every wine bar was welcoming to both of us, in spaces we could feel very comfortable in," she says. The two wanted to work together again, and, at a wine bar in Brooklyn, they had what Christopher calls their lightbulb moment: "We said, this is the type of thing Troy needs — and we can do it in Troy, because real estate is so inexpensive."
The pecking order: husband-and-wife team Heather LaVine and Vic Christopher bought an old building in 2013 and transformed it into a hip hangout. At right, shishito peppers served with smoked salt and tuna, topped with cured egg yolk, remains a much raved-about dish
Especially decrepit real estate. They bought a dilapidated building on Second Street, just off Monument Square, rehabbed it, and, in 2012, opened Lucas Confectionary and Wine Bar, named for the candy factory that once occupied the space. It was an instant hit, and soon after they opened the Grocery, a fine meat and cheese emporium, next to it. It too was a hit. But the building itself was in danger of taking a hit from the structure next door, which was close to collapse. So they bought that one in 2013, rehabbed that, and wondered what to do with it.
"We thought about an oyster bar or a wine shop," Christopher says. "Then we met Nick." Chef Nick Ruscitto, late of the Wine Bar in Albany, had relocated to the Collar City and hung out at Lucas Confectionary. "Something about Troy was calling him," Christopher says. They loved his food and handed the kitchen to him. "He told us what to build, and we built it," Christopher says.
They checked out hip places like Estela and Charlie Bird in New York and other hot dining spots in San Francisco and Charleston. "Those are the restaurants we want to be compared to," he says. "We want to create an energetic experience, so people leave with the feeling that their senses have been touched in many ways — the food, the service, the music. We want to hit the human experience from many angles."
That experience starts when you enter through tall, slender doors into a tiny area — lobby is too big a word — facing the open dining room and, at the back, the open kitchen. Neo-industrial décor, crowd noise, lively pop music, flames exploding in the back; the senses are indeed touched. The hostess told us there was an hour wait, a problem given our child-free constraints, but we told her to log us into her iPad, and we headed upstairs to the Tavern with hopes high.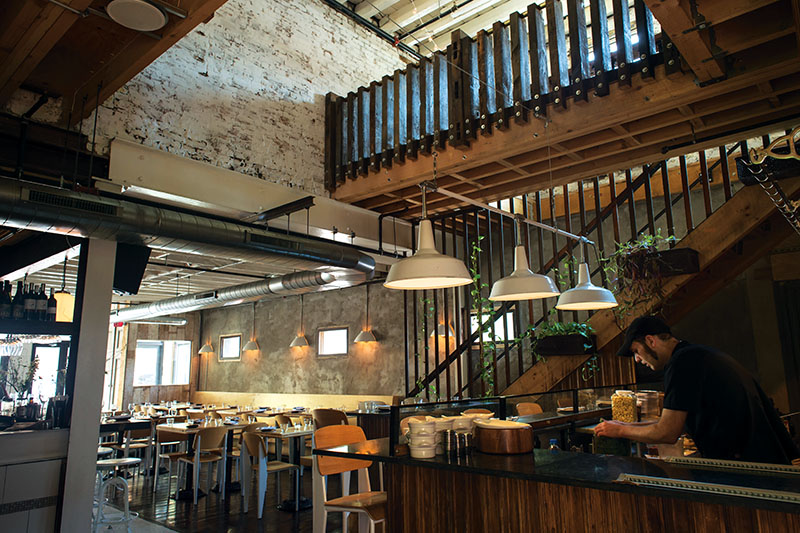 Named after the much-loved restaurant that occupied the first floor for 60 years, the bar is deliberately sparse in both furnishings and stock. (Two older gentlemen, who were clearly not the target demographic, left in a huff when they learned that this was, "one of those craft beer places" that was unable to provide them with Coors Light.) The Tavern instead offers room for conversation and invention. The eight craft offerings were all new to me, imported from such exotic locales as Oklahoma and South Carolina. The only high-end bourbon they carried was from Colorado, of all places; it was Breckenridge, light but spicy, and a nice change from the usual. My wife ordered something new as well, a sparkling rosé from Austria called Zweigelt, befitting Peck's focus on small, sustainable, boutique vintners.
Fretting about our looming deadline, we were about to leave when a text arrived from the all-knowing iPad: Our table was ready. We were seated near the kitchen, affording a prime view of Ruscitto and his three associates juggling pans, ingredients, and fire to serve up the concise list of eight small plates, three pastas, and five main courses on the night's menu (it changes often, by season and whim).
Our server introduced herself with a handshake, one of several to do so during our meal, a company policy that makes the occasion personal and friendly. After ordering our wine — a French Sauvignon Blanc for the lady, a Tuscan Sangiovese for me — she brought both bottles and poured us tastes. And when my wife wasn't instantly pleased, the server assured her it was okay to change her order and carefully interviewed her before suggesting another choice, a mysterious white from the Canary Islands (who knew?) she described as spritzy and mineral-y. It was fetched — the bottle, again — and poured to taste. Perfect. Happy wife, happy life.
For dinner, I ordered the grilled octopus small plate, as near a staple on the menu as you'll find, and a calamari special. My wife dithered between wild mushrooms and roasted beets, but need not have. She ordered the mushrooms, but, within moments, a free sample of the beets also arrived. Samples, we learned, are a company policy as well.
"We want to create an energetic experience, so people leave with the feeling that their senses have been touched in many ways — the food, the service, the music"
The octopus, floating on spreadable Italian sausage called 'nduja, was perfectly cooked, and with the 'nduja and saffron beans made for a spicy/earthy/oceanic triptych. The wild mushrooms came with fregola, charred scallions, and, a real surprise, whole hazelnuts. The beets played with crème fraîche, thinly sliced radish, lemon peel, tart orange slices, and pistachios. You get the idea — interesting ingredients, interestingly paired, for something you haven't tried before. Blessed with a little more time, we added orecchiette with grilled cauliflower, ricotta and pistachios, two more glasses of wine, and debated what we'd order next time while grooving to the jam that Christopher himself spins on the turntables: the shishitos with tuna, cured egg yolk, and smoked salt; the 23-layer potato with Gruyère and merlot jam; or whatever happens to be on the carte that night.
Befitting the former sports execs they are, Christopher and LaVine have assembled a winning team that includes some of the Capital Region's finest culinary free agents, including barkeeps from Speakeasy 518 and servers from New World Bistro Bar. "None of this would work without the right people in the right positions," LaVine says. True, but the vision starts at the top, and, though they are really more business people than foodies themselves, she and her husband have brought something new and exciting to the area. "It's artistic expression in a way," Christopher says. "Life is short, and we want to create things that improve people's lives. That's very rewarding."
If you go…
Peck's Arcade
Starters range from $8 to $15. Main dishes are $13 to $26. Sides are $7.
Open Weds. and Thurs. 5-10 p.m., Fri. 5-11 p.m., and Sat. 4-11 p.m. The Tavern Bar upstairs is open Weds. and Thurs. 5-11:30 p.m., Fri. 5 p.m.-12:30 a.m., and Sat. 4 p.m.-12:30 a.m.
217 Broadway, Troy
518-326-3450; www.pecksarcade.com