"Come sit in my living room," said Sweet Peas Café's new owner Nina Baldassare, motioning to several comfy chairs surrounding a coffee table and Christmas tree.
Nina often sits with customers and knows the regulars by name, despite recently acquiring ownership of the café with her partner John Zippo in August 2018. The new owners continue to bring a friendly atmosphere to the breakfast and lunch café with the mission, "Fresh Foods, Music, Good Company, and Peace of Mind Feeds the Soul." Few would guess that it was a personal tragedy that brought Baldassare to Sweet Peas Café, and the Hudson Valley, in the first place.
Baldassare was living in New Jersey, where she had worked as an educator for the past 15 years, when she got the news that on July 10, 2017, her 19-year-old son had been killed in an airplane crash. Corporal Daniel I. Baldassare, the youngest of Baldassare's two children, was one of 16 military service members from the Marine reserve squadron based out of Stewart Air National Guard Base that died in the KC-130T crash in Mississippi. Like many of the surviving widows and parents, Baldassare's world was rocked.
"I felt like I didn't have a purpose without Daniel," recalls Baldassare.
She realized that she needed to redefine what a purposeful life looked like. Baldassare found herself traveling up to the Hudson Valley region to visit the place and community where her son last lived.
"I would just stand at [the road] at the base, and grieve," says Baldassare. "That same day I had lunch at Sweet Peas Café. And what stayed with me is the comradery between the customers."
Baldassare loved the mix of music, food, and good vibes at the café. With backgrounds in the food industry and business management, she and her partner, Zippo, had been looking to open a café of their own. As luck would have it, Kim McDonnell, the café's owner, was planning to sell and pursue new opportunities. Specifically, she was seeking out buyers who would really appreciate the café and its potential. Baldassare and Zippo were the perfect fit.
"Are there coincidences? I don't know. Because [the café] is exactly what we would have built from top to bottom," says Baldassare.
As new owners, Baldassare and Zippo dedicated the cafe to Dan, extending Sweet Pea's official name to "Never Forget Dan, Inc." A commemorative plaque hangs on the wall next to his ukulele, and the Catholic War Veterans of Newburgh Post #386 recently donated a bench in Dan's memory. In his honor, Baldassare and Zippo hope to specifically promote Sweet Peas as a safe haven for veterans. It was here that Baldassare found renewed purpose.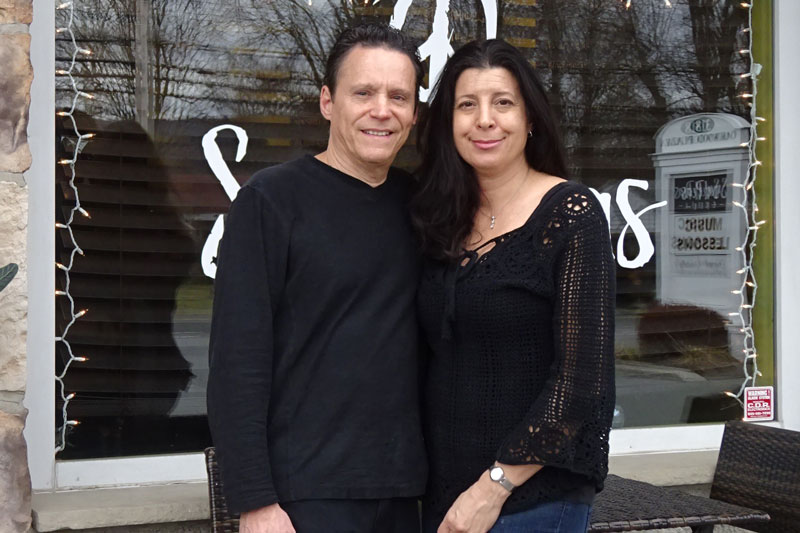 John Zippo & Nina Baldassare
"John and I want to give back in a profound way with a satisfying sense of being connected to others. The love for U.S. Marine Corporal Daniel Baldassare is what drives us with a redefined sense of purpose and personal mission to nurture the Hudson Valley, NY communities where Daniel last lived," wrote Zippo and Baldassare in a statement.
The partners have already sought to fulfill that mission in a variety of ways. The café is currently partnering with Toys For Tots, and veterans often hold meetings in the space. Baldassare sometimes even works as an intermediary, connecting veterans who are lonely with people who can help. She sees a lot of potential for the café to serve the community, and has several ideas in the works of new ways to collaborate with and serve local service members, veterans, and the community.
But Baldassare admits that some days it is the café's community that supports her.
"Sometimes I joke and say, 'Okay, you're my therapy. How much copay do I owe you?'… just those little moments of smiling that are therapeutic," Baldassare explains. "If I didn't have this, if I didn't live in the community where Daniel lived, if I didn't have this new purposeful life, I feel that this trauma would have festered into something very unhealthy."
Sweet Peas Café is open Monday – Friday 8 a.m. – 4 p.m. and Saturday 8 a.m. – 3 p.m., with live music on the weekend.
---