Photos courtesy of Stephanie Abanto
From the team behind Woodstock's Silvia, Good Night features a Hollywood Regency design, farm-to-table dishes, and a marble bar.
When approaching the dark barn structure that stands on Rock City Road in Woodstock, it's difficult to predict exactly what might lie inside.
At Good Night, large picture windows emit an alluring glow in evening hours, drawing curious diners. It's the second restaurant in town from the team behind Silvia, a farm-to-table dining destination with a strong fanbase. Part of Silvia's charm derives from a plethora of paintings hung on emerald walls, along with other classic Art Deco elements.
However, Good Night is something different entirely. And the surprises don't stop at its striking interior design.
"We wanted it to be different to what Silvia is. We have a great thing there; it's really hard to compete against that. [We wanted] something a little more feminine, a little lighter, a little more fun, a little more glamorous, a little more soothing," co-owner Craig Leonard says. He runs Silvia and Good Night with his wife Betty Choi, sister-in-law Chef Doris Choi, and her husband Niall Grant. "Doris is well-versed in Southeast Asian cuisine—it was a natural feel for her. The area was really missing that."
The four discussed expanding to a second location just before the pandemic. In two years, Silvia's capacity could no longer keep up with the demand. Popularity surrounding Chef Choi's culinary creativity could sustain two locations. Though the team brainstormed several concepts and locations, finding this spot on Rock City Road was kismet, according to Leonard.
"We walked in the door, looked around, and basically turned to each other and said, 'Wow, it won't get any better than this.'"
Perhaps they sensed the building's rich history. The barn first served as horse and cart stables for a nearby hotel in the late 1910s and early 1920s.
In the '40s, it became a notorious "rough and ready" drinking hole dubbed The Sea Horse. Leonard studied up on this lively chapter of the building's past from a book written by Dr. Wallace Sife. Tales From The Sea Horse: A Nostalgic History of Woodstock and Its Unique Spirit regales readers with stories from the hotspot, detailing the town's evolving identity through 20 years of turbulence.
Afterward, The Sea Horse became a rock and roll club known as The Elephant. In the '70s, Bob Dylan, Janis Joplin, The Band, and other notable artists raised Woodstock's reputation as an artist hub.
"It was very akin to the heyday of Joyous Lake," Leonard says, referring to Silvia's former identity as a venue. In fact, folk singer Fred Neil recorded a live album at The Elephant in 1970. He never saw commercial success, but one tune titled "Everybody's Talking"—also featured on the live album—became a hit when Harry Nilsson's cover was used in the film Midnight Cowboy.
Good Night pays homage to this era through vintage lighting from the '60s and '70s. Leonard sourced one-of-a-kind antique pieces from all over Europe—Budapest, Berlin, Amsterdam, and Rome. Proper lighting was essential to curate the right atmosphere inside.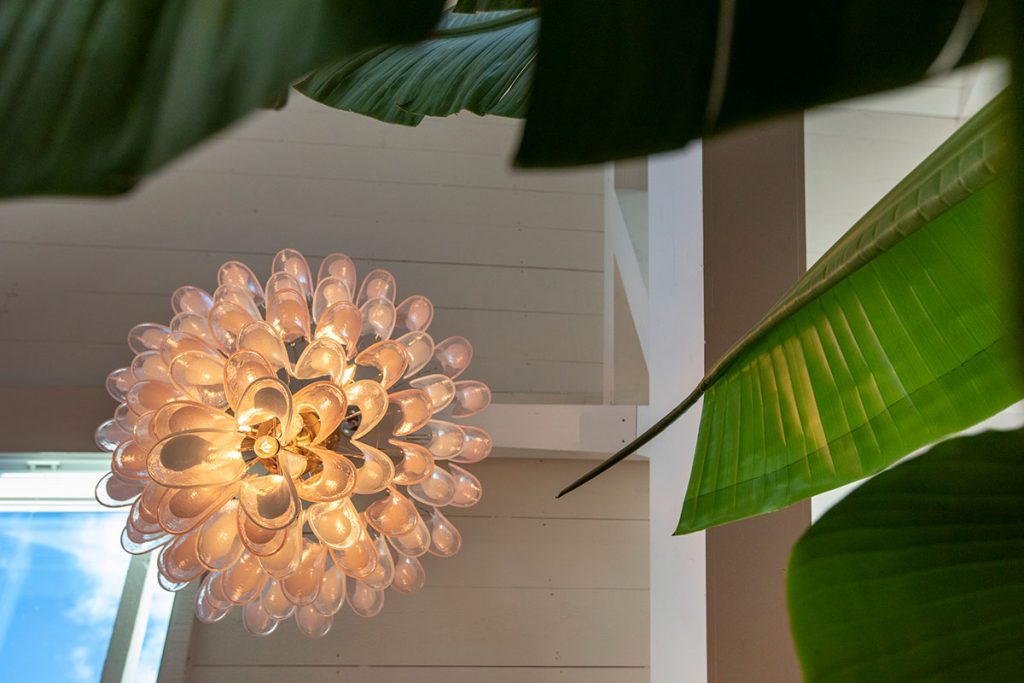 "It was a large cavernous space….which was beautiful, but it's hard to make a space like that cozy and comfortable. And, of course, we kept everything white and light, so I had to come up with fixtures and fittings that would work in the environment," he explains.  "We wanted to keep as much of it as airy as possible, letting diners feel its original bones of being a barn….People tell us it has a sort of 1930s Hollywood Regency feel."
An Art Deco aesthetic with softer edges? Perfect for Silvia's sister restaurant. 
Similarly, to realize the team's vision, an iconic bar was essential. Leonard envisioned it as the focal point of the room. At Silvia, it's the open kitchen and raging fire that "hits you in the face" when you walk in, as he puts it. Therefore, the group sourced incredible pink Italian marble as the defining element of the bar. Once the Good Night crew concocted an idea for a curving bar, they incorporated soft bends and turns throughout the space. An expansive mirror reflects the entire restaurant back at those perched at the bar. In addition, a multi-level backbar creates a tiered wedding cake effect, redefining the term "top-shelf."
Meanwhile, Leonard learned another design lesson from their success at Silvia.
"We also wanted a lot of banquettes, as everybody wants to sit at the corner tables at banquettes at Silvia," Leonard enthuses. So, they developed a floor plan with plenty of fan-service seating, so to speak. Consequently, nearly every table on the ground level of Good Night is a corner spot. Couples can work through Chef Choi's eclectic menu side-by-side, making Good Night one of the best date spots in town.
Renovations took about eight months, as most of the structural components were completely compromised. Good Night opened its doors in November 2021, offering a warm respite from the impending winter season.
So what is the menu like?
Certainly, the crispy blowfish tail appetizer has made the biggest splash with diners. This succulent starter offers so much to love. First, the fried blowfish and wild shrimp are cooked to perfection. Secondly, crunchy peanuts, crisp Thai basil, and perfectly grilled shishito peppers offer a range of textures. Finally, the sweet-and-spicy chili sauce ties the entire dish together.
In addition, the Sichuan filet mignon carpaccio is equally impressive. Served with delightfully crispy lotus root and shallots and finished with a hot and sour mustard yolk, it's one of the most Instagrammable orders on the menu. Dim Sum pork wontons, five-spice duck breast, and fried Shan tofu round out the starters.
"Doris is just natural talent. She's genius with food and flavor," Leonard says. In preparing for Good Night, Doris took a few of the Asian-inspired dishes off of Silvia's menu. There, she homes in on a true American farm-to-table experience. For Good Night, she researched unique Southeast Asian dishes and perfect applications for Hudson Valley produce. "However, she pretty much had most of the menu in the back of her head," Leonard adds.
One dish Chef Choi brought from her extensive experiences in the food industry is also one of Good Night's must-try specialties: walnut larb. Larb is the national dish of Laos, and is also commonly eaten across Thailand. The flavorful meat salad typically features minced chicken, beef, duck, pork, and/or fish. However, Chef Choi swaps in walnuts to create a totally plant-based version. Flavored with lemongrass and other Thai herbs and spices, Good Night's walnut larb is extremely delicious. Plus, locally sourced lettuce wraps add even more complexity.
Mains are just as satisfying. For instance, Leonard cites the local oyster mushroom and egg noodle dish as one of his favorites. Fungi fans will also adore the stir-fried yuba, which features wood ear mushrooms. Similarly, Good Night offers a Thai basil and beef stir fry for meat eaters. Other plates to try with a massive appetite include Vietnamese grilled pork (served with rice noodles and veggies), fresh red snapper in a tamarind sauce, and the house dry-aged ribeye. If you're hungry for a true taste of Southeast Asian food, opt for the seafood green coconut curry.
As far as drinks go, Good Night boasts an extensive and ever-changing signature cocktail menu. Kumquat Blossom pairs smoky mezcal with almond orgeat, lime, and kumquat. On the other hand, the Sake Coconut Colada expertly pulls off a concoction of blanco tequila, nigori sake, coconut, and a pinch of chili. Banana daquiris, grapefruit-lychee tonics, and more round out Good Night's list of lovely libations.
"I think Woodstock is evolving, and always has been. And I think we're just another part of that whole feel of change," Leonard says. We are a small community, but I think the people here are sophisticated about their food, and they enjoy choices. And this is just another choice."