Photos courtesy of Breadfolks
A former photographer and his artist wife team up on an organic, naturally fermented bake shop that tempts Hudson Valleyites with sinfully good bread, cruffins, and pastries galore.
If you could turn your dream into a reality, what would you do?
Famed photographer and Hudson Valley resident Norman Jean Roy would make bread.
The choice is perhaps a surprising one for the man behind countless celebrity covers of Rolling Stone, Vanity Fair, and Vogue, to name only a few top-billing publications with which he's collaborated. Yet it's one that, for the man who's had a deep love affair with baking for as long as he can remember, makes a whole lot of sense.
"I've been making bread for 20 odd years," he admits. "[Baking] is a symphony of organization and I'm a part of it. It's a very humbling experience."
It's this notion of humility that rests at the core of Breadfolks, Jean Roy's bakery in Hudson. Open since August 2020, the Warren Street bake shop is a passion project for him and his wife, Joanna, an artist. What's more, it's been a hit since the beginning, with a line out the door on most days, even in the rain. Part of the popularity is due to the enticing trail of breadcrumbs on the bakery's Instagram page (have you seen those miches?), and part of it undoubtedly has to do with the aroma of sourdough that wafts out the door. Yet perhaps the most alluring aspect of all is the fact that Breadfolks is so simply good – both for the community and the soul.
"We're just people making bread," Jean Roy says. "There's zero ego in this practice, [and] we wanted the name to reflect that."
Ego may be nonexistent at Breadfolks, but thoughtfulness is not. In fact, before opening their Hudson Valley bakery, the couple sat down for a 30-minute conversation about exactly what turning Jean Roy's longtime passion into a real-deal business would look like. That was two years ago and, by that time, the duo had already been living in the region since 2013. At that point, Jean Roy was ready to retire his camera and finally pursue the passion that had been with him since childhood.
So, he enrolled in the San Francisco Baking Institute and spent a year in California to train and acquire the skillset he needed. By the time he returned, he was an expert on what he calls the "symbiotic dance" of bacteria and temperature that's integral to sourdough breadmaking.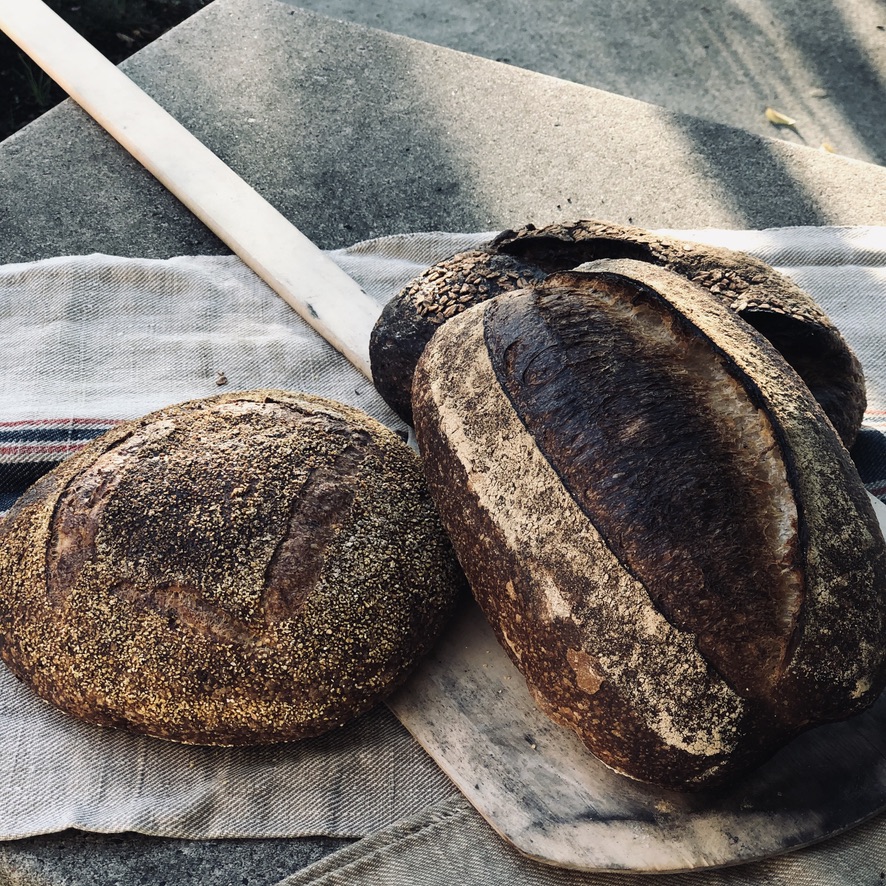 Breadfolks may be a relatively new presence in Hudson, but it's already the sort of place that locals and visitors to the Valley actively seek out, either because they heard about the decadent cruffins from a friend or chanced upon the airy croissant pockets on Instagram. No matter what, they all end up standing on the line that stretches outside the bakery's to-go location on Warren Street.
Stepping up to order at Breadfolks is akin to waking up on Christmas morning. As the sight and smell of the golden pastries and crispy loaves on offer overwhelms the senses, visitors can't help but want it all right now. At the same time, they also want to savor it everything slowly, both to revel in the wonder of each taste and for fear that the magical moment of fermented goodness will slip away.
As the experienced Breadfolks guest can attest, it's best to order whatever catches your eye right then and there, for chances are good it will be long gone in 15 minutes. Depending on the day, that "got to have it" item could be anything from a crackly golden country loaf to an inclusion bread with oats or polenta. Of course, it's hard (impossible?) to ignore the temptation of the laminated treats, namely those light-as-air croissants and cruffins in flavors like apricot raspberry and baklava.
"It doesn't matter how many we make," Jean Roy admits of his baked goods. "We sell out. We make almost a thousand per weekend, [and] everything we make sells out."
During the COVID-19 crisis, Breadfolks operates its to-go shop from Saturdays to Mondays on Warren Street. Its flagship location is a short distance away behind Hudson Hall, but it's currently closed to the public until Jean Roy determines it's safe enough to open. When it does welcome the community, the main location houses a café that can seat about 50 customers, with a view straight into the bakery to allow visitors to watch the Breakfolks team at work.
Until then, Jean Roy has his hands full with loaf after loaf of crackly sourdoughs and golden baguettes. While he sources the bulk of his grain from Central Milling Company in Utah, he tries to keep everything else as local as possible. He purchases many of the specialty flours that feature in his inclusion breads from Sparrowbush Farm in Livingston and plans to continue to further his relationships with local artisans as Breadfolks expands its presence in the Hudson Valley.
"What I love about Breadfolks is…we bring a level of craftsmanship and quality to a town that wouldn't necessarily have access to it but has a thirst for it," he says, adding that the myriad of flavors he savored during his travels abroad as a photographer are a large part of what inspired him to open Breadfolks in the first place. "We thought it was the right time and something we wanted to create to share what we had experienced over the years. We want our community to have access to that."
Breadfolks may be the hottest commodity in Hudson right now, but it's far from all Jean Roy and Joanna have up their sleeves. To partner with their delectable baked goods, they sell Roastfolks, their line of organic roasted coffee. While they work with a local roaster at the moment, they plan to eventually transition all roasting in-house.
Related: Make Your Own Kimchi With This Surprisingly Easy Recipe
Coming soon, Breadfolks will unveil Clayfolks, its sister brand dedicated to pottery and handcrafted works by Joanna.
"My wife is a painter and extraordinary artist," Jean Roy enthuses. "Her work is very much in line with what our breads look like."
That makes sense, considering that Joanna crafts right above where Jean Roy bakes. The two work in artful harmony, with a focus on handcrafted goods that feed the soul of the community above all.
"A bread bakery is such an integral part of community," Jean Roy observes, adding that, in the long-term, he'd love to introduce Breadfolks to other culinary-focused neighborhoods across the region. "We are not necessarily in a hurry to go into the wholesale business. I'd rather set up a bunch of micro-bakeries in towns like this that feel supported to keep it local and keep it fresh."
Breadfolks
332 Warren St, Hudson