Chef Jenny Dorsey is no stranger to the world of culinary competitions. In fact, they're something like bread and butter for the talented chef, who runs in boundary-pushing Studio ATAO, a nonprofit culinary production studio in New York City. From beating Bobby Flay on his self-titled show and serving as a featured chef at James Beard House to running the famed I Forgot It's Wednesday supper club and earning a Les Dames D'Escoffier Legacy Award, Dorsey has more than a few accolades under her belt.
Now the chef, who recently lived for a full year in Beacon to recharge her creative spirits, has yet another award to add to her mantle. After submitting her application among more than 2,400 entries, Dorsey was named one of 10 semifinalists in the S.Pellegrino Young Chef competition.
Before Dorsey heads to New York City in November to compete against nine North American competitors in a live cook-off, after which the winner will move onto the international finale in Milan, we caught up with her to chat local ingredients, Hudson Valley living, and maybe, just maybe making it to Italy.
Dorsey's edible terrariums / Photo by Dion Trinidad
First of all, congrats on being selected as a finalist! What was your reaction like when you found out?
Jenny Dorsey: I was floored! S.Pellegrino receives tons of applications every year and I was genuinely shocked / stunned / honored to be selected. This is my last year I'm able to apply, so I wanted to give it one last shot.
What did the application entail?
JD: To send in a "chef's statement," as well as photos and a recipe of the dish you're submitting and an explanation behind the dish.
When and why did you start cooking?
JD: I started culinary school in 2001 after I left my full-time management consulting job. I knew I wanted to be a chef but wasn't sure how that would make sense for my life. I figured I would do it anyway. I ended up finishing culinary school three days before starting at Columbia Business School, then leaving CBS to pursue the nebulous world of food.
What did that entail?
JD: After culinary school, I externed at Market Table (NYC). I then went on to work at Atera as part of the Bocuse d'Or Continuing Education Grant and regularly go stage at restaurants I admire (most recently Atelier Crenn).
Left to right: Dorsey crafts the perfect plate. Photo by Dion Trinidad / Dorey holds an artichoke. Photo by Nanette Wong
What about the Hudson Valley? Why did you decide to relocate to Beacon?
JD: I've always loved the Hudson Valley – my now husband and I started going up to a place in Catskill the first month we started dating in 2012 (it's also where we got engaged). I moved to Beacon for a year between 2018 and 2019 to take a break from NYC, and it was the refreshing change I needed to revitalize my creative spirit.
What are your favorite Hudson Valley ingredients to use?
JD: I love the turnips. LOVE THEM. I was part of Obercreek [Farm's] CSA and loved all their produce.
What about competing in Milan? Are you nervous about making it through to the finals?
JD: Super excited for Milan if I win the regionals. I passed through briefly when I studied in Rome but never spent much time there. My husband is half-Italian so I would be so excited to be able to learn and explore the cuisine when I'm there. Win or lose, that feels like a great trip.
Besides the competition in November, what is next on the horizon for you?
JD: I run a nonprofit culinary production studio (Studio ATAO) and I'm working on bringing its flagship series to more places globally.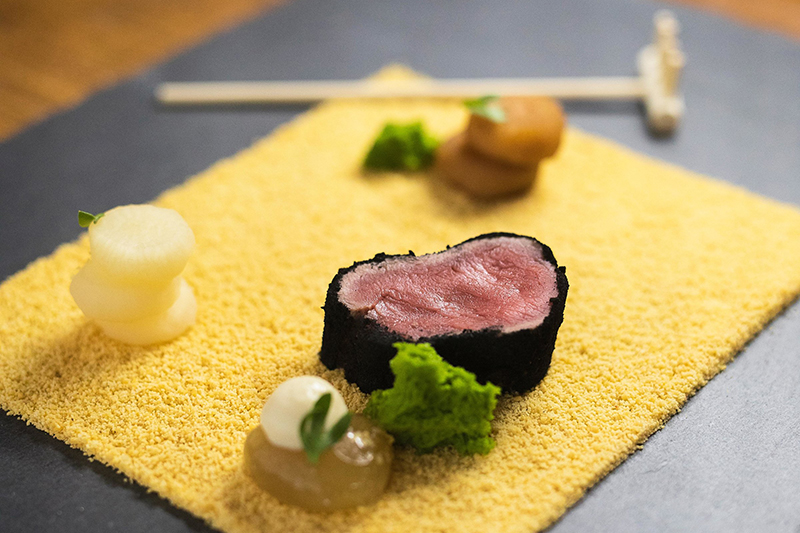 Jenny Dorsey's artistry at work / Photo by Dion Trinidad