Having landed abruptly in Oz, Dorothy opened the door of her black and white shamble of a house and discovered a world of Technicolor.
Dining at Hyde Park's 2 Taste Food & Wine Bar is a similar experience. While you start out at a nondescript location on Route 9, you are soon transported to a bright new culinary world. "We wanted our guests to transcend the architecture of the strip mall, and our food and service have started to do that," says owner Hallie Quinones Katz, who opened the 63-seat eatery with Faith Cuccia in May 2011.
Despite its humble façade, this space had housed a successful restaurant before. Hot spot Twist transformed the Hyde Park dining scene when it opened in the mid-2000s, and loyal fans were crushed to see it close in 2010 (the team behind Twist now operates Karma Lounge in Poughkeepsie). Katz, who has worked in management at many restaurants including the Hyde Park Brewery, tweaked the décor, changing the ceiling tiles and installing dimmers ("We toned it down. People used to complain that it was too bright"). She also installed a chalkboard that runs across an entire wall near the exit; diners seated in adjacent booths can use it to scribble comments. "It's really fun for the customers," says Katz.
Palate pleasers: Pan-seared duck breast is served with haricot vert and grilled pear
Katz left intact the nine-seat chef's bar that runs the length of the kitchen, and it is here that patrons can watch baseball-capped Executive Chef Stephen Smrcina — a Culinary Institute grad who previously worked at the Old Drovers Inn in Dover Plains — float through the kitchen sharing his bliss with the congregation. Katz and Cuccia chose Smrcina for the position because of his skill and passion — which not only brings in his CIA pals, but has inspired more than one patron to write on the chalkboard that "eating the pork chop here is as close to God as you're ever going to get." And after dining here with two friends on a recent Saturday night, I must agree. Indeed, I am forever ruined by his house-cured and smoked grilled pork chop. I can never tell my grandmother, the one who lives in apple-capital Michigan, that her bread pudding and apple chutney (the sides that Smrcina chose to go with this dish) have been bested. But they have — by light years.
Apparently, the popular appetizer the evening we were there was the vegetable spring roll with carrot, ginger purée, and house-pickled ginger. I know this because there was none left when my party arrived. So with indignation we were forced to move on to several other mini-masterpieces, including the goat cheese and red grape croquettes. These meatball-sized favors were ushered so quickly through the deep fryer that the cheese never yielded to the heat; the red grape at its center was completely unaware until it was halved by my companion and dredged through cinnamon clove honey. The lobster and smoked salmon teardrops were next, served with orange dill aïoli atop a mesclun salad. The portion was large enough for three people, and we all remarked that our next brunch would include several pounds of this dish, perhaps served with toasted bagels.
To finish our appetizer course, I reluctantly ordered the risotto, a dish that is notoriously hard to prepare for a crowd. Often it seems that a percentage of the grains have been ignored, like runts in a litter. (I've never attended the CIA, but I imagine they have several courses dedicated to this dish's stubborn perfection: Risotto 101, Risotto 102, etc.) This risotto arrived in an endearing white asymmetrical bowl, drizzled with pungent white truffle oil, and topped with herbs, Parmesan cheese, and two sourdough crostini "ears." Although its gooey façade and temptingly familiar mushroom haze threatened to disappoint, they did not. It was perfect. If I had known about the feedback chalkboard, I would have scrawled something like "Marry me" on my way out.
(Continued on next page)
» Get directions to 2 Taste Food & Wine Bar in Hyde Park, NY
» 2 Taste Food & Wine Bar wins "Best Wine Bar" in Best Of Hudson Valley 2012
» Go to www.2tastefoodandwinebar.com
» Go to the Hudson Valley Restaurants Guide
» Go to the Hudson Valley Food & Drink Guide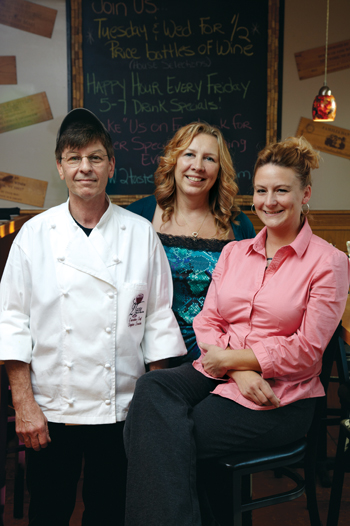 2 Taste's brain trust: Executive Chef Stephen Smrcina, owner Hallie Quinones Katz, and Faith Cuccia
From there, the menu becomes less complicated, featuring such standards as sautéed shrimp, crab cakes, burger on a kaiser roll with smoked Gruyere, and several vegetarian and vegan dishes. And a new small plates menu also was introduced recently. Smrcina cooks with local, natural food whenever possible, often gathering local cheeses and robust ingredients from places such as Hudson Valley Cattle Company. We sampled two holdovers from Twist's menu: the salmon, and the steak frites. Smrcina interprets the salmon with a crispier skin, citrus glaze, and a caramelized onion salad. The flank steak was textbook perfect, but it invited a more graceful sauce than barbecue aïoli, which was more complementary to the accompanying fries than the meat. Unfortunately the fries, which were overcooked, did not even register on this French fry enthusiast's radar. Another dish, the uncommon duck confit, was magnificent. The duck, which is served with baby red bliss potatoes and red-onion confit in a port wine reduction, "is cured for 24 hours, and then slow-cooked in duck fat for 10 hours," says Smrcina. "We sear it to make the skin crispy."
The updated interior
The night of our visit, the restaurant was about half full and a pleasant buzz permeated the room. The bar located near the rear entrance seats only four, but its aristocratic and cozy construction is the perfect classroom for students of bartender Robert Wahlig. He offers instruction on the extensive wine list, and discusses the options available on the wine or beer flight menu, from which you can order three small glasses from one of four collections for a reasonable $13-$15. Though they did once have a sommelier, the service staff is now well-educated in each wine and its pairing opportunities. They also offer a four-course wine dinner several times a year, with a prix-fixe menu paired with wines from different continents for $39.
Our chatty server, who ended up being Cuccia herself, hit a bull's-eye with every wine suggestion, as well as her with her dessert recommendation — the hazelnut mousse, served in dramatic fashion in a squat martini glass. A traditional chocolate terrine with strawberries left me feeling pleasantly reminiscent of evenings by the river Seine. All desserts are made in-house daily; my only regret is that I didn't get to try the Applewood-smoked bacon dipped in white and dark chocolate. But I'll be back to taste some more.
2 Taste Food & Wine Bar
Dinner Tuesday through Sunday; lunch by reservation only. Appetizers average $10; entrées average $22
» Get directions to 2 Taste Food & Wine Bar in Hyde Park, NY
» 2 Taste Food & Wine Bar wins "Best Wine Bar" in Best Of Hudson Valley 2012
» Go to www.2tastefoodandwinebar.com
» Go to the Hudson Valley Restaurants Guide
» Go to the Hudson Valley Food & Drink Guide