Photo by Alexandra Shytsman
Catskill Animal Sanctuary in Saugerties delivers a hearty vegetarian recipe that's a showstopping centerpiece for seasonal bites.
When most people think of "vegan options" at holiday meals, they conjure images of steamed veggies, butterless bread, and side dishes cobbled together in an approximation of a meal. But no longer: Compassionate Cuisine, the award-winning culinary program (and cookbook!) from the Hudson Valley's own Catskill Animal Sanctuary in Saugerties, is here to save the holidays with rich, indulgent food that will satisfy eaters of all varieties.
Your vegetarian and vegan guests will be delighted , and any omnivores at the table won't know (and likely won't care) that the luscious meal they're enjoying is 100-percent plant-based.
The butternut harvest roll honors all the bounty of the season. Rich, creamy squash, flaky puff pastry, and savory fragrant herbs will draw your guests to the table— and the finished product is a perfect centerpiece for a show-stopping holiday table. Serve with golden gravy. Chef Linda has created a free tutorial on this recipe that's just like having her in your kitchen!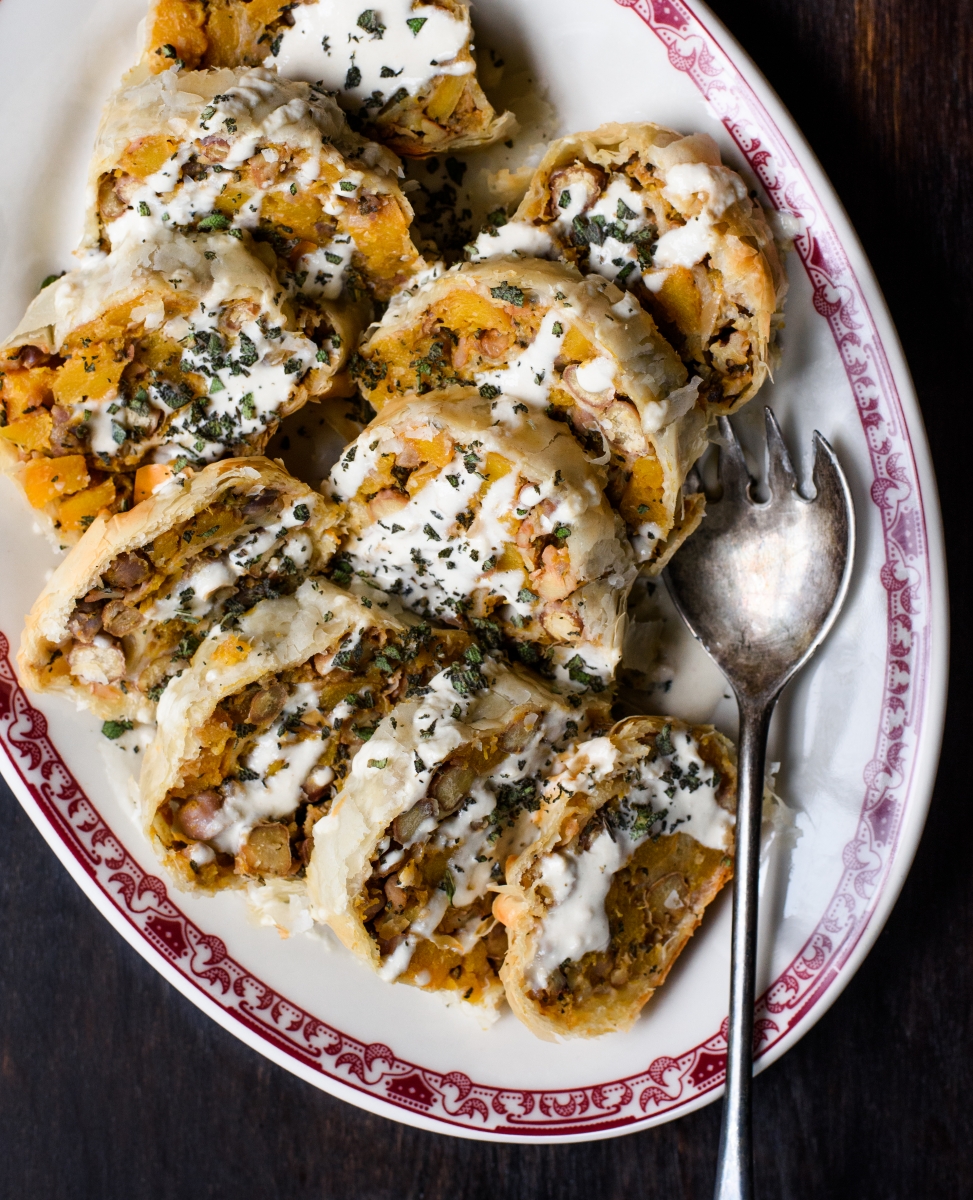 Butternut Harvest Roll
Serves 6 to 8 (two 2-inch slices per person)
Ingredients:
2 Tbsps olive oil
1 medium onion, chopped finely, about 1 cup
1 tsp salt, plus more to taste
1 medium butternut squash, about 2 pounds, peeled and cut into 1⁄2-inch pieces, about 4–5 cups 1 (15.5-ounce) can chickpeas, drained and rinsed
1⁄2 cup finely chopped walnuts
3 large cloves garlic, minced, about 1 Tbsp
1 Tbsp minced fresh sage (or 1 tsp rubbed sage)
1 Tbsp fresh thyme leaves (or 1 tsp dried thyme)
1 tsp cumin
1⁄2 tsp ground cinnamon
3 Tbsp water
To Assemble:
1 sheet of vegan puff pastry dough, thawed for 2 hours or overnight in the refrigerator
Olive oil, for brushing
Pinch of coarse salt
Method:
To make the filling, heat 2 tablespoons of oil in a large pan over low-medium heat. Add onion and salt. Cook, stirring occasionally, for about 8 minutes, or until onion has softened and turned translucent. Add the squash, chickpeas, walnuts, garlic, sage, thyme, cumin, cinnamon, and water. Cover pan and cook, stirring occasionally, for about 20 minutes, or until squash is fork-tender. When done, remove from heat, keep covered, and set aside.
To assemble the roll, preheat the oven to 400oF. Lay out a piece of parchment paper about the size of your baking tray. Unfold one sheet of puff pastry on the parchment. Roll the pastry sheet into roughly a 16-by-12-inch rectangle. With the longest side horizontal to the counter, spoon the butternut filling onto the bottom half of the pastry sheet to within 1 inch of the edge. Starting at the side closest to you, roll the pastry sheet and filling up like a jelly roll. Tuck the ends under to seal. Lift the parchment paper up and onto the baking sheet. Brush with oil and sprinkle a little coarse salt on top. Cut 3 or 4 diagonal slits several inches apart in the pastry to allow steam to escape.
Bake for 25 minutes or until the pastry is golden brown all over. Remove the oven and let cool for about 5 minutes. Use a serrated knife to slice into desired-sized portions.