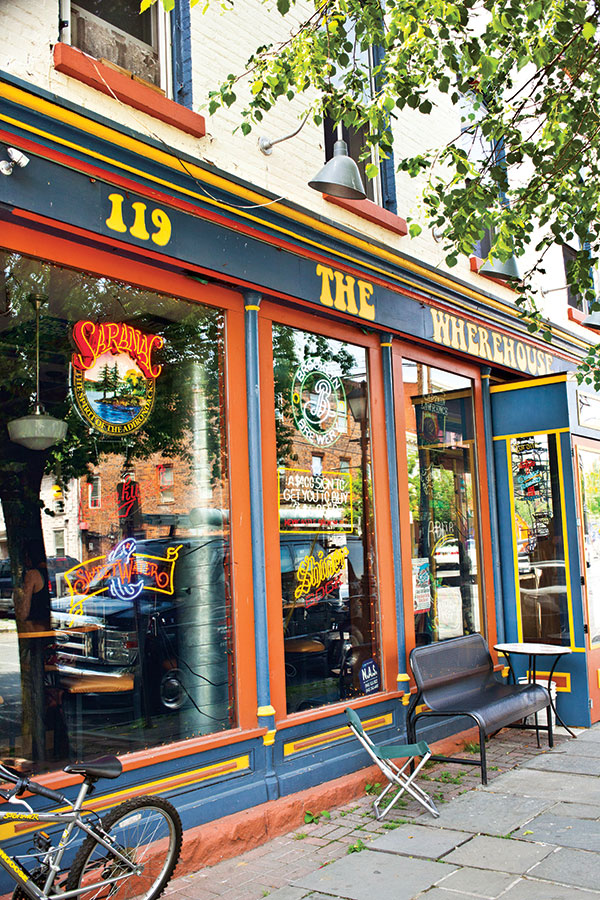 Just a few blocks up the hill from Newburgh's waterfront, a new restaurant scene is flourishing in its downtown district, creating a positive impact on the community, the economy, and the overall perception of the city.
At the heart of this renaissance is restaurant row on Liberty Street featuring a diverse mix of restaurants and bars that each has its own personality. Dan Brown is one of the pioneers of the Liberty Street food scene. He earned the nickname "lone madman" when he decided to open The Wherehouse on the corner of Liberty and Ann Streets in 2009. "We searched for quite a few years to find the right location," says Brown. "Newburgh was very iffy at that point, but I saw potential and believed it would rise from the ashes."
Today, The Wherehouse is a vibrant community gathering place that serves "Cosmic American comfort-style" food and features live music. There is something for everyone on the menu, including more than 50 burgers and a selection of vegan and vegetarian fare. Specialty food days have also become popular at The Wherehouse, with events such as Taco Tuesdays, Wild Wing Wednesdays, Mac Daddy Thursdays, and the annual Psychedelic Zombie Barbecue—a daylong celebration of zombies, barbecue, and live music. Brown is that excited Liberty Street is attracting other restaurants. "The food will speak for itself. It's the action of opening that has the greatest impact on the future of the city."
Down the block is neighborhood favorite Caffe Macchiato. In 2015, native Newburgher Jodi Cummings became Caffe Macchiato's third owner and chef since it opened 11 years ago. "The original owners, Barbara and Edwine, were very brave to open this shop when they did," says Cummings. "I kept the name of the cafe in honor of what they accomplished. I'm so proud to be here."
Caffe Macchiato serves breakfast and lunch during the week and brunch on the weekends. Cummings recently started serving dinner on Thursday nights as a way to highlight the incredible bounty of the Hudson Valley and to offer a more decadent meal than what's on its daily menu. This summer, Caffe Macchiato will debut a monthly farm-to-table dinner series, at which food will be served at one long, 30-seat communal table. Cummings encourages guests to come with friends, family, or solo, promising that customers are "guaranteed to meet new people, have great conversation, and make new friends." The prix fixe menu will be accompanied by a wine or beer pairing and you can preview it online before making your reservation.
In addition to serving great food and offering places for people to gather and have fun, these businesses are also actively playing a part in the ongoing beautification of the city. When Philippe Pierre opened Palate Wines & Spirits on Liberty Street, it was located in what he says was "arguably the ugliest building on the block." With funds from Newburgh's grant program, he was able to overhaul the building's façade, replacing it with historically accurate details and color scheme. "It's the little things that inspire others," says Pierre.
When Pierre opened Ms. Fairfax, in the spot that once housed former cafe, Martha, he stuck with a George Washington-themed name in homage to the headquarters located on Liberty between Washington and Lafayette. Ms. Fairfax, named after Washington's rumored true love, is a casual, trendy spot that serves a simple, locally sourced brunch, lunch, and dinner menu focused around crêpes. It also has a beautiful back patio where patrons can enjoy a drink in the summer.
"There's a camaraderie on Liberty Street between the business owners, residents, and visitors," notes Pierre. "Everyone is pulling in the same direction and that's a great feeling." Liberty Street Bistro will open its doors this summer, offering French-American, casual bistro-style dinner five nights a week and brunch on weekends. Diners can also expect to see some German influences on the menu. Owner and Chef Michael Kelly says he's had his eye on opening a restaurant in Newburgh for a long time. "The food scene here is about to erupt. There is an appetite for better cuisine and places to shop. Real estate is readily available for anyone that wants to get involved."
Beyond Liberty Street, there are plenty of other exciting food options and new shops popping up in downtown Newburgh. 2 Alices Coffee Lounge opened on Broadway, the Roadies Diner food truck made its home on Broadway and Grand Street, and the Newburgh Brewing Company continues to attract new visitors to the area.
"Like a great steam engine, Newburgh is slowly picking up steam, pushing the negativity to the side, and barreling down the highway of the future," says Brown.