Peek into Matthew Mancuso's home kitchen in Garrison, and you'll likely find him behind the stove, prepping food for catering events, testing recipes to post online, or coming up with unusual ice cream flavors. "I have a very unconventional house with three fridges. And I just ordered a whole wall freezer," he laughs.
Like so many of us, Mancuso only started to work from home once Covid hit, but he's been in the food industry since he was a kid. He attended a vocational program for cooking during his junior and senior years of high school and then landed his first job as a line cook at The Garrison country club. He was planning to study culinary arts at the CIA in Hyde Park—but a chef at the club steered him in a different direction.
"He told me that if I wanted to become a well-rounded chef, I should study pastry," he recalls, "since it would be difficult to pick up those specific skills on the job." After graduating in 2010—with a degree in baking and pastry arts—Mancuso held positions at high-end NYC restaurants including Le Bernardin, Per Se, and Bouchon Bakery, followed by a stint at Blue Hill at Stone Barns in Tarrytown, where he worked as a line cook and front of house for almost four years.
In 2016, when Mancuso was a front-end captain and bartender at Brooklyn's Olmsted, he started the blog "The Art of Eating." Initially, it was just a platform to upload his recipes. But after an injury necessitated a career change in 2019 (he injured his knee and couldn't work long hours standing up), Mancuso focused on and perfected his food photography and social media. The hard work paid off—his Instagram (@theartofeating.info) has almost 25,000 followers.
A quick scroll through his Insta reveals both classics (like chicken pot pie) and more inventive dishes such as scallops and potato mille-feuille with a Champagne caviar sauce. "I like to be challenged. People ask me, 'What's your favorite thing to make?' And my answer is, 'Something I've never made before.'" Today, Mancuso regularly partners with Tastemade—a global platform that shares food-related content—and posts new recipes multiple times a week. He also creates live videos with Kittch, a streaming service where viewers can see every step of the cooking process.
Around the same time his blog and Instagram became popular, Mancuso started catering: He cooked for a friend's wedding in a park after their caterer cancelled last minute. It was such a hit that guests took down his information, and before he knew it, he was running a small private cooking business in the middle of a pandemic. Mancuso estimates that up until last summer, he was booked for at least one party every weekend.
While he's dialed back on private chef work since then, Mancuso hosts monthly "art dinners" at KinoSaito Arts Center in Verplank. These are intimate, ticketed events held in one of the center's galleries. The tasting dinners serve four to five courses for about 18 people. The catch?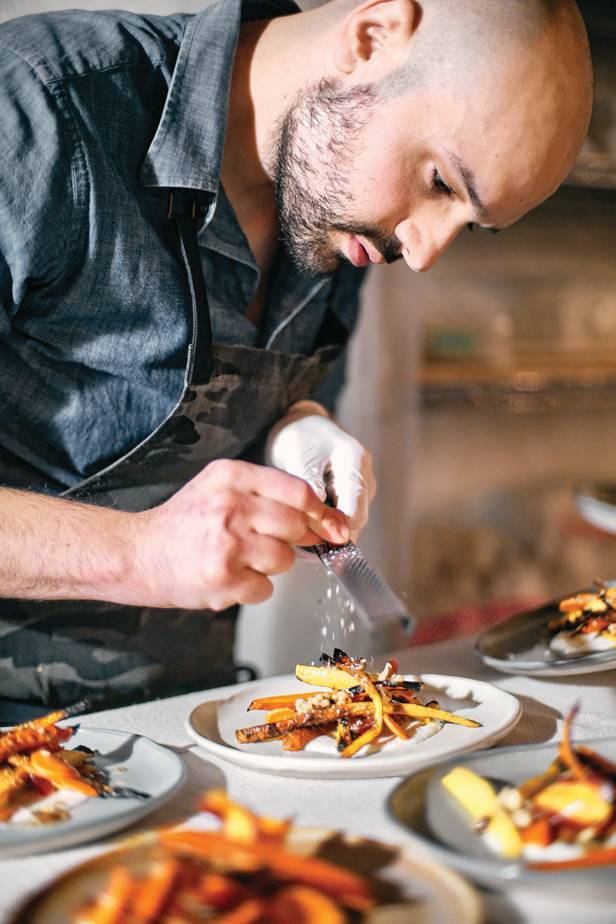 "I sell tickets without telling people what they're getting, which is crazy," says Mancuso, "I don't make the menu until about three days before." The dishes are seasonal and may be themed. At one event, diners were served pork-centric dishes—even the bread spread was made of rendered backfat that had been whipped and mixed with honey and vinegar. (Mancuso always considers any of his guests' food allergies.)
But his plate wasn't quite full enough. Last fall, Mancuso launched Pinky's, a small-batch ice cream business that crafts unique flavors like sweet corn and blueberry, roasted peach and blue cheese, and five-spice sweet potato casserole (all made with cream from Hudson Valley Fresh dairy). There's no storefront (yet), but you can pre-order pints for pick-up every Saturday at pinkysicecream.com—pick-up location changes weekly.
This all might seem like way too much for one person to handle, but Mancuso loves the pace. "Every week is different…and I like to go above and beyond for everything that I take on. If I don't think I can do it, I'll let people know." To keep up with his latest projects, visit theartofeating.info or follow Matthew Mancuso on Instagram.
---
Related: The Maker Hotel Has a New Chef and a New Menu in Hudson