Photos courtesy of Ken Baldwin and Little King
Head to Little King for fresh-baked pastries, artisan coffee, and a curated collection of kitchenware, accessories, games, and more.
By Raphael Beretta and Gillian Telling
Is there a better way to shop than with a cup of coffee in hand?
The Hudson Valley is chock full of cozy cafés, tea houses, and other beverage stops to get your day started. Of course, most of the region's top shopping destinations are conveniently near places that serve lattes and cold brew. However, it's very rare to fuel up on coffee and browse handcrafted goods in the same store.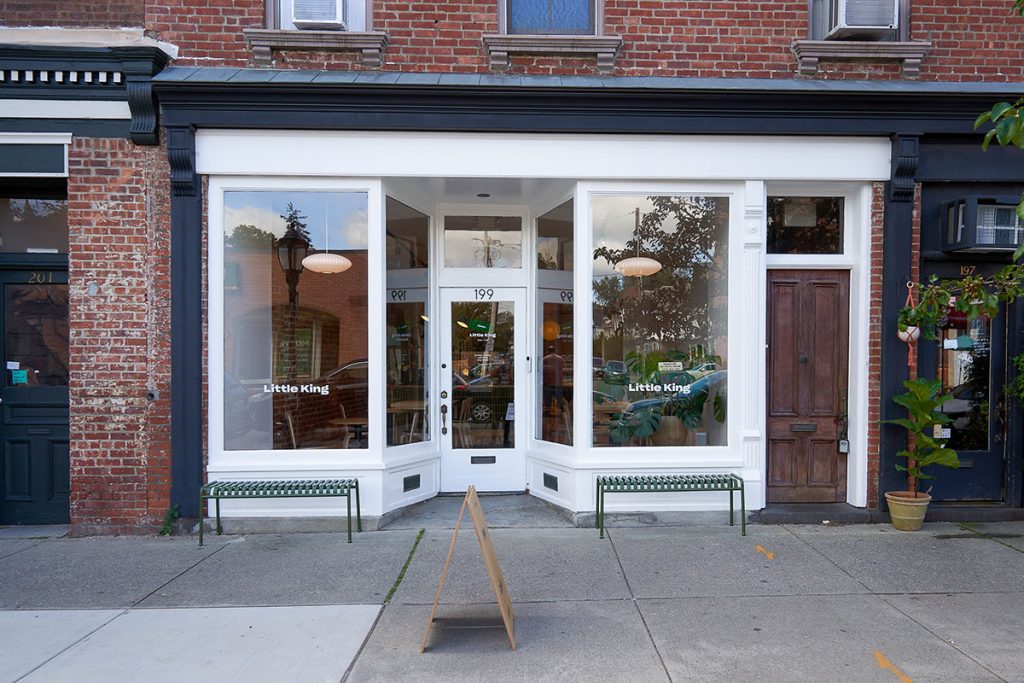 Enter Little King. This homeware and design store on Beacon's Main St, which opened in October 2021, also boasts a café with seasonal eats.
"I think everything we purchase for the store have been items that Jeremy and I both use at our house, in our own lives. And, we see the importance and integrity in buying better and buying once," says Ken Baldwin, director of creative operations. He and head chef—and Little King namesake—Jeremy King have been together for more than five years. When they moved to Poughkeepsie from the West Coast in 2021, the plan was to launch a local business. Baldwin, a creative director, longed for a design-forward retail store where he could sell the sorts of items he loved buying for his own home. King, a chef, had always wanted to run a small restaurant. They decided to do both.
"We decided we could combine our passions and career experiences," says Baldwin of their vision. King adds, "It was kind of an 'aha!' moment when we realized we could do this together under one roof."
They had to do a bit of work on the Main Street space, including installing a commercial kitchen. The duo left the exposed red brick in the front (where the café would be) untouched, but painted it white in the back (the home goods area) to differentiate the sections. The idea was that the café tables and food counter (selling popular sausage rolls, scones with homemade jam, and pantry goods) would entice guests, who would then saunter to the back of the store to shop the bright Marimekko hand towels, funky striped robes from Dusen Dusen, and perfume oils from Maison Marie Louise.
 Above all, Little King strives to inspire positivity through fun, unique products and delicious food.
King prepares classic English pastries, inspired by his time spent in London. Their scones, always served with house-made butter and jam, have earned local popularity. For parties, entire olive oil cakes and other showstoppers are available to order.
"With all of the pastries, we rotate in different kinds of seasonal fruits, nuts, or other ingredients, incorporating them into base recipes. Our sausage rolls have been really really popular as well, which is very traditional British item. We're using a hot Italian sausage from Sugar Hill Farm in Pine Plains," King explains.
In addition to sweet treats, Little King serves a concise assortment of sandwiches that rotate week to week. Typically, the savory menu skews vegetarian, with farm-fresh quiches and focaccia piled high with eggplant. But, specials like the autumn BLT (bacon, kale, and a tomato chutney) tempt as well.
King's experiences abroad weren't the only inspiration for Little King. The pastry chef went to culinary school in London, and then started working at his favorite restaurant in New York City, Marlow and Sons. King was always intimidated to apply, but, once he earned a culinary degree, he felt ready. This Williamsburg hang led the way in Brooklyn's farm-to-table movement. His time working in the kitchen at Marlow and Sons, and at other eateries with similar sensibilities, instilled a lifelong passion for sourcing local.
King learned to be flexible and work with what's grown inside a hundred-mile radius of his kitchen. At Little King, he and Baldwin work with Hudson Harvest to connect with farmers in the Valley. Their menu showcases the region's incredible bounty. 
And what about the coffee? Little King partnered with Gracenote Coffee, a roaster out of Boston. The shop makes its espresso from Alpha, a blend with subtle notes of milk chocolate, strawberry, lavender, and marzipan. In other words, cappuccinos and macchiatos have never tasted better. This roast combines rich Brazilian coffee and Gracenote's Misty Valley, a single origin Ethiopian—and Little King's option for drip coffee. King strives to highlight special single origin coffees through a seasonal "drip program." Plus, both roasts can be purchased to make at home.
Once your hunger is satiated and your need for caffeine met, it's time to explore the delightful world of Little King's home goods.
"Some of my travels took me to Scandinavia, and I had a lot of friends from Finland. The way they spoke about homewares and design and the longevity of items was striking. For instance, how when you have something as simple as like a yogurt spoon or a beautiful bowl that you enjoy using, it elevates your entire day," Baldwin recalls. "So it took me out of my former mindset. These aren't just forks and knives that you get from Target, these are things that you will own forever and then you pass down to your children, friends, and family."
Baldwin's knack for curating brand identities formed Little King's voice and informed its collection. Baldwin has worked as a creative director for over 15 years, honing skills and building expertise in graphic design and art direction. He started in fashion, and moved into interior design and restoration hardware. Then, he moved into beauty and skincare. When the pair lived in LA, Baldwin worked with many celebrities on launching new lines. He helped with every stage, from concepting to packaging. A few of his highest profile clients include Selena Gomez and Lady Gaga.
Baldwin was constantly exposed to beautiful things, and he kept a list for the past two decades of items that made an impact. Little King's collection spans artisan flatware, retro striped bathrobes, and wooden toys, to name a few. Kitchen timers and spatulas smile back at the chef, literally. What may appear to be a lemon is actually a Japanese soy wax candle. Notebook-sized chalkboards, cast-iron bottle openers shaped like toucans, and 3D puzzles bring needed levity to everyday life. Baldwin and King built their business to be "warm, inclusive, and celebratory."
Little King also sells skincare, children's toys, lamps and vases, flatware, glassware, and tabletop items from brands like Supergoop, Olio-e-Osso, Hightide, and Finland-based Iittala. "I like timeless objects that surpass trends," says Baldwin, noting that Iittala glassware was first designed in 1932—and still holds up. "People come in and tell me their grandparents had these glasses," he says. The couple also hosts pop-ups with local artisans, and one-night-only dinners created by chefs, including Brooklyn-based Woldy Reyes of Woldy Kusina and Susan Kim of Eat Doshi.
In a similar vein, they celebrate local artists all the time. Follow Little King on Instagram for updates on upcoming events featuring local creatives, like book signings and art shows. Several paintings by Hudson Valley creatives and illustrators line the walls, while jewelry, books, and other goods by local makers sit on the shelves. Little King, along with neighbors Flora Good Times, Zora Dora, and Beacon Bread Co., offers an incredible day out eating and shopping in Beacon.
How's business? So far, it's better than they ever expected. "What we love about Beacon is it has weekend visitors and a vibrant art scene, but it also has a strong community of lifelong Beaconites and newer homeowners. We get a nice flow of customers," says King. He adds that they are laser-focused on the quality of the products they sell: King relies on local and seasonal produce, while Baldwin stocks items that prioritize longevity and sustainability. "I was inspired by friends in Finland who taught me that when you surround yourself with beautiful objects, it makes your life better," he says.
"There's always going to be a sense of joy in everything we do," King adds.
Little King
199 Main Street, Beacon
littleking.online
845.440.7262