Photos courtesy of Kelly's Bakery
A Le Cordon Bleu chef runs a bakery café on Delafield Street, serving sourdoughs and pastries with ingredients sourced from the Hudson Valley.
In the Hudson Valley, bread lovers and coffee fanatics keep ever-growing lists of their favorite bakeries for out-of-the-oven baguettes and their top coffee shops for the finest lattes. Since opening in January 2021, Kelly's Bakery is already a popular Dutchess County destination bringing artisanal breads and locally roasted coffee to their community of Poughkeepsie.
What started out as a quarantine project (#sourdough), has now become a booming bakery in the waterfront town.
Kelly's Bakery is the result of both the bread-baking trend that took over Instagram during the pandemic and a long-time dream shared between Kevin Halim and his husband, Darin Oakley. The pair moved back to Poughkeepsie at the start of the pandemic last year, hoping to build something they could share with their neighbors and the greater Dutchess community. Halim jumped into the world of bread baking soon afterward.
As a professional pastry chef, he was motivated to master the unfamiliar gastronomical territory of bread.
"Everyday we were baking bread, and I would call my friends who are bakers to help me and teach me over the phone," Halim recalls.
Baking constantly, tweaking recipes, and experimenting with ratios along the way resulted in copious amounts of carbs to share. "We had so much bread at home that we started giving it to our neighbors. Then, our neighbors couldn't eat anymore either," Halim jokes.
On Facebook, Oakley was posting photos of their homemade loaves and receiving feedback from locals interested in buying their bread. The duo decided to take orders for curbside pickup at their home. When that could not satiate demand, Halim and Oakley saw this as an opportunity to finally open their own business in Poughkeepsie — named after Halim's beloved Pomeranian, Kelly.
Alongside classic baguettes, sourdoughs loaves, and croissants, Kelly's Bakery also offers less traditional baked goods with inspired flavor profiles, hoping to offer something for everyone that walks through their door.
"We're slowly introducing Poughkeepsie to something different," Halim explains. "People come into the bakery and they get excited." From maple-sesame cookies to avocado toast with furikake (Japanese seaweed seasoning), Halim pushes the boundaries to provide greater depth to the menu.
"[Changes] can be as simple as adding sea salt to a cinnamon bun, but that can change the whole flavor," Halim notes.
Halim's culinary expertise is extensive. He graduated from the world-renowned French culinary school, Le Cordon Bleu — the same alma mater as Julia Child!
There, he focused on preparing savory dishes, which led him to cook in restaurants across the United States. Eventually, The Culinary Institute of America brought Halim to the Hudson Valley, where he focused on pastries specifically. Halim's Indonesian background also influences his baking and many of the ingredients served. The array of baked goods at Kelly's Bakery demonstrates Halim's understanding of how to pair unique ingredients for complex flavors.
"I have this savory influence on all of my desserts," Halim explains. "I don't like a lot of our pastries and breads to be overly sweet. Instead, we try to make everything balanced here."
The combination between sweet and savory in the chocolate-rye-and-fig bread is a top-seller. Dry figs are infused with the coffee that's brewed in-house daily, then blended with chocolate bread batter.
"It's still a sourdough but with a hint of nice dark, bitter, sweet chocolate that balances it," Halim describes, adding that it's even more interesting how customers prepare the dish. "Some of our guests tell us they toast it with mascarpone cheese to make it into grilled cheese."
Asian-inspired ingredients also make standout treats at Kelly's Bakery. The brunch menu features an egg sandwich with gochujang aioli, a Korean fermented chili paste.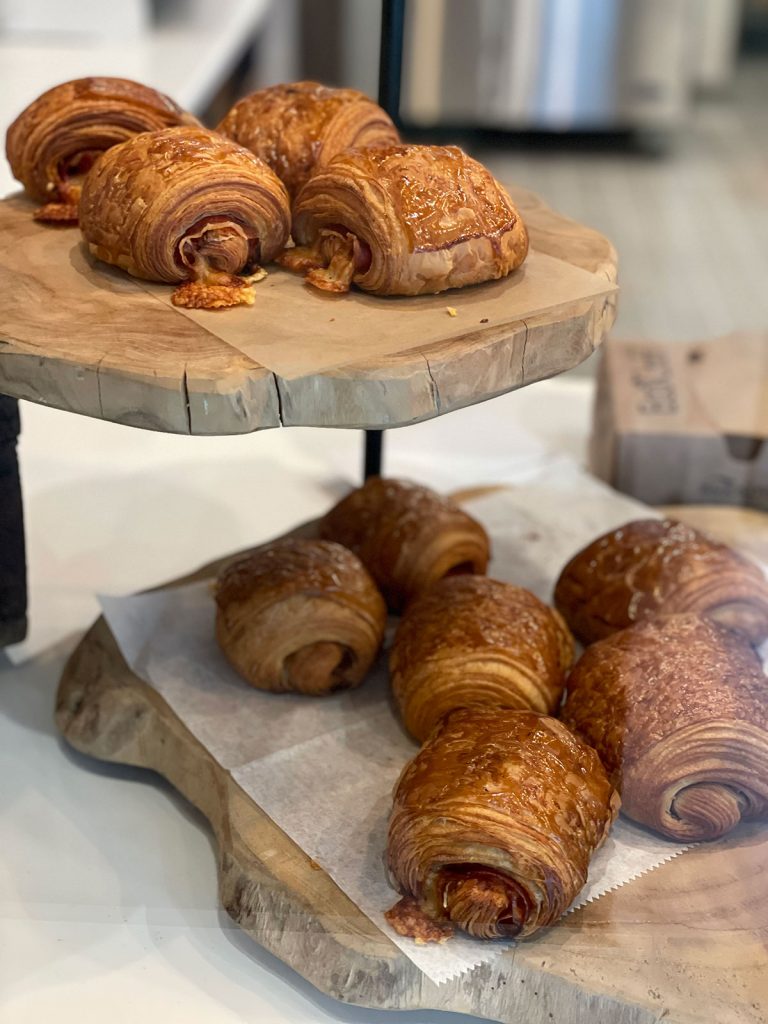 "[Cooking] is like designing food in a certain way, and that's what excites me the most. I like playing around with ingredients," Halim, who originally wanted to attend design school, says.
Halim designed the menu at Kelly's Bakery to highlight fresh ingredients with a plant-based focus. "Most of the menu I want to be as vegetarian-friendly as possible, with meat as a flavor add-on," Halim explains. "We're not compromising our flavor just because it's vegetarian; it's meant to be vegetarian."
To optimize flavor, using produce that is in peak season is central in recipe development, and there's no region better than the Hudson Valley for fresh, flavorful ingredients. In each season, Halim will introduce more treats with new flavors. And by next winter, he hopes to have his own supply of preserves to use in the bakery.
View this post on Instagram
With warmer weather, Kelly's Bakery will continue to become even more idyllic for bread aficionados and brunch lovers. Not only will the menu expand to feature seasonal ingredients, but the patio will open for guests and furry friends.
"We do have an outdoor patio, so I'm very excited when the weather is warmer. I can also start bringing Kelly to the bakery to hang outside," Halim shares.
Above all, the pair seeks to create a space for their hometown community. Keeping everything fresh and wasting not a morsel, they give away end of day products to our local homeless communities, hospitals, the firehouse, and the police station and also to the homeless community.
For longtime locals and newcomers to Poughkeepsie alike, Kelly's Bakery is a welcoming space to dine on delicious fare that highlights the seasonal ingredients and many cultural influences on the food of the Hudson Valley.
Kelly's Bakery
110C Delafield St, Poughkeepsie