Oh ice cream, how we adore thee! That's why we couldn't be more excited for the return of ice cream season in the Hudson Valley. It's a time when roadside dairy bar parking lots beckon us to stop for a scoop and quaint creameries become the coolest places in town. From Albany to Westchester, our Hudson River region is blessed with an abundance of local shops to satisfy sweet cravings on scorching (or even mildly warm) days.
This summer, make it a point to plan a pitstop to each and every one of the region's decadent dairy shops. Not only will you explore new corners of the Hudson Valley, but you'll get your just desserts, too.
P.S. Are we missing a spot? Email us at edit@hvmag.com so we can add it. Be sure to check hours at each location before visiting.
Saugerties
Some of the freshest flavors can be found, yep you guessed it, in an alleyway. Owner Julian Hom first opened the tiny shop in 2017—and it's since grown into something very special. Foodies travel from near and far to order buttermilk strawberry, Key lime crunch, matcha salted pistachio, and Thai tea cookies and cream.
Taste This: Ube Heath bar crunch. Ube, a yam from the Philippines, is all the rage thanks to its pretty purple hue and nutty flavor. Alleyway blends it with toffee for a creamy-yet-chewy texture. Level up with a warm waffle cup.
Cow to Cone: All milk and buttermilk are sourced from Hudson Valley Fresh, a Poughkeepsie-based, farmer-owned company that partners with 10 local farms. Follow along on social at @alleywayicecream.
Warwick
View this post on Instagram

Located at the top of Mount Peter in Warwick, Bellvale is a welcome reprieve for hikers in need of sweet refueling. Bellvale opens daily at noon and features signature homemade scoops in fun flavors like Bellvale bog (dark chocolate with brownie dough and fudge swirl) and strawberry-rhubarb pie. You can get your scoops in a traditional cone or sundae bowl, but Bellvale's homemade waffle cones are the only way to go for locals in the know!
Because Bellvale is a family creamery, favorite flavors can run out throughout the day. Call ahead to confirm if your top scoops are onsite before you make a visit. By the way, the homemade ice cream pies are just as excellent as the scoops.
Port Jervis
View this post on Instagram

A go-to sandwich and scoop shop in Port Jervis, Ben's Fresh offers an extensive selection of ice cream, milkshakes, and zany desserts. The soft ice cream is made with local Jersey cream and real bourbon vanilla, while the hard serve uses New York State milk. Scoops are wonderful on their own, in an ice cream soda, or on a sandwich, though they are extra-special when swirled into a homemade milkshake (with a creamy consistency courtesy of Ronnybrook Farm milk). The parfaits, including the cannoli, banana cream, and Oreo waffle chip, are just as exquisite.
Croton-on-Hudson
View this post on Instagram

This shop is as homemade as it gets. The milk and cream come from Hudson Valley Fresh, giving the ice cream—well—freshness. The Blue Pig's got all your niche tastes covered; for example, try the grapefruit Campari sorbet or the fresh ginger ice cream with candied lemon. Vegan chai teas and fresh-baked cookies made with artisan flours can be found in colder weather. If you're looking for specialties, the ice cream cakes, root beer floats, and orange soda floats are where it's at.
Fun Fact

In 1929, rocky road was the first widely available flavor (besides vanilla, chocolate, and strawberry). It was invented by William Dreyer and candy maker Joseph Edy to cheer people up during the Great Depression.
Kingston

View this post on Instagram

Celebrating more than 100 years in business, Boice Bros. is a low-key legend in the Hudson Valley dairy scene. When it comes to ice cream, the local business is bar none. Swing by its Milk House headquarters in Kingston to dive into loaded brownie sundaes, custom ice cream cakes, and—when it's in season—maple Dole Whip.
Port Chester
View this post on Instagram
Come for the creative variety and stay for the torched meringue (more on that later). "Chopped" champ Nick Di Bona opened this 5,000-square-foot ice cream mecca in 2018 after vending at the popular Brooklyn food festival Smorgasburg. Of the 19 unique flavors, Italian rainbow cookie, Nutella s'mores, frosted animal cracker, and coffee with caramel turtles take the cake. Bonus: you can rent out the sprinkle room for parties—candy rains down on the kids! Adults can have their fun, too, with the boozy milkshake bar.
Taste This: Get the Holy Cannoli Bona style. Homemade ricotta ice cream is mixed with cannoli shells, dark chocolate chunks, and pistachios then topped with a signature Italian merengue and toasted until golden.
Cow to Cone: Chef Di Bona crafts small batches of each flavor using a variety of dairy vendors. Find the shop on social at @bonabonaicecream.
New Paltz
View this post on Instagram

Anyone order a side of nostalgia to go with their ice cream? With walls covered in records and music memorabilia, B-Sides is a blast from the past, specializing in classic American comfort food. Stop in for one of the famous burgers, all-day breakfast, and, of course, ice cream. You can have your dairy in a cone, milkshake, or atop a waffle with whipped cream and strawberries.
Stone Ridge
This old-school stand has attracted locals and day trippers alike since the 1950s. And when Jolene Delisle and Lawrence O'Toole—who moved to Kerhonkson in 2020—heard its legacy was in jeopardy, they stepped in. Two years later, Cherries continues to wow with inventive flavors like coffee toffee, cookie monster, and coconut raspberry, plus ice cream sandwiches, soft serve, and special sundaes.
Taste This: Lavender honey blueberry. The super-refreshing flavor is infused with clover honey from New York bees, ripples of blueberry jam, and French lavender.
Cow to Cone: All of Cherries' hard ice cream is hand-churned at Del's Dairy Farm in Red Hook. The soft serve is sourced from Gardiner's Gillette Creamery. Follow along on social at @cherriesstoneridge.
Newburgh
View this post on Instagram

This ice cream stand located near the Ulster County and Orange County line is a local favorite. It constantly rotates fun and creative flavors throughout the season, including cookie butter, red velvet, and maple soft serve.
Chester
View this post on Instagram

Named the "Coolest Place In Town," this joint is brought to you by the Post/Meir family, who've been serving ice cream in Northern New Jersey since 1958. This ice cream shop serves both classic and new flavors alike. The cannoli cream and banana Oreo ice cream will have you begging for just one more scoop.
Hudson
Founder Katiushka Melo whips up gut-friendly, fermented sweet treats—think froyo but with kombucha and kefir instead. You'll find three types of scoops: kombucha sorbet, vegan ice cream (house-made cashew and coconut milk, cocoa butter, and coconut oil), and kefir ice cream. Popular flavors are blueberry thyme, passionfruit lemon balm, miso with honey-roasted strawberries, and earl grey lavender.
Taste This: Kefir mango merquén ice cream. Merquén is a smoked chili used in indigenous South American cuisine.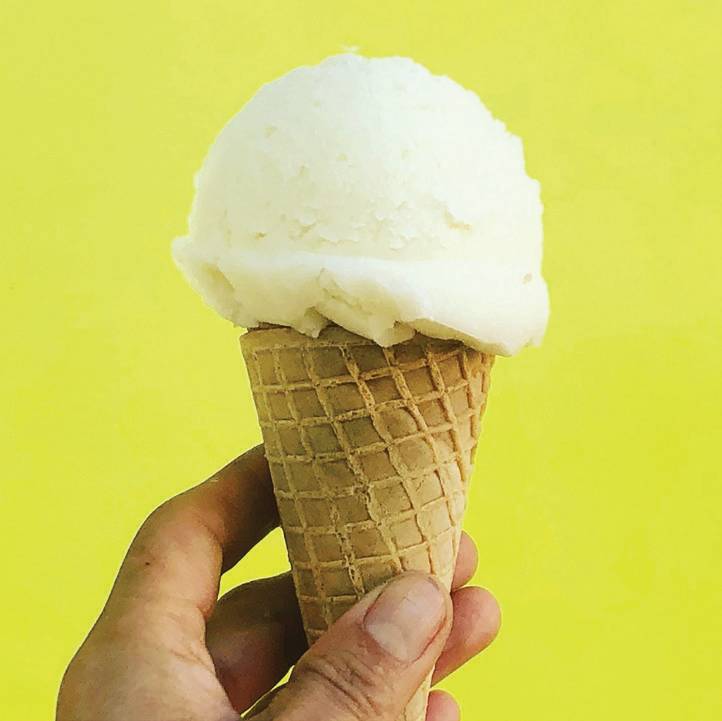 Cow to Cone: The kefir is sourced from Five Acre Farm (a Brooklyn-based company that works with farms within 250 miles); herbs and spices are foraged by Melo in the Catskills and the sorbet is made with Yesfolk kombucha, a functional beverage company based in Troy. Follow along on social at @eatculturecream.
Westtown
View this post on Instagram
This dessert café has a little bit of something for everyone. The Dairy O offers a wide variety of flavors while providing dairy-free, gluten-free, and sugar-free options for customers. However, the standout stars are the ice cream pies, which come in caramel sea salt, polar mint, and many more—including your own custom flavor!
Rhinebeck
View this post on Instagram

A longtime Rhinebeck institution, Del's sports a retro look and a hyperlocal list of purveyors like Del's Dairy Farm and Dutchess Creamery. As for the menu, it's all about Americana nostalgia with farm-fresh scoops such as double Dutch chocolate and mint brownie swirl. If you wish to dabble in more unique flavors, be sure to try vegan coconut raspberry or even one of its boozy milkshakes; "The Bee's Knees" tempts with lavender-honey-blueberry ice cream, gin, lemon cordial, whipped cream, and an edible flower. How sweet!
Fun Fact

August 2 is national ice cream sandwich day.
Albany
View this post on Instagram

This Albany establishment is one of many Emack and Bolio's shops which span the globe, and the flavors are exhilarating regardless of geographical location. Want to to try something out of this world? Get your hands on the space cake (vanilla cake-flavored ice cream with chunks of red velvet cake dispersed throughout). Emack and Bolio's also offer vegan alternatives such as lemon blueberry and coffee fudge. 
Fishkill
View this post on Instagram

For customers with a leg in the long-standing debate over soft serve or hard ice cream, there's no need to choose—Fishkill Creamery has both. Customers can look forward to tasting local brands like Victory Ice Cream from Wappingers Falls. The creamery sports over 20 flavors from cereal milk to strawberry cheesecake, and customers have their choice between waffle or gluten-free cones, sundaes, banana splits, shakes, and decadent specials.
Tivoli
View this post on Instagram
Dreamed up by two Bard alums who returned to their college stomping ground in 2015, Fortunes specializes in seasonal ingredients and fruit-forward flavors. Foodies go crazy for the labne sour cherry, but the lemon ricotta blueberry, hojicha (a roasted Japanese green tea) milk chocolate, and toasted milk strawberry are also divine. The ice cream sandwiches are stuffed with harmonious combos of chamomile raspberry and matcha macadamia. Don't miss their sundae specials—past creations include the Dreamsicle (Cara Cara orange sherbet, vanilla ice cream and cookies, pineapple dream sauce, and dehydrated strawberries) and Banoffi coffee crunch. In 2021, Food & Wine named Fortunes the best ice cream shop in New York State.
Taste This: If halva honeycomb is on the menu, get it. This fusion of Persian confectionery and local honey packs a delicious punch.
Cow to Cone: Fortunes' dairy is from Ronnybrook Farm in Pine Plains. Seasonal fruit and berries are sourced from local farms, like Fix Bros. Fruit Farm (Hudson), Mead Orchards (Tivoli), Montgomery Place Orchards, and Rose Hill Farm (both in Red Hook). Follow along on social at @fortunesicecream.
Amenia

A true blast from the past, Four Brothers Drive In is one of the best places to enjoy a cold cone and a hot flick. Roll up to the big screen and order online via the theater's outdoor kiosk, or do so by phone and pick it up at the shack. Prepare your taste buds, as the menu boasts a premium selection of locally sourced ice creams. If you're in the mood for something different, there are a few specialty sundaes like the "Johnny Sundae," which comes with vanilla ice cream, black cherries, and whipped cream. If you're more of a milkshake connoisseur, Four Brothers has a unique menu of flavors, such as birthday cake, espresso, and even wine flavors (take your pick: cabernet or pinot grigio).
Highland

View this post on Instagram

Salty caramel pretzel and pink grapefruit sorbet are just two flavors you might find at this family-run shop. Grab a shake, float, cone, or cup and head to the Walkway Over the Hudson—located less than a mile away—to top off an amazing day in the Valley.
Shokan
View this post on Instagram
You love Fruition for its chocolate, but did you know the Hudson Valley confectioner does ice cream, too? Head to the ice cream stand to savor Del's scoops, which come straight up or sandwiched between the shop's flourless chocolate cookies, swirled into milkshakes, or drizzled with hot fudge sauce in a sundae. For an extra treat, pair hot with cold when you order a specialty drink from the onsite coffee shop.
Albany
View this post on Instagram

The self-proclaimed "Absolute King of Soft Serve" prides itself on being the capital's ice cream destination, offering dozens of flavors alongside frozen yogurt and shakes. If that doesn't quite satisfy you, create your sundae masterpiece with an equally extensive assortment of toppings.
Red Hook
View this post on Instagram

Holy Cow is iconic. If you grew up in or around Dutchess County, chances are you made multiple trips to the Red Hook sweet spot during the dog days of summer. Inside the shop, prices are low and offerings are ample. Get an old-school sundae with hot fudge sauce and a cherry, or keep it classic with a twisty chocolate and vanilla cone. You may have a tough time deciding between hard and soft serve—not to mention chocolate chip cookies sandwiches and parfaits—but we promise that whatever you ultimately choose will be nothing short of divine.
Related: 10 Cool Hudson Valley Treats That Aren't Ice Cream
Cold Spring

View this post on Instagram

Homestyle Creamery pairs Homestyle Desserts'—its sister shop—pastries with locally made Jane's Ice Cream. Whether you get a scoop of vanilla sandwiched between two fresh-baked oatmeal raisin cookies, fresh vegan Dole whip, or an ice cream cake packed between two layers of cookie dough, you won't walk away hungry here.

Hopewell Junction
View this post on Instagram

This family-focused ice cream joint has specialized in making memories with creative treats since 1960. Joe's has it all: soft serve, hard ice cream, sundaes, hot food, and Instagram-famous freak shakes. These made-to-order monsters are piled high with more toppings than you could imagine. For one example, look to the unicorn freak shake: a milkshake flavor of your choice filled with colorful marshmallow drizzle, surrounded by edible confetti, and topped with whipped cream, more marshmallow drizzle, edible dust, and a cupcake impaled on a lollipop.
Fun Fact

Thomas Jefferson is credited with creating the first known ice cream recipe, which called for two bottles of cream, six egg yolks, a half-pound of sugar, and one vanilla bean.
Lake Katrine
View this post on Instagram
We won't mince words—the Jolly Cow's ice cream sandwiches are the star of the show. If you stray away from your typical vanilla and chocolate ice cream sandwiches, The Jolly Cow offers the chilled confections in banana, coconut, pistachio, and peanut-butter-chocolate twist, just to name a few.
Dover Plains
View this post on Instagram

Kelly's is here to feed everyone's creamy cravings with its substantial stock of artisanal flavors. "Ooh" and "aah" over varieties like death by chocolate and graham slam cracker, then top the scoops with berries, candies, nuts, or sprinkles. A word to the wise: don't forget to pick up a pack of ice cream sandwiches for the road.
Albany

View this post on Instagram

This stand has been serving up soft ice cream since 1952. Kurver has a weekly rotation of fun flavors to enjoy in cones, banana splits, shakes, flurries, and homemade ice cream cake. The specialty sundaes like fruit salad and toasted coconut in a homemade waffle bowl are musts if you crave something a little different.
Poughkeepsie
View this post on Instagram

A community go-to in Poughkeepsie, Mapleview is a must for homemade ice cream that's just about as creamy as it gets. Flavors change daily, but may include anything from "Lemon Lotus" to good, old-fashioned cookie dough. Those with dietary restrictions can opt for one of Mapleview's vegan or sugar-free scoops.
Newburgh
This husband-and-wife owned shop, which opened last summer on the Newburgh Waterfront, is already a hot spot. It won the 2023 award for "best gelato" by Hudson Valley readers so be prepared for a wait at the takeout window, especially after dinner. Top ice cream picks include cappuccino explosion, vegan rocky road, and birthday cake. This fall, Midnight Ferry is opening a café and dessert bar with indoor seating, a patio, and a full bar.
Taste This: The signature bomba—nutty pistachio and Amarena cherry (a bitter Italian fruit used as a dessert garnish) gelato stuffed into an Italian donut—is the bomb.
Cow to Cone: Hard ice cream is sourced from Gifford's in Maine, a fifth-generation dairy farm that started selling milk and ice cream in the late 1800s. Soft serve is delivered by Gillette Creamery in Gardiner. Follow along on social at @midnightferry.
Cold Spring

View this post on Instagram
Amazing flavors + awesome Hudson River views = perfection. Every day, Moo Moo's serves up 16 options, from caramel cashew and walnutella to red raspberry and kiwi strawberry sorbet. Their daily picks are posted on the wall inside and on Instagram (see below) and Facebook. If a seasonal scoop catches your eye, order it—you'll never know when it will be back in rotation among their 100 varieties.
Taste This: Shortbread cookie ice cream is simple yet so delicious. The black raspberry and chocolate thin mint flavors are very close runners up.
Cow to Cone: All of Moo Moo's ice cream is made fresh and on-site daily. Follow along on social at @moomooscreamery.
Kingston
View this post on Instagram
The Original Mickey's Igloo has been serving Kingston for over 65 years. Thanks to its sheer popularity, this shop branched out, opening another establishment in Saugerties. Mickey's offers an abundance of hard serve, soft serve, and vegan options. Are you feeling for amaretto? Irish cream? Crème de menthe? The choice is yours!
Hyde Park
View this post on Instagram
The name and retro aesthetic definitely arouse feelings of nostalgia. Nana's offers an assortment of fun flavors and "stacks"—cups piled high with creamy soft serve, candy, and other sweet treats—including the peanut butter explosion and the brownie stack, which comes topped with rich, homemade brownies. The top-selling flavor, "Trash Can," is more delectable than disgusting, despite the name; it's vanilla combined with a plethora of treats including cookie dough, brownies, Heath Bar, M&Ms, caramel, and fudge.
Woodstock
View this post on Instagram
This is chocolate heaven. Every scoop crafted at Nancy's is made with bars from award-winning Fruition Chocolate Works in Shokan. Choose the Peruvian chocolate (a custom blend of Fruition's best sellers), chocolate and peppermint, or the chocolate-chocolate sundae. Other picks include cinnamon and caramel swirl, cream cheese carrot cake, and cookies and sweet cream (with homemade Oreos). There are also seasonal vegan flavors, floats, and milkshakes.
Taste This: Nancy's Mishmash blends vanilla ice cream with flourless brownies, chocolate chip cookie dough, and crunchy toffee pretzels.
Cow to Cone: Pine Plains' Ronnybrook Farm supplies all milk and cream. Follow along on social @nancysartisanal.
Hastings-on-Hudson

View this post on Instagram

If you're heading down toward Westchester, don't pass up a trip to Penny Lick. The Hastings creamery has been scooping up its signature custard-based recipe, using locally sourced whole milk, eggs, and sugar, since 2013. Nowadays, it serves artisanal options like vegan dark chocolate coconut, lemon bar, white bourbon caramel, and raspberry lime sorbet. Planning a birthday party? Call ahead to order a custom cake that is so much better than any run-of-the-mill Carvel cake.
Bloomingburg 
View this post on Instagram

This family-owned ice cream shop has been a staple in the Hudson Valley for decades. While it offers soft serve in many flavors, the parfaits and ice coolers (soft serve ice cream layered with Italian ice) are definitely worth checking out. 
Beacon
View this post on Instagram
Situated just outside Beacon proper, Ron's is a fan-favorite spot for quirky and inventive flavors. Cold, hard ice cream is far from the only chilly delight you'll find at Ron's. If you want to up the ante, try picking and choosing between flurry flavors.
Loudonville
View this post on Instagram
For Scoups, presentation goes a long way. The frozen desserts are almost too aesthetically pleasing to devour, but the satisfaction afterward is totally worth it. Be sure to check out the current flavor of the week.
Beacon
One of the Valley's more recent additions to the artisanal ice cream scene is owned and operated by "just a couple of Shmucks with a sweet tooth" who were born and raised in Beacon—they translated their friendship into a business at Hudson Valley Food Hall. Their love for the region is seen in their ingredients, all sourced fresh and seasonally from local outputs; all flavors are nut-free; and vegan options, like the house favorite vegan dark chocolate coconut, are always on hand.
Kerhonkson
View this post on Instagram

Named after the legendary mountains of Shawangunk, Sleeping Giant Ice Cream in Ulster County serves up classic treats. Whether it be a crisp sugar cone with a dollop of soft serve or a waffle cone layered with a myriad of scoops, customers can't go wrong at this sweet shop. Find candy toppings for both soft serve and hard scoops like gummy bears, Butterfingers, and Reese's Pieces. 
Troy

View this post on Instagram
Snowman has been serving soft and hard ice cream to the city of Troy for seven decades and counting. It offers specialty sundaes, hard ice cream flavors like orange pineapple and coffee Oreo, and vegan options. If you give the shop advance notice, it will even bake ice cream pies. With options like peanut butter cookie dough, orange pineapple, and coffee, how could anyone resist?
Poughkeepsie
View this post on Instagram
Located in Eastdale Village—one of the top foodie destinations in the Valley—Spoons specializes in gourmet sundaes, ornate ice cream cakes, and colossal milkshakes (known as "freak shakes") that feature fan-favorite treats from local small businesses. Beyond its hard and soft serve ice cream, the shop offers gluten-free, vegan, sugar-free, and dairy-free options to accommodate all who love licking ice cream cones.
Throughout the Hudson Valley
View this post on Instagram

What would a list of Hudson Valley ice cream spots be without a mention of Stewart's? The beloved convenience chain is best known for its ice cream, which has something of a cult following among locals in the know. Everyone has a favorite flavor, but top picks include the brownie cookie sundae, peanut butter pandemonium, and mint cookie crumble. Take home a half gallon or hand-packed pint to go or just stop by the closest Stewart's near you for a cone, brownie sundae, milkshake, or—if you're really feeling it—a banana split.
Harriman
Head to Suzy's hard serve, soft serve, milkshakes, and more. The shop sources its hard serve from Jane's Ice Cream, meaning each and every scoop is of the finest quality. Plus, there is plenty of outdoor seating on the porch, so feel free to enjoy your sweets onsite.
New Paltz
View this post on Instagram
This seasonal ice cream joint, a favorite among SUNY New Paltz students and year-round residents alike, offers new flavors every week with toppings to match. While this spot is revered for its homemade soft and hard ice cream, the scrumptious lava cookie sundae may just send your taste buds to cloud nine.
Salisbury Mills

View this post on Instagram

Founded in 1956, Weir's is the retro roadside stand of Instagram dreams. The shop is open from April to September and is locally famous for its homemade hard scoops and unique soft serve flavors. Order the perfect twist of whatever soft serve options are on the menu for the day (vegan strawberry oat milk, anyone?) or get a sky-high stack of scoops like churro or "Wizard Tracks" (that's vanilla ice cream with peanut butter swirl and mini peanut butter cups).

Fun Fact

How many licks does it take to get to the bottom of a cone?
About 50, says the International Ice Cream Association.
Monroe
View this post on Instagram

Beat the scorching summer heat with a treat from Wally's Ice Cream Parlor. This Monroe establishment has been faithfully serving its customers for almost 30 years with homemade classic flavors. Try the signature Wally Pop, ice cream on a stick dipped in melted chocolate or cherry syrup.
LaGrangeville
View this post on Instagram
Fun fact: Zoe's co-owner Bob Ferris is a fourth-generation dairy farmer with Dutchess County roots dating to the 1800s. In 2016, he and daughter Katie, a CIA-trained pastry chef, opened this spot which places a premium on freshness. Their motto is "36 hours from cow to store." Standout flavors include peach strawberry crumble, cannoli, mud pie, and raspberry jalapeño.
Taste This: Make the hard choice between the two most popular sundaes: maple waffle (with two sugar pearl waffles and Dover Plains' Soukup Farms syrup) and fried Oreo, perfect for county fair lovers.
Cow to Cone: Zoe's dairy is from Hudson Valley Fresh in Poughkeepsie. Follow along on social at @zoesicecreambarn.
Beacon
View this post on Instagram

While this ice cream spot is famous for its unique and fruity paletas or ice pops, Zora Dora's frozen dairy treats hit the mark as well. Handcrafted in small batches daily with Hudson Valley dairy, these sweets come in a multitude of flavors to tickle your fancy.