Courtesy of Alleyway Ice Cream
Our Best of Hudson Valley winners offer top-tier food, drinks, and dining experiences throughout the region.
Ice Cream Flavors
Alleyway Ice Cream, Saugerties
Some of the most unique and delicious ice cream flavors are found in—you guessed it—an unassuming alley in Saugerties. We highly recommend a triple-scoop cone of honeycomb chocolate swirl, ube Heath bar crunch, and Thai tea cookies and cream.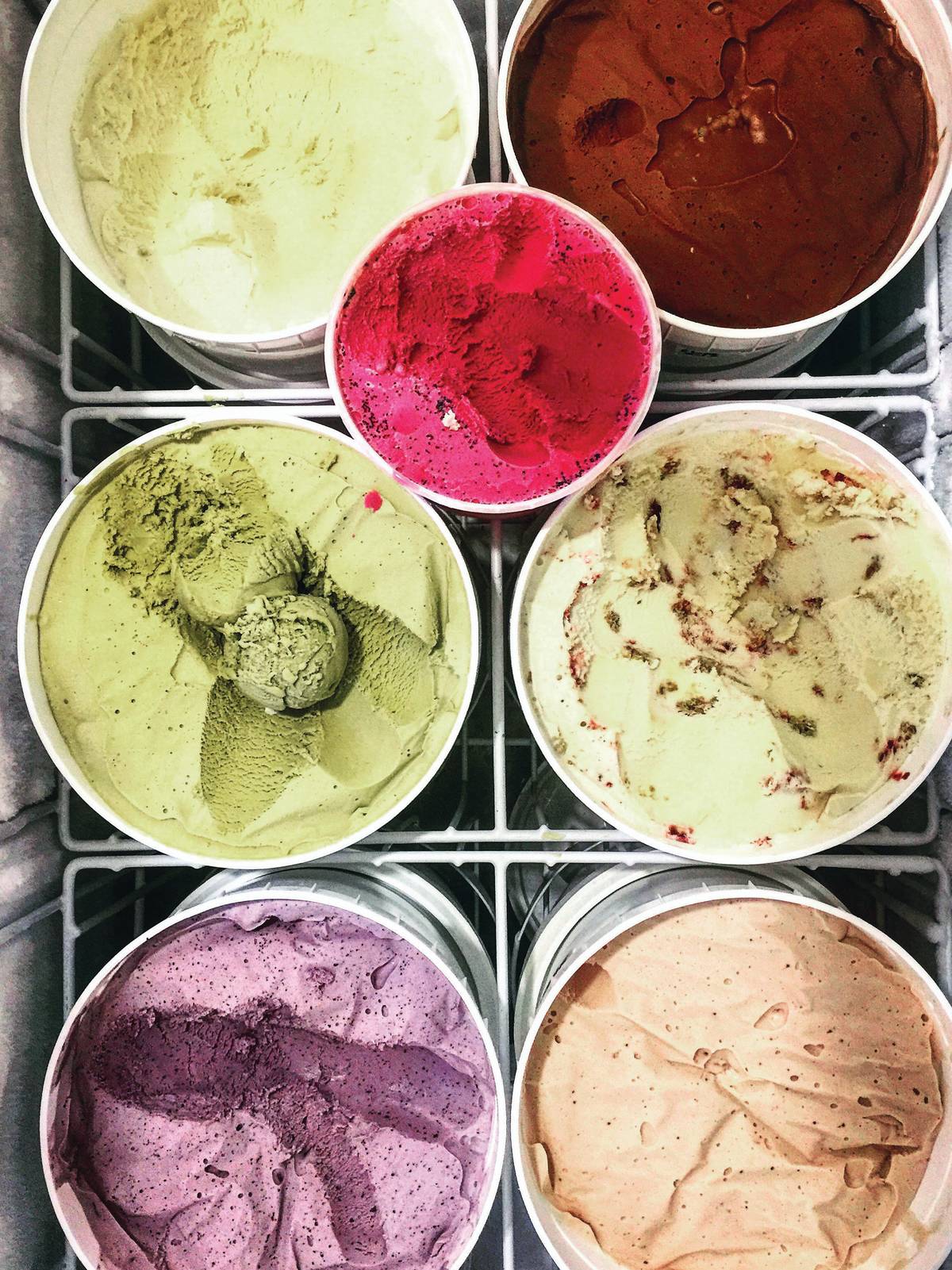 Related: How to Be an Ice Cream Maker in the Hudson Valley
Artisan Bakery
Breadfolks, Hudson
Artisan Coffeeshop
Jacob Alejandro, Troy
Asian Fusion Food Truck
Eat Church Food Truck, Dutchess County
Asian Grocery
Harana Market, Woodstock
Book & Bar
Rough Draft Bar & Books, Kingston
Café Workspace
Little Pecks, Troy
Chicest Coffeeshop
Black Dot, Stone Ridge
Cider House
Twin Star Orchards, New Paltz
Cream Cheese Selection
David's Bagels, Haverstraw
Distillery with a View
Hudson House, West Park
Food, Drink & A Show
City Winery, Montgomery
Glögg
HETTA, Kingston
Grilled Cheese
Fannie's, Warwick
Hot Pot
Superbowl, Kingston
HV-made Cheese
Chaseholm Farm, Pine Plains
HV-made Kombucha
Seek North
Lavender Latte
Supernatural Coffee + Bakery, Hudson
Momos
Momo Valley, Beacon
Find flavors of Nepal right in the heart of Beacon. Previously housed in the Hudson Valley Food Hall, Momo Valley moved to its own storefront and is cranking out dough-y, delicious Nepalese dumplings. Don't miss the exceptional spinach and cheese version.
Veggie Burger
Moonburger, Kingston
Layered with dill pickle, fresh lettuce, onions (both raw and fried), and tangy house special sauce on a potato roll, this delicious Impossible patty just may become your new favorite fast food. Take our readers' advice—the line of cars that often stretches down the road to get a drive-thru Moonburger is well worth the wait.
Herb Farm
Tweefontein Herb Farm, New Paltz
Run from a small homestead, this farm has been growing organic herbs to produce high quality products with medicinal benefits since the '80s. We particularly love their tinctures, the Hippie Lemonade, and their tea blends—Calendula Sunrise and Mint Rose Dream in particular are earthy and very soothing.
Greek Meze
The Greekish, Harrison and Nyack
You know how at some restaurants the apps are better and more fun than the main courses? Well that's not true at The Greekish—everything is amazing—but the apps are exceptional and perfect for sharing. We love the Greek meatballs, the calamari, the salads, and all the dips.
Small Batch Craft Chocolate
Fruition Chocolate Works, Shokan
Many foodies say that you eat with your eyes first, and lucky for all of us, these beautifully wrapped chocolate bars and painted caramels taste as good as they look. The Brown Butter Milk and Hudson Bourbon Dark Milk bars have layers of flavor, and the chocolate-covered nuts are borderline addictive.
Charcuterie
Tout Le Fromage, Westchester County
In our humble opinion, Sydney Thibault makes some of the most gorgeous charcuterie boards around. Next time you're hosting a party or need to bring something special for the holidays, we can't think of a better or prettier presentation than an array of her cheeses, cured meats, fruit, and nuts. (All orders can be picked up at Salinger's Orchard in Brewster.)
Asian Comfort Food
Grub Asian Fusion Cuisine, West Nyack
In the corner of a Nyack strip mall, Waree Dinsay takes classic Asian-fusion flavors—we're talking Japanese, Thai, Indian, Indonesian—and makes magic. Order the smak chicken buns or the outrageous laksa mee kari noodle bowl.
Marshmallows
Hudson Valley Marshmallow Company, Beacon
Feel like a kid again and grab a made-to-order s'more with melty chocolate and house-made marshmallows. Or buy a bag—or two, or three—of vanilla, salted caramel, and French toast to take home. (Make sure to hide them, you won't want to share).
Maple Syrup
Laurel & Ash, Holmes
Matcha
Matcha Thomas, Beacon

Meatball Heroes
B-Balls Meatballs, Suffern
Mocha Latte
Bunbury's Coffee Shop, Piermont
Neapolitan Pizza
Oak, Hudson
Neighborhood Brewery
Subversive Brewing, Catskill
Noodles
Fatt Root, Pleasantville
Pasta
Sfoglini, West Coxsackie
Pastrami
Smoky Rock BBQ, Rhinebeck
Restaurant Concept
Underground Coffee & Ales, Highland
Selection of NYS Wine
Flowercup Wine, Cold Spring
Sourdough Donuts
Rabble Rise Doughnuts, New Paltz
Specialty Grocer
Tivoli General, Tivoli
Stuffed Bagels
Moonrise Bagels, Woodstock
Tasting Menu
DVine Bar, Sparkill
Tea & Spice Shop
The Ridge Tea & Spice, New Paltz
Tuscan Restaurant
Feast & Floret, Hudson
Unique Chocolates
HÅKAN Chocolatier, Beacon
Upscale Food Truck
ROAM Food Truck, Warwick
Vegan Chocolate
Primo Botanica, Troy
Wine & Cheese Tasting
Simard & Co, Nyack