For years, I've been hearing about Catherine's in Goshen — how it's a cozy, pubby place where local lawyers, politicos, and business types gather to nosh on famously large portions of American food. I'd formed such a strong mental image, I was quite surprised when I finally went there recently. There is, in fact, a pub-style room downstairs. But the main dining room is an airy space with high tin ceilings, flattering lighting, and pretty décor. Curving low partitions divide the pastel room, and panels of subdued brocade mounted on the walls serve to baffle the buzz of conversation so that it's just loud enough to feel like fun. On a recent Friday night, the place was packed with diners of all stripes, from families and weekenders to a trio of elderly women texting as intently as any teenager.
Chef-owner Stephen Serkes in the main dining room
Stephen Serkes opened the restaurant in 1991, and named it for his maternal grandmother, Catherine Gallagher O'Gara. As her melodic moniker suggests, Catherine was an Irish lady, who lived with the Serkes family in Farmingdale, Long Island, when Stephen was growing up. In her younger days, Catherine worked as a cook "in a lot of rich homes," Serkes says. Her influence, combined with his formal schooling at the Culinary Institute and stints in French restaurants (including the Cafe de la Paix in Paris), are all in evidence on Serkes' menu of amped-up comfort food. I'm guessing it was also Grandma who inspired the heaping helpings. But unlike eateries where hefty portions trump quality, Serkes invests in the best ingredients, so any leftovers are well worth taking home.
Service is well-organized and friendly. Another welcome touch: The wine list includes a selection of 35 bottles under $25 — you can't go wrong. Several half bottles are offered as well, and generous pours by the glass are also good value.
I started with the artichoke, bacon, and wild mushroom salad with a red-wine vinaigrette, and was presented with a small hill of mixed greens studded with hand-cut chunks of tasty slab bacon; halved artichoke hearts; and crimini, shiitake, and white button mushrooms. It was a nice mix of flavors, and I almost finished it. My spouse made it halfway through another big salad, which was loaded with generous amounts of smoked salmon and smoked trout in a horseradish-cream dressing. (Serkes gets his smoked fish from Samaki, the artisanal smokehouse in Port Jervis.) We had to take half of it home; even though the greens weren't at their perkiest the next day, the smoked fish held up well. Once everything was inside a wrap, it made a delicious light lunch.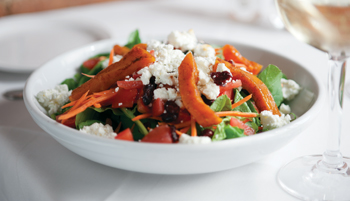 Arugula salad gets flavor and color from roasted butternut squash, sun-dried cranberries, and crumbled goat cheese
For main courses, we chose two signature dishes: braised short ribs; and (our server told us) the most popular dish in the restaurant, crispy chicken risotto. Both halves of a Murray's chicken breast — coated in panko crumbs and sautéed to a golden crisp — came on a bed of risotto and were topped with roasted red peppers and a generous slathering of mozzarella; it made for a hearty, rich plateful. Al dente carrots and green beans added some color and crunch. Much of this, too, came home with us and tasted just as good warmed up the next day. ("Leftovers are my advertising," Serkes jokes.)
My short ribs were served in a small cast-iron casserole, which added some rustic flair. The ribs were well-cooked and sat in a medley of traditional ingredients: celery, carrots, onions, tomatoes, and mushrooms, along with tangy red cabbage and some rather assertive chunks of turnip. For my taste, that would have been enough, so I found the addition of ginger and other Asian seasonings somewhat overwhelmed the excellent Niman Ranch beef Serkes uses. But it's another of the most popular dishes in the place, so apparently I'm in the minority on this opinion.
For dessert, the traditional banana cream pie is served with caramelized bananas
Traditional desserts that evening included cheesecake, chocolate mousse cake, apple crisp, banana cream pie, and a warm vanilla cake that Serkes declares is "killer." We were too full to eat another bite, but as we already had two doggie bags, we decided to make it three and took home some creamy rice pudding to enjoy when the digestive process had moved things along a little.
Serkes changes the menu a couple of times a year, and offers regular specials. Pan-roasted chicken with creamed spinach has been a fixture since the day he opened. Crab cakes, cedar plank salmon, and filet mignon are also favorites, as is the meatloaf, made with angus ground beef. (By the way, the online menu is being updated and does not reflect the entire menu.)
For 20 years, Catherine's has been a popular neighborhood destination, where locals know they'll find plenty of good food for a fair price. Nothing succeeds like success. Or perhaps, as Oscar Wilde, one of Grandma Catherine's countrymen, quipped: "Nothing succeeds like excess."
Catherine's
Lunch Tues.-Fri., dinner Tues.-Sat. Appetizers range from $7.95-$17.95, entrées from $16.75-$32.95, desserts from $4-$7
» Go to Catherine's Restaurant in Goshen, NY
» Visit Catherine's Web site at www.catherinesrestaurant.net
» Go to the Hudson Valley Restaurants & Dining Guide
» Go to the Hudson Valley Food & Drink Guide