Since its early days as "Camp Wawayanda," Frost Valley YMCA has been viewed as an innovator in creating transformational outdoor experiences for young people. Through existing programs like farm camps, equestrian camps, Bear Grylls Survival Academy and other specialty experiences (including day camps), the camp serves over 4,000 children each summer and tens of thousands of others throughout the year.
This month, Frost Valley YMCA is announcing eight new overnight camp experiences for the summer of 2019. Each of these trips is designed to give young people opportunities to accomplish things they didn't know they were capable of, all while forging lifelong friendships and serving others.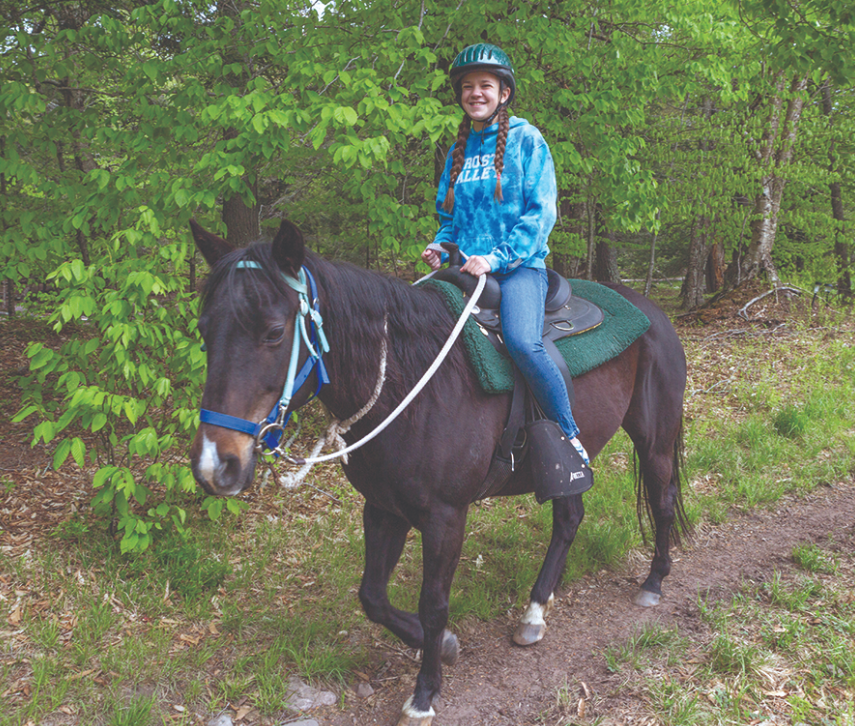 Horse Trails
This summer, young campers aged 13 and up can enhance their equestrian skills with the new horse trails program, a five-day experience in which participants will explore nature on horseback, reflect by campfire and sleep under the stars. Occurring twice during the summer, this excursion will teach young people to take care of their own horses on the trail while practicing important wilderness skills such as the Leave No Trace seven principles.
New Service Trips
Frost Valley YMCA is also introducing two new trips designed to build community service skills for students in the 9th-through 12th grades. The Adirondack Trail Builders experience gives campers the opportunity to help clean and maintain the trails that Frost Valley campers use regularly throughout the Adirondack Mountains. This trip will involve several different projects, such as clearing brush, building bridges, and digging water dams. Campers participating in the Catskill Farm Tour will get hands-on farming experience while visiting farming operations throughout the Catskills. They'll learn modern farming techniques and see where food comes from while helping the hard-working farmers in the community. Each of these trips involves a total of nine days off-site (12 days total), and participants will receive credit for 35 hours of community service.
Two New Advanced Backcountry Hiking Trips
Frost Valley is also launching two new "advanced" experiences, which are month-long hiking excursions designed to immerse campers in grades 9-12 in the beauty of nature. The Adirondack High Peaks trip will take campers hiking along 23 of the 46 peaks exceeding 4,000 feet in elevation across the Adirondacks. On the other trip, The Maine Appalachian Trail Adventure, campers will trek the northernmost portion of the Appalachian Trail through the beautiful state of Maine, culminating with a summit of Mt. Katahdin. On both trips, campers will spend 25 days building camaraderie and developing confidence and leadership skills with fellow adventurers while also learning practical skills, such as how to use a map and compass, the Leave No Trace seven principles, backcountry cooking, and other backpacking skills.
Three New All-Women's Adventure Trips
Finally, this summer Frost Valley is introducing three new trips designed especially for young women in various age groups. Female campers will have the opportunity on the following trips to learn leadership principles while gaining hands-on experience and wilderness skills that will help them navigate both the trail and life in general.
Female Leadership-Adirondack Paddler – Water-loving, introductory level adventurers in grades 7 and 8 will develop paddling skills on streams, large lakes and in whitewater.
Female Leadership-Long Trail – Intermediate skill level girls in the 8th and 9th grades will hike the beginning portion of the Vermont Long Trail, a 272-mile footpath that moves over rugged mountains, through hardwood forests, and past pristine ponds and streams from the Massachusetts-Vermont border to the Canadian border.
Female Leadership-White Mountains Hike and Climb – Intermediate/Advanced-level girls in the 9th and 10th grades will travel to the beautiful White Mountains of New Hampshire to hike, climb, and experience some of the most amazing vistas on the East Coast.
All of the new and existing camp programs at Frost Valley YMCA are guided by the organization's eight core values: caring, community, diversity, honesty, inclusiveness, respect, responsibility, and stewardship. Each of these experiences are led by well-trained staff, many of whom return year after year and were previously campers themselves. Between these new programs slated for the summer of 2019 and the camp's ongoing programs, young people have even more opportunities, not just to have a great summer, but also to learn valuable lessons and gain experience that will carry them through life.
Frost Valley YMCA
2000 Frost Valley Rd.
Claryville, NY 12725
​845-985-2291, ext. 450
reservations@frostvalley.org
www.frostvalley.org
---
What's this?
This content is made possible by our sponsor. It is not written by and does not necessarily reflect the attitude, views, or opinions of the Hudson Valley Magazine editorial staff.