Photo by Marty Molitoris
Outdoor Guide Service
Alpine Endeavors LLC
The Shawangunks boast some of the best rock-climbing in the Northeast, which is great — but it's also daunting. Enter Alpine Endeavors LLC, a nationally accredited guide service based in the Shawangunk and Catskill mountains. The Ulster County company is fully equipped to take you to new heights and operates year-round for rock, ice, and alpine climbing.
Rosendale; www.alpineendeavors.com
Art Programs for Youth
The Art Effect
Formerly known as Mill Street Loft and Spark Media Project, these organizations merged to create The Art Effect — dedicated to fostering personal and professional development for youth through sequential, impactful arts and media programs that encourage youth to explore, experience, and excel.
Poughkeepsie; www.feelthearteffect.org
Children's Theater
Arm-of-the-Sea Theater
This troupe — whose name refers to the Hudson River — mixes fun with social awareness, weaving stories of conservation with original music and extraordinary handmade costumes, puppets, and set designs that are artworks in themselves. The storytellers' snappy dialogue and humor entertain people of all ages.
Malden-on-Hudson; www.armofthesea.org
Film Festival
Woodstock Film Festival
Film lovers from near and far flock here to experience five days of fun. Priding itself on "fiercely independent films," the festival features a packed schedule of screenings, paired with panels and concerts that draw in big names like Paul Rudd and Steve Buscemi. Not only will you get the chance to talk to fellow film junkies, but you'll also take in gorgeous views as you hop around to various screening sites.
Woodstock; www.woodstockfilmfestival.org

Photo by Chloe Jane
Art Center, Lower Hudson Valley
Garner Arts Center
Housed in a repurposed 19th-century textile mill complex listed on the National Register of Historic Places, this interdisciplinary arts "neighborhood," set on 14 acres, offers studios for makers to hone their craft, public art exhibition space, live performances and film screenings, a creekside sculpture trail, and even an on-site craft brewery. Hmm, perhaps this should have been Best Arts & Craft Brewery?
Garnerville; www.garnerartscenter.org
Art Center, Upper Hudson Valley
The Arts Center of the Capital Region
Founded in 1962, the Center welcomes artists of all ages and serves nearly 40,000 people annually. Features include: studios (for digital arts, printmaking, culinary arts, metal and woodworking, painting, drawing, and dance), four art galleries, and a 100-seat black box theatre. With more than 500 classes every year, week-long camps, college credit courses, and available program scholarships, who wouldn't want to unleash their creativity here?
Troy; www.artscenteronline.org
Intimate Live Music Venue
The Hollow Bar + Kitchen
With a 300 person capacity, this versatile venue is just large enough to draw acts like Matt & Kim, The Hold Steady, and Kongos without losing that house-party atmosphere. Plus, you can hit the restaurant for dinner, catch a show, and then hang at the bar into the night.
Albany; www.thehollowalbany.com
Movie House
The Moviehouse
A supporter of cinema arts and culture, The M offers a space where viewers can enjoy independent films, artwork from local artists, and still catch that blockbuster movie they have been dying to see. Attend a screening of an old classic like The Godfather, or enjoy a performance live from Moscow like the Bolshoi Ballet in Cinema.
Millerton; www.themoviehouse.net

Photo by Marco Anelli
New Art Space
Magazzino Italian Art
Magazzino (which means warehouse in Italian) houses an extensive library and archive of post-war and contemporary Italian art in a 20,000 sq ft private warehouse gallery. In addition to serving as a resource for scholars and students, it has become a vibrant cultural hub for the community. The gallery is free to the public by appointment.
Cold Spring; www.magazzino.art
New Outdoor Activity
Rail Explorers USA
This pedal-powered ride on old train tracks has finally come to the Hudson Valley — in Phoenicia — and is a great way to explore the Catskills. Custom Rail Explorers seat two or four riders at a time, with a few hundred feet between Explorers to ensure a comfortably private experience as you go "clickety clack" along the rails.
Phoenicia; www.railexplorers.net
News for Golfers
Wiltwyck Golf Club
After almost 90 years as a private course, Wiltwyck is now open to the public. With its Robert Trent Jones-designed links, pool, tennis courts, and new restaurant under Chef Kenny Callaghan, the Club is an ideal spot to hit the greens and relax with a great meal and a cocktail — or two.
Kingston; www.wiltwyck.org
Outdoor Concert Venue
Saratoga Performing Arts Center
Attending an event at Saratoga Performing Arts Center (SPAC), which is situated within the 2,400-acre Saratoga Spa State Park, is worth the trip up north. The combination of the park's lush setting — with its lofty pines, mineral springs, geysers, and reflecting pools — and the depth and breadth of the performances (it's the permanent summer home of the New York City Ballet and the Philadelphia Orchestra, and features concerts by Live Nation) can't be beat.
Saratoga Springs; www.spac.org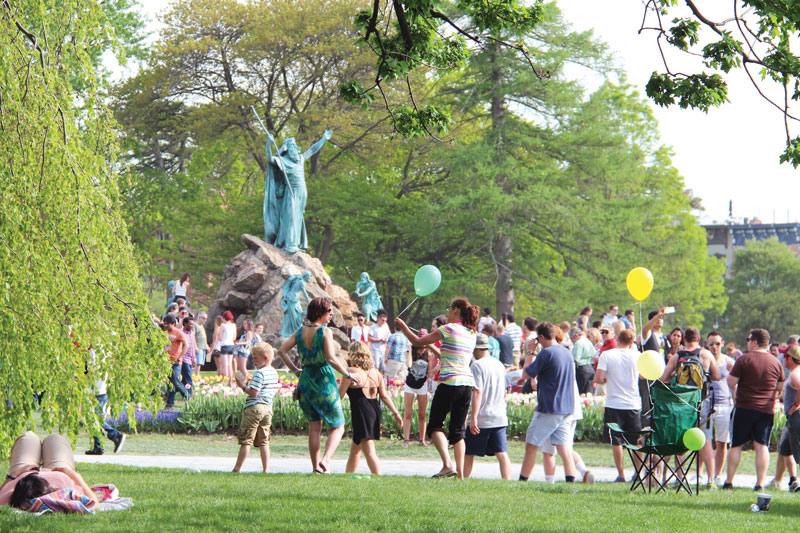 Photo courtesy of Discover Albany
Way to Spend Mother's Day
Albany Tulip Festival
Giving your mom flowers is one thing; surrounding her with 150,000 tulips is quite another. The annual Tulip Festival in historic Washington Park honors the city's Dutch heritage as the oldest Dutch settlement in America. It also features crafts from nearly 100 artisans, a fine arts show, food, and two stages of world-class live entertainment all weekend long.
Albany; www.albanyevents.org/events/
Waterfront Concert Series
Rockin' on the River
This Wednesday night outdoor summer concert series along the waterfront will get you through the grind of the work week and offers the perfect reason for live music fans to shop, dine, and explore Downtown Troy. We can't think of a better way to spend a weeknight out.
Troy; www.downtowntroy.org/rockin-on-the-river/
Way to Showcase a City
Newburgh Illuminated
Shutting down the ordinarily bustling intersection of Broadway and Grand Street, this three-year-old festival has everything: live music, dance, a historic bus tour, tons of food and vendors, a fashion show, artwork, children's activities, and more. Most importantly, it gives attendees the chance to absorb the city's beautiful downtown and appreciate its architecture, residents, and spirit.
Newburgh; www.newburghilluminatedfestival.com
Reader's Picks
---