The Back Page
Where In The Hudson Valley…?
Bottled Up
By Polly Sparling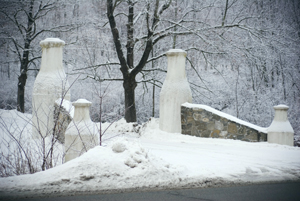 You're likely to do a double-take if you happen to pass by this unusual entryway, which abuts a well-traveled mid-Valley thoroughfare. Yes, those are milk bottles — two pairs of them, in fact — flanking the stone walls in front of this property. It doesn't take a rocket scientist (as the current parlance goes) to surmise that what lies beyond is a dairy farm. And you'd be right. But that assumption — if you'll pardon the pun — only skims the surface of this site's interesting story.
The land beyond the gates has been a dairy farm since at least the 1930s; at that time, milk from about 200 head of cattle was shipped from the farm to troops fighting in World War II. Back then, the place was owned by one of the most popular (and madcap) comedy duos of the last century. The two men were stars of vaudeville, radio, Broadway, even motion pictures and television — but their names are all but forgotten today. Best-known for their "anything goes" style of humor, they relied on sight gags, falling props, explosions, and other random disruptions to keep the laughs coming. Their 1938 Broadway revue ran for a record 1400 performances; its title has become show-biz shorthand for the free-wheeling comedic style they perfected (sorry, can't tell you the show's name without giving the game away). In the late '40s, the pair made several films, and introduced audiences to future stars like Carmen Miranda and Abbott and Costello.
But back to those milk bottles: they were erected in the early 1940s, says Betty Behr, a local resident who grew up playing with the duo's children and visited the farm frequently. They are made of cement and stone, and were painted white, "except for the tops, which were always painted yellow, so that it looked like cream," remembers Behr. Besides the farm, the comedians also owned a local restaurant named the Winter Garden, after the famed Broadway theater. "They brought starlets there to entertain disabled soldiers during the war years," Behr recalls.
Do you know where in the Hudson Valley these behemoth bottles are located? And if so, can you identify the famous comedy team who once lived on the farm? E-mail your response to edit@hvmag.com; the first reader to correctly name both the farm's location and the ditzy duo wins a small prize. Check next month's issue for the correct answers.