The end of August is a tough time to be a pop-culture fan. We're left in the late-summer doldrums, where the big summer blockbusters are dwindling down to nothing, and the exciting new fall premieres have yet to make their debut.
There are, however, a few bright spots. Besides the return of Don and Betty Draper to their Ossining homestead, a pair of critically acclaimed TV shows have returned to air: Top Chef and Project Runway. Sure, reality shows aren't the filet mignon of pop culture, but we'll take what we can get.
What I like best about Top Chef and Project Runway is that — for the most part — these two shows really seem to advance their contestants based on merit. A wacky, abrasive, or dramatic personality will not get the hopefuls into the final round alone; some kind of talent is needed to back it up.
I wonder if it's a coincidence, then, that as far as I know no one from our area has been featured on either of these series? Our residents do have a storied history on reality screens, however. Here's a look back some competition-based reality shows and the local contestants that have appeared on them. Take a look and let me know what you think about the talent pool in the area:
American Idol
Contestant: Becky O'Donohue
From: Dobbs Ferry
Season: Five (2006)
Placed: 24th
FYI: O'Donohue and her twin sister, Jessie, also appeared in a twin-themed episode of Fear Factor and posed for steamy Maxim photos together. While they might not have made it too far in their reality competitions, Tennessee native Kimberly Locke made it to third place in the second season of AI 2003, then was suitably impressed enough with Westchester County to move here.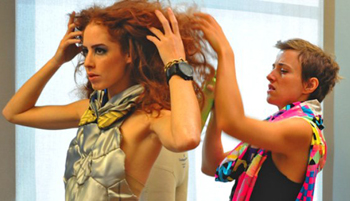 Project Runway
The Apprentice
Contestant: Ereka Vetrini
From: Eastchester
Season: One (2004)
Placed: 9th
FYI: Bill Rancic, the winner of that season of The Apprentice, had his first Trump job in White Plains and lived there for a short time.
Beauty and the Geek
Contestant: Matthew Herman
From: Goldens Bridge
Season: Three (2007)
Placed: 6th
FYI: Megan Hauserman, the winning beauty, may not have changed her superficial ways. She went on from Beauty and the Geek to appear in Rock of Love, I Love Money, Rock of Love: Charm School, and, finally, starring in her own dating show, Megan Wants a Millionaire. Unfortunately, a contestant on Megan Wants a Millionaire became a suspect in a murder midway through its airing, forcing VH1 to pull the show. (The suspect was eventually found hanging in Canadian hotel room.) We think Matthew Herman is better off without all that.
The Mole
Contestant: Paul Grassi
From: Yonkers
Season: Five (2008)
Placed: 3rd
FYI: The Mole has never been heard from again. I guess they figured they couldn't do better than Grassi.
Head judge Tom Coliccio and host Padma Lakshmi from Bravo's Top Chef
The Next Food Network Star
Contestants: Brett August and Michael Proietti
From: Rye Brook's Doral Arrowwood and New Rochelle's Radisson Hotel, respectively
Season: Five (2009)
Placed: 9th and 5th, respectively
FYI: Neither of these "cheftestants" actually lived in the area before the taping. August lived in New York City, and Proietti lived in City Island. Jeffrey Vaden, a real White Plans resident, came in eighth in the fourth season in 2008.
On the Lot
Contestant: Sam Friedlander
From: Mount Vernon
Season: One (2008)
Placed: 4th
FYI: Even with big names like Steven Spielberg behind it, ratings for this show were miserably low. So low that there will never, ever be a season two. Friedlander is directing his own Web series called The Hustler, and it probably has more viewers than On the Lot.
Pussycat Dolls Present: Search for the Next Doll
Contestant: Asia Nitollano
From: Mount Vernon
Season: One (2007)
Placed: 1st!
FYI: After winning the coveted spot in the Pussycat Dolls performance troupe (I refuse to call them a "band"), Asia decided to go solo instead. We're still waiting on her debut.
Rock of Love
Contestant: Samantha Weisberg
From: Scarsdale
Season: One (2007)
Placed: 5th
FYI: Rock of Love finished airing its third season this year, so maybe Bret Michaels is just a little bit too picky.
Did I miss anyone? Let me know in the comments.