Remember back when we were in the third grade and had an obsession with EZ 2 Do? We loved designing our own bracelets, necklaces, rings, and earrings. We'd spend endless hours at sleepovers, tediously crafting our very own jewelry collections (usually of the gaudy "gemstone" or beaded variety) — and, of course, embellishing any piece of fabric we owned with our trusty BeDazzler (I think I even tried to BeDazzle a pair of satin leggings … what's worse, that I did this, or that I owned a pair of satin leggings?). Then there was lanyard (also known as Boondoggle or gimp) — yards and yards of the plastic lace, in a vast rainbow of insanely bright colors, which we used to create bracelets, key chains, and other vibrant accessories. And you can't forget that huge pink caboodle, filled with thousands of tiny, sparkly beads and elastic thread. I even recall a few of my über-crafty friends using their Easy-Bake Oven to manufacture their own clay beads. Weren't we always so proud of our jewelry? Our colorful little bracelets were truly an expression of ourselves — a representation, if you will. (Unfortunately, I wasn't a very talented jeweler — at all, now that I think about it.)
Anyhow, the point is, I was accessories shopping this past Monday and couldn't help but notice how utterly mainstream everything appeared. It looked as if there was one giant fashion house designing all of our jewelry (and I'm not just talking about Forever 21 look-alikes). From the cheap little bodegas in the malls to the racks at retail chain stores to the counters at Saks, it's all one big heaping mess of long chain necklaces, chunky bangles, and large Beyoncé-esque earrings these days.
Whatever happened to our girl's nights of beading and bedazzling? Have they been completely displaced by Mojitos and stiletto-wearing evenings out? I'm not suggesting a need for the revival of slumber parties, but wouldn't it be nice to have a fabulous necklace that no one else has, everyone loves, and doesn't bear the label "Made in Korea"?
Well, as I stated before, I'm no craft queen. But these days, I do have a penchant for unique bling — as well as an aversion to the commonplace, blah status of mass produced-jewelry. To satisfy my craving, I tracked down a handful of local jewelry designers (yes, they do exist north of Soho), and to my delight, I found oodles of fantastically fun — and classy — pieces for every style preference and occasion. Ranging from welded cuffs to beaded earrings and gold necklaces, these artists have given me a breath of fresh air — and an outlet for my latest fashion fetish.
Pam Older
914-834-2472

www.pamolderdesgins.com
Vermeil Nugget Hoop Earrings, $125
Teardrop hoops in 22k vermeil with a thin layer of 22k gold over a sterling silver bead
Four Strand Vermeil Bracelet, $165
Four strands of vermeil beads joined with a bold toggle clasp; also available in silver
Amethyst & Blue Topaz Long Cascade, $140
These earrings can be made using any combination of semi-precious stones

Larchmont's Pam Older, who previously had a career in magazine publishing, launched her jewelry company in 2003. She was profiled in the January 2006 issue of O, The Oprah Magazine, and last year her jewelry was shown on Desperate Housewives. You can purchase her colorful, elegant designs on her Web site or at boutiques and galleries all over the country. Here are a few local stores:

Dig
89 Partition St., Saugerties

Woodstock Designs
9 Tinker St., Woodstock

Wondrous Things
4 Old Post Rd. S., Croton On Hudson
1159 Pleasantville Rd., Briarcliff Manor

Barbara Klar
845-626-3700


www.clearmetals.com
L104, $495
Mother-of-pearl necklace with vintage button
Interlocking Hearts, $293
Sterling silver necklace with 14k pink or yellow gold
Sterling Silver Victorian Bands, $248
Pavé and milligrain, available in c/z with alternating Sapphire, Emerald, or Ruby

In the mid-1980s, Barbara Klar opened her first store, Clear Metals, in the East Village, but has since moved to Accord in Ulster County. Her clients include Marissa Tomei, Jodie Foster, Robert DeNiro, Goldie Hawn, and many others. Barbara has been featured in numerous publications, including In Style, Vogue, and The New York Times. Her work has appeared on TV shows, such as Friends, and in movies, like Meet The Parents. You can purchase her designs on her Web site, at her store, or at various stores across the nation, including Hudson Valley's:

Clear Metals Studio
265 Whitfield Rd., Accord

Emerson Place
5340 Rte. 28, Mount Tremper

The Green Cottage
1204 State Rte. 213, High Falls

HandCrafter's Gallery
57 Main St., Chatham

SweetHeart Gallery
8 Tannery Brook Rd., Woodstock

Sierra Bailey
845-677-6914


www.manictrout.com
Florica Sweetest Thing, $15
Vintage Lucite earrings (with sterling silver posts and nuts); also available in other candy colors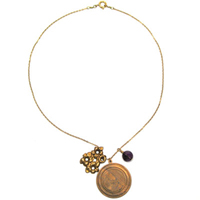 Falling For You, $35
Romantic charm necklace with vintage brass disk and flower cluster and an Amethyst bead
Barbara Zsa Zsa Bling Ring, $25
Chandelier crystal in light lilac, with a silver plate wire wrapped setting and band

Sierra Bailey of Millbrook is the creator of Manic Trout, her "Indie business," where she sells her handmade jewelry and original oil paintings. Sierra has been featured in numerous blogs, such as The Sampler and Fashion Tribes, and publications like Seventeen, The Daily News, and Cosmo Prom. You can purchase her pieces on her Web site (where she also posts a fun blog about her thoughts and what goes on behind the scenes at Manic Trout) and various boutiques, including:

Citrus
141 Church St., Millbrook

Chrissy Glenn
917-913-2700
www.chrissyglenn.com




Metro, $325
Shiny matte copper cuff inspired by corrugated cardboard and industrial surfaces; also available in a dull matte striped with green patina
Dardanelle, $450
Bronze welded over bronze, depicting rivulets of water flowing over a solid surface; also available in a shining wire finish or an aged patina
Flora, $400
Hand hammered, highly polished copper, inspired by the lines of a calla lily; also available in silver

Chrissy Glenn is a metal sculptress, macro photographer, and jewelry designer. She is also the owner and director of the Pearl Fine Arts Gallery in Stone Ridge, the curator of Le Salon Privé in Soho, and was the curator of Joni Mitchell's 2007 Art Exhibition "Green Flag Song" in New York City. All of her cuffs are custom-made to order and can be purchased by contacting her directly or visiting her gallery.



Pearl Arts Gallery
3572 Main St., Stone Ridge