Best New Restaurants
It's official. The Hudson Valley has arrived as an international dining destination. Master chefs, many trained right here at the world-renowned Culinary Institute of America in Dutchess County, are wooing locals and tourists alike with inventive cuisine, locally grown ingredients and seductive spaces (bet you've never dined in a former auto garage before).
Whether you're yearning for a classic cod in a historic farmhouse or top-notch tapas with an urban flair, there is a new restaurant for every mood or occasion. Here are 10 of our favorites.
So foodies, raise your forks… and make a reservation
local 111
a gourmet garage
A New York City couple purchases an abandoned garage on the main street of a small upstate village that has seen better days. With no restaurant experience whatsoever, they decide to turn it into a restaurant and hire a chef by placing an ad on Craigslist. It sounds like the pilot for a TV sitcom, and not necessarily a very good one.
But nobody is laughing at Local 111, which opened in tiny Philmont last August. Husband-and-wife owners Linda Gatter and Max Dannis, along with chef David Wurth, have created a noteworthy restaurant that is attracting a regular stream of diners with fresh, local produce; simple yet innovative cuisine; and down-to-earth prices.
Gatter and Dannis, architects who moved to the area five years ago, decided to enter the food business after attending a lecture in Philmont about the revitalization of main streets. "There was just a great energy," says Gatter. "I thought, 'If you have a restaurant, people will come.' We also wanted a nice place to eat."
They decided not to obscure the restaurant's previous incarnation as a gas station, but instead installed new overhead doors, a radiant heating system, and local black walnut in the entranceway. The result: a chic and welcoming space.
Food-wise, simple is the name of the game here. "There is nothing on the menu that anyone hasn't heard of before," says Wurth. (Despite finding his current gig on the Internet, the chef's tony credentials include more than a decade working at New York's famed Savoy, the last few as chef de cuisine.) "It's about using as much as possible from local sources, but it is also about having a place that appeals to people who come up here from New York, and people who have grown up here. It's a restaurant for everybody."
Dinner choices run the gamut from hamburger with fries (all meats are grass-fed and local) and linguine with sweet onions, escarole and ricotta; to blackfish with toasted almond relish. Most fall in the $18-$20 range. Daily specials are based upon season and market availability, but have included starters of celery root fritters with anchovy sauce, and chicken with posole and tomatoes. Other popular entrées: a leg of veal with preserved lemon, smoked sea scallops with cauliflower and parsley sauce, and roasted venison with corn sticks and red cabbage. An added bonus: customers are tickled that they can always choose their own side dishes. (Three sides of vegetables and grilled bread are a bargain at $8.)
The gourmet eatery also has bragging rights to what may be a Valley first: it morphs into a down-home breakfast joint that serves (organic) egg sandwiches "with a nice selection of cheeses," says Wurth, along with a "fantastic" spread of fresh baked goods.
111 Main St.
, Philmont (Columbia). Breakfast and dinner, Wednesday-Sunday. 518-672-7801.
madalin's table
hip hotel hosts
"Considering that we've done no advertising, you can't find us in the telephone book, and our Web site only gives our phone number, we've done surprisingly well," says Joseph Cicileo, co-owner (with brother Anthony and partner Domenic Scarpulla) of Madalin's Table.
It's as though the "effortlessly hip" Tivoli crowd (as actor Griffin Dunne described them in a recent New York Times article) was just chomping at the bit for the new restaurant and bar to open its doors last May.
The three partners spent more than two years restoring the century-old former hotel in the Dutchess County village, which was once a busy railroad stop midway between New York and Albany. (It is once again a hotel, with 11 comfortably appointed rooms.) The result: "just gorgeous," in the words of a recent visitor. And the crowds — including a smattering of local celebs whose identities we won't reveal — keep coming.
The building's ambience helps pull them in. The large wraparound porch comfortably seats up to 80 people. An inviting entrance hall leads either to the white-tablecloth dining room or the more-informal tavern. In the latter, the dark wood tables are unadorned so as not to compete with the sweeping curve of the famous bar. (Rumor has it that Eleanor Roosevelt once stopped by.)
Chef Brian Kaywork a 2002 graduate of the Culinary Institute and former sous chef at the now-shuttered Mina in Red Hook, offers a seasonal menu. Winter main courses feature locally raised venison loin served with celery root purée, brussels sprouts and a juniper-dried plum pan sauce; and a roasted Northwind Farm chicken with a savory speck bread pudding, sautéed broccoli rabe, and preserved lemon-thyme pan jus. Light salads and sandwiches are also available, including the ever-popular duck confit salad and a grilled salmon sandwich with lemon caper aioli.
55 Broadway, Tivoli (Dutchess). Open for dinner every day. 845-757-2100.
alumnae house, the inn at vassar college
new school cuisine
What good is having a gorgeous brick and ivy-covered college — one of the best in the nation — right at your doorstep if you can't enjoy fraternizing and dining there?
Now you can. In May 2005, Vassar's Alumnae House, a Tudor-style guest house and dining room built in 1924, opened its doors to the public after a major 14-month renovation. The results are scoring top grades.
Bruce Kazan, the well-regarded owner of The Main Course restaurant and catering in New Paltz, has breathed new life into this venerable (but slightly stuffy) space. Harsh overhead lighting in the tavern has been replaced with candles, and white tableclothes further brighten things. And the circa 1940 wall murals, painted by a college alumna and depicting carefree coeds, add vintage charm.
The menu has been brightened up, too. Simple and affordable, lunch choices include burgers, panini, a classic Cobb salad. A creative touch is the Asian bowl, a create-your-own mélange with a choice of broth (miso or lemongrass) and noodles (udon, soba or cellophane) topped with crispy chicken, teriyaki salmon, or spicy shrimp.
It is at dinner that the menu gets modernized. Foams — lightly aerated sauces with intense flavor — are used liberally and inventively. Porcini mushroom foam decorates a delicately flaky halibut, and a wasabi foam adds a pleasant bite to lobster ravioli.
Kazan's own favorite is the Coach Farm goat cheese and onion tart appetizer, served with tiny diced ruby beets and shaved fennel, a colorful palette of tastes. Pan-seared crab cakes get some crunch from jicama slaw, duck confit arrives with nutty butternut spaetzle, and braised lamb is accompanied by moist and fragrant couscous.
Classic clam chowder, fish and chips, burgers, and steaks are available for the less adventurous. Our suggestion: top it all off with the lemon meringue parfait, served in a pretty, square rocks glass.
161 College Ave.
, Poughkeepsie
. Lunch Monday-Friday, dinner Thursday-Saturday. 845-437-7159,www.aavc.vassar.edu/house/dining.html
lipperas' restaurant and tavern
chatham classics
If nothing else, the Lippera family deserves commendations for rescuing the beautiful and historic Chatham House. Opened in 1859, the former hotel was a model of modernity for its time: it was the first building in the region with steam heat in every room. But after the 1950s, it fell into disrepair; Butch Lippera purchased it in 1987 and began a decade-long renovation.
Open just over a year, the restaurant has quickly garnered raves. It was hailed by the Albany Times Union as Columbia County's best new restaurant. While the Lippera family can take credit for the physical improvements, which include beautifully restored brickwork and American chestnut paneling, the menu is courtesy of chef Michael Cohen, a Culinary Institute grad whose previous stints include 5757, the flagship restaurant of Manhattan's Four Seasons Hotel.
Lippera and Cohen's combined vision led to the dual nature of the eatery, with the family-friendly tavern on one side and "white tablecloth" gourmet dining on the other. "We need to be all things to everyone," points out Tony Lippera. "It was very important for us to have a place where people can just stop in for a burger, but we also wanted a traditional restaurant with elegance and grandeur."
Cohen's menu changes every season, with winter favorites including slow-braised beef short ribs served with parsnip purée and roasted mushrooms; and chicken roulade, a boneless breast stuffed with greens and Parmesan and wrapped in applewood smoked bacon, served with a Madeira mushroom sauce. And there is always a chicken roasted under a brick because whenever he takes it off the menu, people ask him to put it back on.
29 Hudson Ave.
, Chatham
(Columbia). Lunch and dinner daily except Tuesday, Sunday brunch. 518-392-6600, www.lipperas.com
the artist's palate
masterpieces on main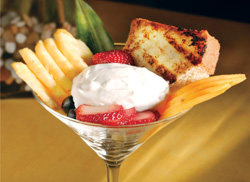 Megan Kulpa and Charles Fells Jr. don't consider themselves pioneers. But several years ago when they began work on an old building on Poughkeepsie's
Main Street
, eyebrows were raised. "I saw Poughkeepsie go from a wonderful place to a place where you would lock your car doors and close the windows when you got to
Main Street
," says Fells, who grew up in the area. "But we feel that the city is completely turning around, and wanted to be on the ground floor."
Pull aside the red velvet curtain that hangs at the front door, and you're magically transported to a SoHo-like space. The décor is minimalistic, providing a suitable backdrop for artworks by local artists. Kulpa (a 2000 CIA grad) and Fells (a self-taught cook) are always visible in the open kitchen at the far end of the dining room. (Clearly, the partnership works: the couple married last month.)
The menu changes every two weeks, but a few dishes have attained permanent status. Maine lobster mac and cheese raises this staple to a new level of luxurious richness; roasted four onion soup and crispy fried tofu served with a warm cucumber-cilantro salad and ponzu dipping sauce are also mainstays.
Game is featured prominently. The mixed grill includes not only a lamb chop, but squab and wild boar. Antelope medallions are quickly sautéed over high heat and served with figs, a dash of Madeira, and some sage. Fells and Kulpa started a lunch delivery service, and offer valet parking on weekends. There are plans for a "dinner and show at the Bardavon" package, offering a meal to patrons who can walk to the theater and then return for dessert. And everybody's favorite? Lunchtime "bite for a buck" mini-desserts.
307 Main St.
, Poughkeepsie
. Lunch and dinner Tuesday-Saturday, dinner only Sunday. 845-483-8074, www.theartistspalate.biz
Beso
the perfect kiss
In Spanish, beso means kiss — an apt name for this restaurant run by the husband-and-wife team of Chad Greer and Tammy Ogletree (left). These two highly experienced chefs (although they're only in their early 30s) discovered the Hudson Valley on a skydiving excursion to Gardiner. But the fare they offer at Beso (which opened in May 2005 in New Paltz) is down to earth — with some fantastic flights of fancy.
Sweet and ocean-fresh, their tuna tartare is decorated with diced pear and mint; the mushroom risotto is enhanced with bits of butternut squash; and linguine with clams is prepared with tiny, chewy cockles and pancetta. The beef short ribs are smoky-sweet thanks to a honey-chipotle glaze.
The most popular entrées include the eight-ounce Hereford filet mignon, which is encrusted with porcini mushrooms, pan-roasted, and served with organic country fried potatoes and grilled asparagus. The restaurant's signature dish, cedar-planked Arctic char, is cooked on a piece of smoking wood to juicy and succulent perfection.
Like many other establishments, Beso utilizes local organic meats and produce, including Stone Church Farm free-range chicken and organic Normandy duck. It's also worth noting that the wines available by the glass are definitely better than average.
The standout dessert is bread pudding, whose toppings change seasonally — pumpkin with house-made spice ice cream in winter, a chocolate-coconut-caramel confection with homemade coconut-chocolate ice cream in spring. Another flavorful combo is the Guinness stout ginger cake, prepared in individual fluted Bundt pans, surrounded by wine-soaked Seckel pears, and topped with vanilla sauce.
As if the food weren't enough, the sophisticated décor — maroon and yellow walls splashed with modern art, and an open-air balcony beautifully framed by large skylights — clearly announces that you've arrived at an upscale bistro.
46 Main St.
, New Paltz (Ulster). Dinner Wednesday-Sunday, and Sunday brunch. 845-255-1426, www.beso-restaurant.com
stissing house
francophile's delight
When this historic 1785 Pine Plains home and longtime restaurant became available, Michel and Patricia Jean decided to sell their beloved Greenwich Village bistro, Provence, as well as their gourmet market/catering business in Millbrook, and consolidate. They poured their considerable energies into the northern Dutchess landmark, which opened under their aegis in December 2005.
The Marquis de Lafayette, who slept there, would probably still recognize the place, with its wide-board floors and cozy dining rooms — two with fireplaces. He'd also be delighted at the French fare — cooked up by Roberto Mosconi, formerly of Gigi's Trattoria in Rhinebeck — although some nouvelle touches and Italian flare have been added.
The signature dish is the classic French brandade of cod and potato, served as croquette-like balls atop a bed of polenta. Another favorite appetizer is mussels Normandy, steamed with cream, Calvados and bacon, which won an HV "Best of the Hudson Valley" award within months of the restaurant's opening. The short ribs braised in red wine are fork-tender, hearty, and unfussy — as is most of the menu, which includes horseradish crusted salmon filet, a grilled duck breast, and a leg confit with a port demi-glaze. And if it's available, don't pass up the purée of parsnip soup. Its sweet and nutty flavor is sheer perfection on a cold day.
For dessert, the lemon-ginger tart has a subtle bite, and pudding-like blancmange gets some texture from the strawberry compote which accompanies it.
Intersection of Routes 199 & 82, Pine Plains (Dutchess). Dinner Thursday-Tuesday, lunch Saturday-Sunday. 518-398-8800.
tavern @ highlands country club
cheese, glorious cheese
Tavern is part of the growing list of Valley restaurants featuring local meats, eggs, and produce grown without hormones, chemicals, or pesticides. While country club members have long been aware of the charms of this tiny tavern, which opened in 2004, "outsiders" are now realizing that the Izod set know a thing or two about good food.