With today being the first day of February, Valentine's Day is just two weeks away. Have you decided how you'll be spending this year's day of love? Or should I ask, have you decided how you'll be spending your money this February 14th? Every year we grab our credit cards and zoom over to the mall to find that special gift for that special someone, usually splurging on something whose funds could have been used more efficiently elsewhere. According to the National Retail Federation's (NRF) 2008 Valentine's Day Consumer Intentions and Actions Survey, total spending on Valentine's Day is expected to reach $17.02 billion, with the average consumer spending $122.98 — most of which will be on candy (48 percent of consumers), flowers (36 percent of consumers), and clothing (12 percent of consumers).
Is it really necessary for us to spend 40 bucks on a box of chocolates and 80 bucks on a dozen roses? Well, obviously the answer is, of course not. But will we? Most likely, yes. You see, the giving of flowers and candy and other fancy things on Valentine's Day have pretty much become American institutions — like cherry pie on Independence Day (and huge sales the day after Thanksgiving). But instead of telling you to take a stand against the American materialistic-consumer-splurging mentality, and to avoid spending a ton of money by being more creative and personal with your Valentines this year (i.e. craft your own cards; bake some heart-shaped cookies; write a poem), I'm going to allow you to take out Mr. Amex and do the dirty deed once again. BUT, you must do me one favor. If you're planning on dropping the hundred-plus dollars on gifts and cards this year, do it somewhere that uses your money for a good cause. There are loads of companies and organizations out there that donate a percentage of their profits to charities. I've listed several Web sites that offer great Valentine's Day gifts — everything from cards and flowers to jewelry and unique gifts, like a jeweled cosmetics case — and the opportunity to donate your money to a charity (at no extra cost) when you purchase them.
Giftback.com
www.giftback.com
Giftback.com donates 10 percent of all purchases to customer-designated charities. They have all of the perfect Valentine's Day gift items, from chocolates to flowers to spa baskets.

Dozen red roses, $83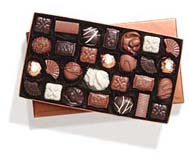 Assorted chocolates, $18.50
(Product) Red
www.joinred.com
At (Product) Red, you'll find merchandise like a Giorgio Armani watch, an iPod nano, or even a Hallmark card — all in that bright Valentine's Day red. A percentage of each product sold is given to The Global Fund, which uses 100 percent of its money to fight HIV/AIDS in Africa.

Emporio Armani (PRODUCT) RED Watch, $195
Presents For Purpose
www.presentsforpurpose.com
Presents For Purpose has gifts for him and for her and everyone else in between. A portion of the proceeds of each purchase you make is donated to a charity that you choose.

Red heart mirror, $48


Silver money clip, $45
Charity Charms
www.charitycharms.com
At Charity Charms, 25 percent of the purchase price of each of their jewelry items and 75 percent of their logo charms is donated to charity.

Charm Necklace, $455