The holidays are history. If you're like most people, you ate, drank, partied — and spent — way more than you should have. It was fun while it lasted; but all good things must come to an end. Now it's January, and there's not much to look forward to — other than snow squalls, sub-zero temperatures, and (if you're really lucky) swine flu. It's enough to put even the most avowed optimist into a three-month funk.
But don't bury yourself under that down comforter just yet. We've found a host of different activities — from starting a book club in Hudson to learning to tango in Poughkeepsie; taking in an indie movie in Millerton to snow-tubing down an 800-foot hill in Montgomery; soaking away stress in Saratoga to savoring Sunday brunch in West Point — that are guaranteed to lift your spirits. Why not pick one (or two, or even three) to try? We think you'll come away convinced that spring isn't really all that far off.
1. [Escape to a Movie]
Now playing: The Moviehouse in Millerton has a café and art gallery — as well as a lineup of first-run flicks
Looking to flee the winter doldrums? Your local movie theater can whisk you far, far away — for a couple of hours, at least. Visiting Ulster County's Rosendale Theatre is like taking a trip back in time — before moviegoing became a corporate, multiplex experience. Family pictures of the owners line the walls of the lobby, where an ancient-looking vending machine dispenses Almond Joys, Skittles, and the like for just 75 cents. Inside the auditorium, small bags of freshly popped popcorn go for $1.50 — a welcome change from the exorbitantly priced buckets we've all come to expect. (While you're waiting for the movie to start, check out the antique tin ceiling.) In January and February, the theater typically shows that year's Academy Award-nominated films. "Most of our customers like to see the nominated movies before the awards are given out," explains Michael Cacchio, grandson of the theater's original owners.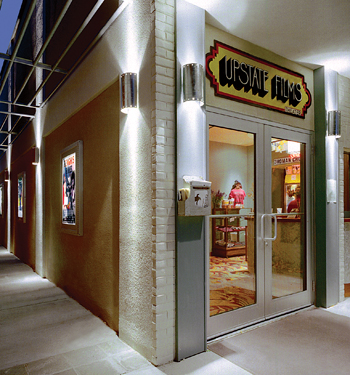 Equally charming is Upstate Films, located in the heart of Rhinebeck. In its 38 years of existence, Upstate has built a loyal following by showing the kind of indie and foreign flicks you won't find at the mall. (Among the films being shown in January will be Pedro Almodovar's Broken Embraces, starring Penélope Cruz.) The theater has two screens, as well as a concession stand featuring hot apple cider; organic coffee; and Lucky chocolates (made in Saugerties). A nonprofit, member-supported arts organization, Upstate also hosts guest speakers and special events. Past speakers have included novelist Ann Beattie, director James Ivory, and the late film critic Pauline Kael.
Located in a building with a historic clock tower, The Moviehouse in Millerton screens first-run, independent, and foreign films. "January is one of the best months of the year for films, because we play all of the big Oscar contenders," says Carol Sadlon, who along with her husband Robert, owns this cinematic gem. While waiting for the movie to start, stop by the art gallery or the café, which offers hot drinks and locally made cookies and sweets. The Moviehouse also sponsors an independent film series, FilmWorks Forum. "We host screenings of interesting, timely, and informative films, very often by local filmmakers and producers," explains Carol.
2. [Dance!]
It takes two: Couples get up close and personal at Woodstock Tango
So you think you can't dance? Linda and Chester Freeman believe otherwise. The co-owners of Got 2 Lindy have successfully taught swing (also known as lindy or jitterbug) and ballroom dance to many a beginner. This modern-day Fred and Ginger hold four-week classes in locations around the Valley (Kingston, Stone Ridge, Poughkeepsie, Highland) as well as a monthly dance in Port Ewen.
"I always say that dance is the best thing you can do for yourself physically, mentally, emotionally, and socially," says Linda, a former executive director for a global outplacement company who traded her desk for dancing shoes in 2004. "A lot of people who take our classes have just experienced some life change. Some just moved to the area or got a divorce, or the kids just went to college. They have the freedom and time to do something they always wanted to do."
If you've always wanted to try tango, be forewarned: It's extremely addictive. Just ask anyone at Tango Under the Tent, a group of Argentine tango enthusiasts who really do meet under a tent in Orange County in warm weather but come indoors for winter on the first, second, and fourth Saturdays of each month. Arrive at 7:30 p.m. for a free lesson, then dance at a milonga (dance party) from 8 p.m. to midnight.
Folk musicians Jay Unger and Molly Mason host dance camps in Ulster County
Farther north, Woodstock Tango has established a new outpost in Poughkeepsie at the Body Bar. You don't need experience or a partner, just a pair of smooth-soled shoes. This eight-week, 75-minute beginner's course (followed by a complimentary half-hour practice session) is taught by Woodstock Tango founder Ilene Marder, who stresses that this is "Buenos Aires club-style tango, which is social dancing — not tango stage or ballroom, like you'd see on Dancing With the Stars. Learning a thousand steps is not the idea — the idea is to connect with the person you are dancing with. Tango is a conversation, so you have to concentrate. A lot of people compare it to a meditation — some people call it the Tango Zone." Marder cites two research studies that suggest tango improves balance and enhances your memory and ability to multitask. Hey, maybe you can get your boss to pay for it.
You could also go on a dance retreat of sorts: Folk musicians and WAMC radio personalities Jay Ungar and Molly Mason (hosts of Dancing on the Air) offer a chance to learn some new dance steps (and instruments) at their Ashokan Fiddle and Dance Camps in Olivebridge. The four-day, three-night New Year's camp has workshops in Cajun waltz, swing dance, and contradance, a 200-year-old line dance that is making a trendy comeback. "There's a real community that develops while people are here," says Mason. Their Web site lists other community dances, including the get-together every first Friday of the month at the Woodstock Community Center, hosted by Cajun folk group Cleoma's Ghost. Lessons in Cajun two-step, waltz, jitterbug, and line dance are included.
If you can't make up your mind, check out the sampler class offered by Diane and Gary Kurtz of Just Dance 5678. Cha-cha, hustle, merengue, fox-trot, waltz, country two-step, tango, and even belly dancing are part of the mix during the one-hour classes held in Newburgh, New Windsor, Cornwall, Fishkill, and Pine Bush. "I'm receiving calls from couples who want to take belly dance lessons to add those movements to their Latin dancing," says Diane. Betcha you don't see that on Dancing with the Stars.
3. [Feed Your Brain]

It's said that the foods you eat can affect your mood. It stands to reason, then, that what you feed your brain can do the same. Give your cranium some calories at your local bookstore or library. Many host special events during the winter months; what follows is simply a sampling.
Want to start your own book club? The Mid-Hudson Library System has a Book Club in a Bag kit: a tote bag filled with 10 copies of a particular title, and a list of potential discussion questions. If you live in Dutchess, Ulster, Columbia, Greene, or Putnam County, ask your local library for more info.
Many libraries offer more than books. The Middletown Thrall Library hosts an ongoing film series. This month, they screen the British flick Somers Town (Jan. 7 at 7 p.m.), while Afternoon Movies for Grown-ups features a different flick on the third Wednesday of each month at 2 p.m.
World-class chamber music can be found at the Olive Free Library. The Trail Mix Music Festival hosts a series of concerts in the library's music room; this month, two pianists tickle the ivories (Jan. 17 at 2:30 p.m.). The Palenville Branch of the Catskill Library offers yoga classes and a photography club, both of which welcome beginners. And chess players looking for a challenge can head to the Newburgh Barnes & Noble, which holds matches every Tuesday night in the café.
Take a quick trip to Hollywood at the Chatham Bookstore for a reading and book signing by Spencertown resident Peter Biskind, author of Star: How Warren Beatty Seduced America (Jan. 16 from 1-3 p.m.). Still trying to figure out why our economy's in crisis? Rhinebeck's Oblong Books & Music hosts a launch party for Money for Nothing: How the Failure of Corporate Boards is Ruining American Business and Costing Us Trillions, by Pine Plains resident John Gillespie and David Zweig (Jan. 16 at 7:30 p.m.). Kids can meet Michael Buckley, author of Nerds and the Sisters Grimm series, on Jan. 9 at noon. The Kingston Barnes & Noble welcomes local author Steve Hamilton, who discusses his new novel, The Lock Artist. His first book, A Cold Day in Paradise, won both the Edgar and Shamus Awards for best first novel (Jan. 5 at 7 p.m.).
4. [Go On Flex Time]
While a student at SUNY New Paltz, Vicki Koenig became an instant vegetarian: She moved into a household where everyone else ate no meat, and it seemed like the thing to do. Six years later, she abdicated her vegetarian status just as abruptly: While visiting a friend, she was offered a chicken dinner that she just couldn't resist. A little voice said, "Just try it" — and she did.
"After that I continued to eat mostly vegetarian with occasional meat," says Koenig, now a nutritionist in New Paltz. "I began to see that my body wanted it." Without knowing it, Koenig's gut decision to keep her diet mostly — but not exclusively — vegetarian put her at the forefront of a dietary movement dubbed flexitarianism. Some flexitarians only occasionally succumb to a burger or steak; while others, like Koenig, eat meat and fish on a regular basis. With an emphasis on vegetables, fruits, whole grains, legumes — as well as locally raised and hormone-free beef, chicken, and fish — the flexitarian diet has helped Koenig's clients gain energy and lose weight. Strictly vegetarian diets have long been associated with numerous health advantages, including a lower body-mass index, so it only stands to reason that going vegetarian most of the time would yield similar results.
Another argument for limiting meat: "We need less protein than we think," says Koenig. The recommended daily allowance for protein is just .8 grams per kilogram. For a 150-pound man, that's approximately eight ounces of chicken, say. "If you eat too much protein, you'll have less room for fruits, vegetables, and grains."
To get started, Koenig suggests the Web site www.meatlessmonday.com, which offers vegetarian recipes organized by meal. Join a community-supported agriculture group, or head to the farmers' market to scope out local food sources, including beef and chicken. Some books by local authors to inspire you: Gigi's Trattoria restaurateur Laura Pensiero's Hudson Valley Mediterranean, which advocates plenty of fresh fruits and vegetables, balanced with limited amounts of meat; and The Vegetarian Family Cookbook, one of several compilations of vegetarian recipes from Nava Atlas.
5. [Work Out]
Winter exercise is guaranteed to lift your mood. But sometimes you need a little push to slog off to the gym on a frosty day. That's where All Sport Fishkill's Survival of the Fittest program comes in. Cheerfully but firmly led by trainer and nutritional consultant Kim Knauf, the 12-week full-body overhaul groups participants into three teams based on desired weight loss: 10 pounds and under, 10 to 25 pounds, or 25-plus pounds. Team members cheer each other on in weekly group exercise sessions that use weights, Bosu balls, kettlebells, and bands, leaving no muscle unexerted. "Average weight loss is 15-20 pounds," says Knauf. "But I tell them not to be a slave to the scale; muscle weighs more than fat."
If you're a runner (or want to be one), you'll find camaraderie at the long-distance running classes offered at Gold's Gym LaGrange. During the dark days of winter, runners can train for spring marathons indoors in one-hour evening sessions on the indoor track, supplemented by strength training on cardio equipment. Coach Leo Saposnick also organizes daytime outdoor weekend runs (included in the cost) on local 5- and 10-mile courses. "Most everyone goes on to do at least a half-marathon," says Saposnick.
For a twist, try the Triathlon Weekend Training Program at Mohonk Mountain House this January 29-31. Top-ranked triathletes will lead the activities like snowshoeing and swimming in the indoor pool. Meals are included and you don't have to stay overnight to participate.
Workouts aren't always about losing weight, of course. At Mike Arteaga's Health and Fitness Centers in Poughkeepsie and Highland, you can strengthen your back. In the 10 years that the centers have offered the MedX Healthy Back and Neck Program, some 2,500 people have participated, including Arteaga himself. Machines target different areas of the spine and make the back do the work (without pain). The workouts take 10 minutes. "Once you strengthen and stabilize the spine, a lot of back problems vanish without surgery," says Arteaga. "It's not uncommon to have a 50-percent increase in strength."
6. [Get Outside!]
A tropical getaway — in this economy? Stash the bathing suit and break out the earmuffs. There are tons of budget-friendly winter amusements within driving distance of the Valley. You just have to know where to look.
First, the festivals. Hit the trail on January 16 for WinterFest 2010 in Highland at the Hudson Valley Rail Trail Depot. Children's activities and an ice-carving demo are on the agenda, as well as roasted chestnuts, toasted marshmallows, and a chili tasting. Bring your cross-country skis or snowshoes, weather permitting, or take a hike to walk off all that food. You can also hitch a ride on a horse-drawn sleigh (if there's snow) or a wagon (if there isn't).
The Knickerbocker Ice Festival at Rockland Lake State Park will give you a new appreciation for your refrigerator. The free event on January 23-24 is named for a company that once harvested ice from Rockland Lake and explores the history of the ice industry in the Hudson Valley. Professional ice sculptors compete, and the public will vote on the best carving, American Idol style. Don't be surprised to see easels in the snow: Artists brave the cold to paint landscapes that you can buy even before the paint dries (or freezes).
The 2010 Carnwath Farms Winterfest in Wappingers Falls is another must-do on January 23. Join the Mid-Hudson Chapter of the Adirondack Mountain Club for a mile hike (on snowshoes, if conditions are right) and spy drop-dead views of the river. Later, nosh on cider, donuts, and hot cocoa courtesy of the Town of Wappinger Recreation Department, or take a tour of the Sports Museum of Dutchess County if you're feeling jazzy. If it snows, jump on the horse-drawn sleigh rides and go sledding.
Of course, for sledders, the long hill that sweeps down to the river in front of the Mills Mansion at Staatsburg State Historic Site is the stuff of legend. Beginners might prefer the gentler slope at Bear Mountain State Park right next to the outdoor skating rink (pictured above). Just watching the skaters here in this beautiful mountain-ringed setting is entertainment in itself.
If you are a winter-sport multitasker, head to the Orange County Snow Tubing and Winter Sports Park at Thomas Bull Memorial Park in Montgomery. For tubers, there are 12 groomed lanes with cable lifts on an 800-foot-long hill ($12 for a 90-minute session). You can also sled, ice skate, and cross-country ski (for free). A newly renovated lodge with a restaurant, full bar, and cozy fireplace add to the fun. "It's quite a wonderful deal," says manager Tom Quinlisq. "More people are staying close to home, so there's usually a good crowd."
7. [Retail Therapy]
Unless you truly relish Nana's hand-knit holiday sweater with the kitten in a Santa hat, we bet that your wardrobe could use a little boost. Holiday spending got you strapped for cash? No problem: There are dozens of chic shops in the Valley that feature deals and steals to brighten these cold-weather days.
Studies show that buying new underthings decreases stress. Okay, so we really don't have scientific proof that this is true… but we can all agree that those little lacy additions to your top drawer will make sparks fly in the boudoir this year. Slip into something a little more comfortable at New City's Dusty Rose, which trims up to 75 percent from its price tags during its winter clearance event this month. Snagging items like silky Claire Pettibone nightgowns, Oscar de la Renta robes, and Ralph Lauren and Calvin Klein jammies are sure to restore the ooh-la-la to your lingerie.
Upriver, find more substantial, classic pieces (with zing) at Citrus in Millbrook. This trendy little shop stocks everything from Italy's Vitamina jeans to men's belts to sexy Spanx and Hanky Panky skivvies — all on sale (up to half-price) this month.
Hats off to Mad Men for bringing back the fedora. Valley fellas who dig the Don Draper look can choose their own favorite headgear at Soave Faire in Saratoga Springs. It may look like your average art and office supply store, but in back there's an entire wall dedicated to bowlers, derbys, sombreros, Stetsons, and Panama hats.
Tykes and tots benefit from shopping sprees, too. Waddle n Swaddle in Poughkeepsie keeps babies cuddly warm with hot ticket items like SwaddleDesigns zzZip Me zippered sleep sacks; Peekaru baby-wearing fleece vests (made from recycled soda bottles — a must-have for eco-friendly moms on the go); and silky-soft blankets constructed from organic bamboo by Tickety Bu, a local company that hand-dyes its blankets in groovy color combos. If that's not enough to make your baby giggle, the shop is prepping for its five-day, 15 percent-off-everything sale this month. Little Ones in New Paltz won't leave kiddies out in the cold, either: Gently-used clothing and resale items (from retailers like the Gap and Old Navy) are a steal at under 10 bucks. Get new kicks for kids at 25 percent off; popular brand Stride Rite — with light-up Mary-Janes that "the girls go crazy for," says owner Raissa Holt — features sensory response technology and comes in hot colors like pink, red, and brown. For teething teenies, Star brand offers organic teething rings with waffle-weave fabric and smooth birchwood to ease Baby's aches. Ah, shopping never felt so good.
8. [Find Inner Peace]
Photograph by Mark Stout; courtesy of Shutterstock
If you ride the train between New Hamburg and Poughkeepsie and see a sudden flash of gold from the east, believe your eyes. You've just glimpsed the gold-leafed stupa of the Kagyu Thubten Chöling Monastery in Wappingers Falls, a meditation and retreat center just north of Bowdoin Park. This monumental structure — both a symbol of the mind of the Buddha and the states of meditation that lead to enlightenment — is the centerpiece of the seven-acre site, home to a resident community of ordained Buddhist monks and nuns.
But it's also very much a public place, where international travelers find a haven and locals are welcome. On one rainy, chill Saturday morning, a group of students from a theology class at SUNY Purchase were visiting after staying the night and helping set up 1,000 ghee butter lamps for a ceremony that takes place every Saturday morning — quite a sight glittering in the gloom of a winter morning.
You could stay for an hour sitting in the Shrine Room, or a few days, sleeping overnight in the dormitory-style halls, or in a semiprivate or private room (reservations required). Serious aspirants complete retreats of three years, three months and three days to become lamas and perhaps go on to become ordained nuns and monks. But maybe you just want to start slow. Every Monday night there is a free public Introduction to Buddhist Meditation. It's especially helpful, says Yeshe Palmo, an ordained Buddhist nun, for those whose feel "too busy" in their lives. "People get a foundation of calm. With consistent practice, you start to see the difference in yourself."
Perhaps better known, the Zen Mountain Monastery across the river in Mt. Tremper also hosts retreats. They begin on Friday evening and end after lunch on Sunday, giving you a brief but activity-filled experience, complete with meditation instruction, chanting, and learning to work in silence — which is a lot harder than it sounds. (In fact, when we called, the soft-spoken woman on the phone had only a few minutes to talk before she had to return to silence again.) Expect mostly vegetarian meals and dormitory-style housing. Themed weekends focus on different aspects of Zen, whether through yoga or animal tracking in the winter landscape.
Farther south in Monroe, Ananda Ashram, run by the Yoga Society of New York, enables you to put together a sampler. Come for the daily hatha yoga or open Sanskrit language classes. Or spend the weekend doing yoga and sound meditations, attending readings and lectures, experiencing the meditation and fire ceremony — it's all part of a menu of spiritual education designed to help you achieve a state of natural harmony and self-awareness. Vegetarian and vegan meals are available in dormitory-style housing.
If you want to chart your own course, ask your yoga teacher to put together a retreat at Sky Lake Lodge in Rosendale. Eighteen beds are available for groups, who can treat it as a bed and breakfast for their own purposes and simply do their own thing. For instance, hike on the site's 18 acres (or head over to the nearby Mohonk Preserve). Alternatively, stay on a themed weekend in the contemplative arts: Ikebana (flower arranging), or learn kyudo, an ancient form of Japanese archery.
9. [Bring On Brunch]
McKinney & Doyle photograph by Ken Gabrielsen
There's something special about Sunday brunch. Maybe it's the naughty-seeming novelty of starting out the day with a mimosa instead of the usual cup of joe. Or the opportunity to treat yourself to breakfast as well as lunch, all at one sitting. In any case, it's a surefire way to boost your sagging spirits.
Bring your appetite — and your camera — to brunch at the Thayer Hotel, perched beside the Hudson River on the grounds of the U.S. Military Academy at West Point. The hotel, listed on the National Register of Historic Places, offers a generous brunch featuring everything from croissants and bagels to sliced sirloin, custom-order omelets, or special entrées like chicken Marsala or penne alla vodka. Adults receive complimentary champagne, mimosas, or bloody Marys. Prices are $27.95 for adults; children aged 6-12 are half price; children 5 and under are free.
Having brunch at Friends and Family II Hillside Restaurant in Accord is a cozy experience, especially if you snag a table near the beautiful stone fireplace. Options on chef Salah Alygad's à la carte menu include traditional dishes like buttermilk pancakes and eggs Benedict, as well as more exotic fare (like a mixed-green salad with macadamia nut-encrusted fried goat cheese). "The omelet of the day may feature spinach, smoked salmon, or whatever the chef feels like using that morning," says Denise McCarroll, the restaurant's co-owner and manager. Heartier appetites can choose from offerings like grilled salmon fillet drizzled with black truffle oil or Wiener Schnitzel à la Holstein (veal topped with a sunny-side-up egg and accompanied by homemade spaetzle). The restaurant's take on brunch has proven popular with weekenders and locals alike. "We have a really regular brunch crowd," says McCarroll.
At McKinney & Doyle Fine Foods Café in Pawling, the setting is a late 1800s building, with roomy wooden booths and an antique tin ceiling. The food is top-notch, thanks in part to the adjoining bakery, which provides tasty breads and desserts. Omelets are popular, says Manager Andrew Sarubbi. "Our number-one seller," he notes, "is the Smokehouse Omelet" — which features hickory-smoked bacon, peppers, onions, and cheddar cheese. "We're also known for our corned beef," he adds. Served in a cast-iron skillet, Judge Malone's Corned Beef Hash is topped with eggs. Also worth a try: the strawberry and cream cheese pancakes with fresh berries and powdered sugar (pictured above); and Jerry Aron's Favorite, a creamy made-to-order leek soup brimming with sautéed fresh shrimp and scallops.
At Restaurant X and Bully Boy Bar in Congers, the serving style at brunch is "butler-style buffet," says General Manager Michael Pacella. That means everything comes to you: waiters roll serving carts right up to the table and serve choice after choice (around 20 or so) from silver trays and copper pots. Though the menu changes regularly, there are some staples, says Pacella — dishes like coconut shrimp, rack of lamb, roast pork with apple fritters, wild mushroom ravioli, and tortellini alla panna. Desserts range from crème brûlée to warm Callebaut chocolate cake. Brunch is served in five dining areas, including the lounge, which has a cozy fireplace. Sunday brunch is $38 (price does not include tax and tip, but does include unlimited champagne, mimosas, and kir royales).
If you happen to be shopping in Rhinebeck on a Sunday, take a brunch break at the Tavern at the Beekman Arms. The restaurant serves up mostly traditional brunch fare like French toast, steak and eggs, and eggs Benedict. Also available: three-egg omelets (with lobster, if you like), salads, and sandwiches. A Little Peoples' Brunch offers dishes like strawberry waffles with whipped cream and an Egg Beekmuffin. Try to book a table in the Pewter Room or Tap Room, both of which have working fireplaces (reservations recommended).
10. [Splurge On a Spa]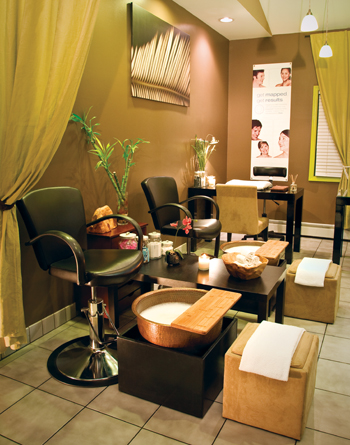 Room to relax: The newly remodeled interior at Pineapple Day Spa in Orange County
Pamper yourself — and your mate — with a visit to a spa, where you can unwind, detoxify, and reconnect. Many Valley spas cater to couples as well as individuals — including an increasing number of men.
Wine, chocolate, a massage for two — the perfect recipe for a romantic getaway. At the Gideon Putnam Resort in Saratoga Springs, the "Share the Romance" package includes one night's lodging, dinner and breakfast for two, a bottle of wine, chocolate-covered strawberries, souvenir wine glasses, and a one-hour Swedish massage for both of you.
"We have several treatments for beating the winter blues that don't require a vacation to Cabo," laughs Ryan DeJong, general manager of the newly remodeled Pineapple Day Spa in Pine Bush. The spa offers a number of skin hydrating services like Nourishing Sea Mud Therapy, which uses natural clays to draw out impurities, ginger and white tea to stimulate circulation, and essential oils to restore lost moisture. Pineapple also has complimentary "face mapping," a 15-minute skin analysis that "gives you zone-by-zone recommendations for the best treatments and products for your skin," DeJong says. Services geared towards guys include "Man-Scaping" (hair removal); and a men's skin treatment that includes a hand, foot, or shoulder massage.
At Marlene Weber Day Spa in Poughkeepsie, couples can choose Dual Massage, with two therapists working at tables side-by-side. The treatment begins in the spa's Tranquility Room with an aromatherapy foot soak, a hot shoulder pack, and a paraffin hand treatment, and finishes with a beverage and a snack. The newly remodeled room can also be used for other tandem spa services, including facials and pedicures. "From head to toe, you can be exfoliated and moisturized and go out glowing as a couple," says owner Marlene Weber.
Health seekers have long flocked to Saratoga to soak in the area's naturally occurring mineral baths. This time of year, the hydrotherapy treatments at the Roosevelt Baths & Spa attract folks seeking to throw off winter's chill. The spa's Adirondack Woods Hot Stone Massage is another popular choice, says Spa Director Michelle Calzada. First, the body is rubbed with oils made from native Adirondack trees. Next, the therapist uses heated stones to deliver the massage. The results, Calzada claims, are amazing: "The muscles and tension start to feel like they're melting like butter." The spa also has a special holiday facial that smells just like chocolate and cherries. "The antioxidants contained in the chocolate and berries are good for the skin," notes Calzada. (The special runs through January.)
Even a simple haircut can help banish the winter blues. At Marion Salon Spa in Pleasant Valley, every haircut starts with a neck, shoulder, and scalp massage using aromatherapy oils. Their lavender-scented oil is particularly well suited to cold weather, says owner Marion Morris, who explains that "It feels warm, even though it's not." Guys can get their beards trimmed, too. Also popular with men: a sports massage, which focuses on the muscles used in particular athletic endeavors. (A runner, Morris explains, uses different muscles than, say, a golfer or a weight lifter.)
If you're seeking warmth — and at this time of year, who isn't? — consider the Thermal Herbal Mud Body Wrap with Vichy Shower at River Rock Health Spa in Woodstock. "It's like having a facial all over the body, with a hot waterfall to boot," says owner Babs Moley. The Vichy shower has seven showerheads to pound away tension. Another way to warm your spirits: an Aromatherapy Hotel Towel Swedish Massage, involving oil-infused hot towels and a vigorous massage. If the idea of stripping for a massage sends chills down your spine, you can opt for a Thai Yoga Massage. You'll keep your clothes on while a therapist provides a penetrating massage and assists you with gentle yoga stretches.
At Haven Spa in Rhinebeck, the treatments sound good enough to eat. Consider the Warm Milk and Honey Wrap. First, dead skin cells are removed with a dry brush. Next, you're drizzled with heated honey oil, wrapped in a blanket, and treated to a scalp massage. And finally, your skin receives a helping of milk-and-honey cream. The spa's menu also includes the tasty-sounding Lemon Chiffon Body Polish, and a Bamboo Lemongrass Scrub.
Lovebirds can wash their worries away with the Couples VIP Retreat at the Emerson Resort & Spa. "Couples begin with a long, luxurious soak in a cinnamon and coconut milk bath in a beautiful, candle-lit room," says Spa Manager Patricia Ullmann. Afterwards, they enjoy a warm herbal oil message and a cheese and fruit platter with champagne. For winter, Ullmann recommends hydrating treatments like the Moisture Drench Facial, and the Body Butter Wrap. The facial uses a deeply hydrating cream with antioxidant black currant oil. The butter wrap features fresh lemon verbena and buffing grains, which exfoliate and moisturize the skin. Also on the menu: Reiki, Chakra Energy Balancing, Food and Hand Reflexology, and skin-care treatments specially designed for men.
More ways to beat the blues:
Adopt a pet
Go to a wine tasting
Learn to play an instrument
Keep a journal
Make a care package for a soldier overseas
Learn to knit
Rearrange the furniture
Go to an open mic night
Finish a crossword puzzle
Pick a random page from a cookbook — start cooking
Take a continuing education course
Change your hairstyle
Feed the birds
Call an old friend

Have a fondue party
Learn a language
Join a bowling league
Rent a season of your favorite TV show
Contribute to a food pantry
Plant an indoor herb garden

Got more? Tell us your ideas in the box below!