Home is where the heart is. It's also a place expected to be safe and comfortable. Installing Wi-Fi connected devices and appliances can increase these comforts, while adding convenience and control from afar. Some can also provide long-term savings by helping to conserve energy.
A smart home or connected home means different things depending on who you ask. But, at the core, it starts with having one or more electronic devices or appliances connected to the internet and controllable from a remote, mobile or voice device. This could be a hub that provides better Wi-Fi connection and security, like Wink Hub 2, or a device that streams media and real-time answers, like Google Home. Or, it can start with products, such as smart thermostats, door locks, appliances, LED lights, alarms, security cameras and others.

No matter how old or what style your home is, smart home technology is adaptable. Take the Ecobee4 Smart Thermostat for example; it connects to boiler and furnace heating systems and balances the temperature across the home with the aid of added room sensors that detect temperature and occupancy, prioritizing comfort to rooms based on your preferences. Smart thermostats offer other advantages, such as adjusting temperatures on a programed, learned or occupancy-based schedule, or even utility-based Time-of-Use rates, to help you conserve energy and save on monthly energy bills.
To set the mood with lighting, convert standard lamps and light fixtures to dimmable ones controllable from a mobile app, even when away from home. Connected lights can be controlled with the touch of a finger or simple voice commands depending on the product selected and home setup. Some options, such as the iDevices socket or Phillips Hue bulbs, enable the opportunity of changing the color of light in the room, choosing from millions of options. Others offer a 20-year lifespan and provide dual functionality – such as Sengled Pulse, which includes JBL speakers for streaming music, or Sengled Snap with built-in security cameras.
Take home comfort a step further by turning any traditional appliance into a smart one with Wi-Fi smart plugs that can enable control at a distance while also tracking and reporting the amount of energy you're using. You'll enjoy these benefits with WEMO Insight, a plug that lets you see firsthand how much energy that older appliance is using, so you can decide if it's due for a replacement, or, monitor the amount of energy the kids use with that entertainment center. Controllable from a mobile device, smart plugs are also useful for small appliances at risk of being left on, so you can turn them off from afar without having to make a special trip home.
Whether you're away on vacation, or just at the far end of the house, connected home technology can help keep your prized possessions and loved ones safe and secure. The Nest Protect, for instance, is a smoke and carbon monoxide detector that sends alerts to your phone if an alarm goes off, describing what happened and where. If there's no emergency, you can hush the alarm quickly from your mobile device.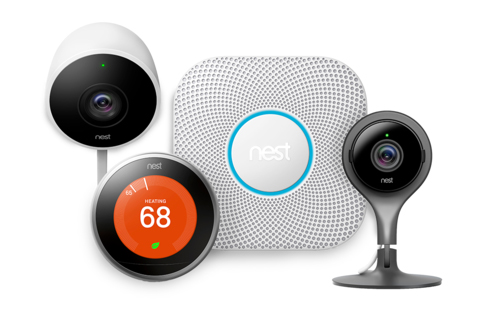 Nest products communicate with one another, so if the alarm goes off while you're away, it can tell your Nest thermostat to shut off your heating and cooling system to stop the smoke from circulating throughout your home. And, if you've got a Nest Cam Indoor Security Camera, you can turn on the camera to make sure everything is safe and sound. Nest Cam also allows you to speak through it – a convenient option if you need to give the dog a reminder to get off the couch, or let a stranger know it's time to leave.
August is another brand whose products – which include a Smart Lock, Doorbell Cam and more – work in tandem and can be controlled from an app. The Smart Lock turns your phone into a key by sensing your phone and unlocking the door for you. Monitor who comes and goes, and assign guest keys if you'd like to give temporary access to friends, family or a babysitter. The August Doorbell Cam notifies your smartphone when someone is at your door, allowing you to view and speak to visitors.
At CenHubStore.com you'll find instant rebates exclusively for Central Hudson customers on a wide array of innovative products that save energy and increase your home's comfort and style.