Don't be left out in the cold this winter. Indulge in the warm and tasty treats from local eateries around the Valley.
Hudson Valley's best margaritas pairs with authentic Southwestern cuisine
Offering the finest authentic Southwestern food coupled with an amazing beverage selection, including 110-plus tequilas, the largest choice in the area. Join in one of Baja's events and be sure to sample one of our margaritas that were voted Best of the Hudson Valley by Hudson Valley Magazine.
Baja 328
Beacon
845.838.2252
www.baja328.com
History and German traditions blend
A multiple award-winning landmark Inn and Restaurant, built circa 1865, is a Greene County Historic Site. Open year-round, Thursday through Sunday, we feature a scratch kitchen and authentic German/American cuisine.
Bavarian Manor Inn and Restaurant
Purling
518.622.3261
www.bavarianmanor.com
Historical mansion with award-winning food
Enjoy the finest brunch in the Hudson Valley while relaxing in an historic home from the 18th century. Award-winning chef, Anna Frumes, has created a unique locally sourced menu full of comfort foods. From the "best" biscuits and gravy to Belgium waffles with strawberries and cream, the food sets the tone for a one-of-a-kind experience. Open for breakfast, lunch, and brunch Wednesday to Friday 9 am -1 pm; Saturday and Sunday 9 am-3 pm.
Borland House Inn & Brunch House
Montgomery
845.457.1513
www.theborlandhouse.com
Make the most of the fruits and veggies of winter
Henry's at the Farm restaurant knows winter has a lot going for it, and we're here with good news: fresh fruits and vegetables with nutrients and flavor are available all winter long. Collect wonderful, cold weather recipes for sweet potatoes, parsnips, turnips, carrots, celeriac, beets, winter squash, Brussels sprouts, and cabbage. Baking apples and pears with spices, and roasting squashes, potatoes, beets, and carrots will bring a warm sweet or savory fragrance to your winter table.
Buttermilk Falls Inn + Spa and Henry's at the Farm
Milton
845.795.1310
www.buttermilkfallsinn.com
Traditional family recipes infused with robust local flavors
Whether it's our handcrafted mozzarella and sauces or our desserts and special cocktails, we infuse our traditional family recipes with ingredients and robust flavors from Hudson Valley farms. From our signature wood-fired brick oven pizzas and flatbreads to our pasta, meat, and fish dishes, every meal is cooked to perfection and served with Cosimo's warm, friendly dedication. So what are you waiting for? Mangia!
Cosimo's Trattoria
Poughkeepsie
www.cosimos.com
Go local — commit to conscious cuisine
Contemporary-yet-sophisticated atmosphere with a wide-ranging menu from gourmet salads to house favorites like Madeira Chicken. Open daily for lunch, dinner, and late-night dining. Brunch on Sunday.
Double O Grill
Wappingers Falls
845.297.7625
www.doubleogrill.com
Good food. Served right.
Featured on the Food Network, the Eveready Diner is always buzzing with excitement and nostalgia. Inside this monumental art deco exterior, you'll find favorites made from scratch, from Mama's Roast to all-day breakfast, in addition to an endless list of homemade desserts and a soda fountain counter that pleases every generation.
The Eveready Diner
Hyde Park
845.229.8100
www.theevereadydiner.com
The finest house baked treats and artful meals
Offering the finest house baked breads, pastries, cakes, plus salads and artfully crafted meals 7 days a week, both in-house and to go. Come and enjoy our hospitality, children's playroom, outdoor seating, or hire our large loft space for your next party.
Frida's Bakery & Café
Milton
845.795.5550
www.fridasbakeryny.com
"Stick-to-your-ribs" goodness
Instead of hibernating as winter sets in, stop by Heritage Food + Drink where you can get comfy in front of a fireplace, while sipping a hot toddy and savoring a "stick-to-your-ribs" meal sourced form local farmers and producers (think braised short ribs, hearty soups, and seasonal sides). Stay warm, drink up, eat well, and enjoy!
Heritage Food + Drink
Wappingers Falls
845.298.1555
www.heritagefooddrink.com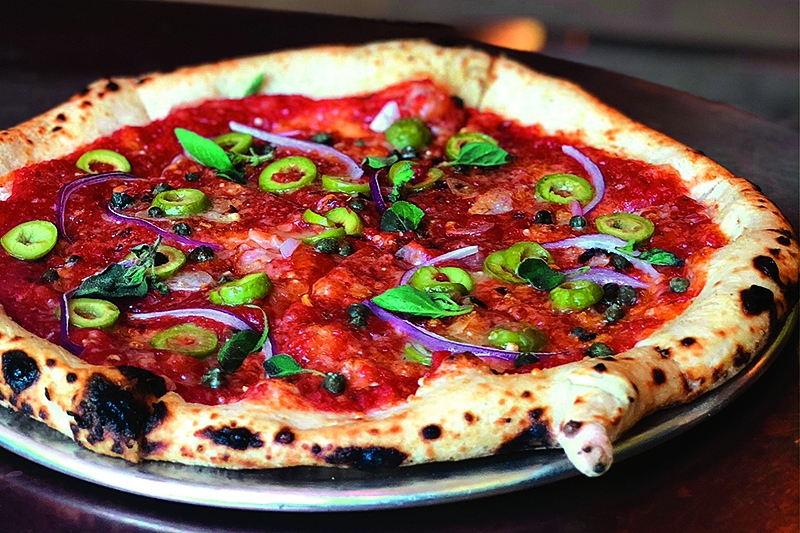 The best ingredients make the best meals
Feast on wood-fired Neapolitan inspired pizza, pastas made in-house, craft cocktails, and award-winning wines at Lolita's; located under the walkway. It's new from the Chefs of Lola's Café & Catering and Crave. Call ahead for takeout, too!
Lolita's Pizza
Poughkeepsie
845.452.8100
www.lolitaspizza.com/menus
Feast on small plates and dessert
Feast on this casual café's delectable small plates and delicious desserts since 1986. Award-winning cocktails; dinner menu and brunch also tantalize in a relaxed pub atmosphere. Dine Tuesday through Sunday; bakery and juice bar open seven days a week.
McKinney & Doyle Fine Foods Café and Bakery
Pawling
845.855.3875
www.mckinneyanddoyle.com
Fun, casual, classic!
Meyer's Olde Dutch is a fun, casual interpretation of the classic burger joint with a full-service cocktail bar. Vegan and gluten-free options, hand-cut fries, and a variety of salads.
Meyer's Olde Dutch Food & Such
Beacon
845.440.6900
www.meyersoldedutch.com
Celebrating 60 years
Join us in celebrating 60 years in the wine trade — traveling the world to find undiscovered gems ranging from small artisanal wineries to the very best selections from the most prestigious producers. We're also proud of the Best of Hudson Valley recognition we earned for our extensive global wine and spirits selection.
Mid Valley Wine & Liquor
Newburgh
845.562.1070
www.midvalleywine.com
Tasty Thai food with an urban vibe
Authentic Thai food — pad thai, panang curry, and ped yang (a crispy duck dish) — with a hip, urban atmosphere. Lunch and dinner, Tuesday through Sunday.
Sukhothai Restaurant
Beacon
845.790.5375
www.sukhothainy.com
Celebrate the holidays with local bubbly!
While celebrating during the holidays this year, reach for local bubbly like the fine estate-grown champenoise produced by Whitecliff Vineyard. Whitecliff's North River Rosé Cuvée and Blanc de Blancs are specially made in the traditional French method using chardonnay and pinot noir grapes grown right in the Hudson Valley at Whitecliff. Treat yourself — you deserve it!
Whitecliff Vineyard
Gardiner
845.255.4613
www.whitecliffwine.com
---
What's this?
This content is made possible by our sponsor. It is not written by and does not necessarily reflect the attitude, views, or opinions of the Hudson Valley Magazine editorial staff.